Sixty out of 437 Vietnamese nationals rescued by the Philippine authorities from a suspected human trafficking ring returned to Ho Chi Minh City-based Tan Son Nhat International Airport on May 30 morning.
They are among more than 1,000 workers, mostly Asian nationals, who were rescued by authorities at Clark Freeport Zone in Pampanga province in early May.
The workers wanted to have decent jobs and send money back to their families, but did not know that they would be preyed upon by human traffickers.
They were forced into working at least 18 hours a day in a "fraudulent cyber-enabled industry" that used fake investments and cryptocurrencies as bait, according to the police.
The police raided the six five-story buildings of Colorful and Leap Group, a company operating from Clark Sun Valley Hub, and rescued 1,090 individuals, including those from Vietnam, China, Indonesia, Nepal, Malaysia, Myanmar, Thailand, Taiwan (China) and Hong Kong, along with 171 Filipinos.
The police detained 12 "maintainers" of the company, comprising seven Chinese nationals, four Indonesians and one Malaysian, for questioning.
Shortly after being notified, the Vietnamese Embassy in the Philippines visited the Vietnamese nationals, collected their information, and gave medication to some with health problems.
On May 25, the Citizens Protection Division under the Ministry of Foreign Affairs of Vietnam held a meeting to review the situation and seek solutions to bring the citizens home as soon as possible.
The first group of 60 forced labourers were repatriated.
The Ministry of Foreign Affairs directed the Consular Department and the Vietnamese Embassy in the Philippines to continue discussing with the Philippine side to soon bring the remaining citizens back to Vietnam safely.
University Medical Centre successfully implements minimally invasive pulmonary valve replacement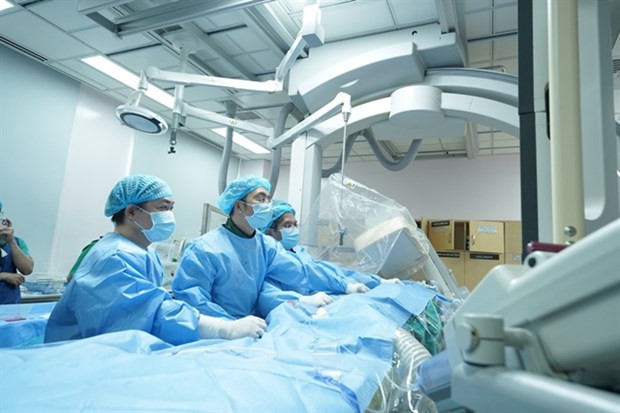 Doctors at the University Medical Centre in HCM City perform transcatheter pulmonary valve replacement on a patient with repaired tetralogy of Fallot. (Photo courtesy of the hospital)
Doctors at the University Medical Centre in Ho Chi Minh City have successfully performed transcatheter pulmonary valve replacement on patients with congenital heart disease.

Transcatheter pulmonary valve replacement is a minimally invasive surgery to replace a failing pulmonary valve, said Dr. Cao Dang Khang, head of the hospital's pediatric cardiovascular surgery department.

The procedure helps improve blood flow with lower risk of infection and faster recovery than open surgery, he said.

The hospital has so far performed the procedure for five patients with repaired tetralogy of Fallot.

Tetralogy of Fallot, a birth defect that affects normal blood flow through the heart, accounts for between 5% and 10% of all congenital cardiac defects, cardiologists said.

A young patient from Binh Duong was diagnosed with tetralogy of Fallot and was treated by surgery at the hospital when she was two years old.

She then had regular follow-up visits with pediatric cardiologists at the hospital after the surgery.

Doctors said that blood flow to the lungs may still be restricted after tetralogy of Fallot surgery and patients with repaired tetralogy of Fallot may have a leaky pulmonary valve and need to have their pulmonary valve replaced.

The 14-year-old patient has recently undergone transcatheter pulmonary valve replacement that took two hours at the hospital.

Her health condition is now stable and she lives an active life after the surgery.
Vietnam drawn against Laos at AFF U23 Championship 2023
Vietnam have been put in Group C alongside the Philippines and Laos at the ASEAN Football Federation (AFF) U23 Championship 2023.
According to the draw which took place on May 29, hosts Thailand were placed into Group A together with Cambodia, Brunei, and Myanmar.
Group C saw the presence of Timor Leste, Malaysia, and Indonesia. The AFF U23 Championship 2023 is scheduled to take place in Thailand from August 17 to August 26.
A total of 10 teams have been divided into three groups and will play in a round-robin format. The top three teams and the best second-placed team will progress through to the semi-final round.
The AFF U23 Championship is an international football competition that is played among the national under-23 teams of the ASEAN Football Federation (AFF). The inaugural edition was first held back in 2005.
This year marks the fourth edition of the tournament following its versions in 2005, 2019, and 2022.
Last year saw Vietnam win the championship title for the first time after defeating Thailand 1-0 in the final match of the 2022 edition.
Minister proposes special policies for medical staff
Minister of Home Affairs Pham Thi Thanh Tra on May 29 told legislators that her ministry is advising the Government and the Prime Minister on the salary reform roadmap, in which it stresses the need to use special policies and treatment for medical staff in general and those working at the grassroots level and in the preventive medicine sector in particular.
Speaking at a plenary discussion on the mobilisation, management and use of resources for the prevention and control of COVID-19; and the implementation of policies and laws on grassroots health and preventive medicine at the 15th National Assembly's 5th session, Tra affirmed that success in COVID-19 prevention and control has played a very important and decisive role in the model of preventive medicine and grassroots health, and has been importantly contributed by medical staff involved in preventive medicine and at the grassroots health.
She affirmed that the Ministry of Home Affairs will coordinate with the Ministry of Health to review and advise the Government on a project to develop health human resources in the public sector to 2030 in a fundamental and specific way to ensure human resources in the public sector in the coming time.
It will comprehensively evaluate the organisational structure and human resources for preventive medicine and grassroots health to propose to the Government and the Prime Minister to build new or amend legal documents to ensure the stability of the apparatus.
In addition, the Ministry of Home Affairs will coordinate with the Ministry of Health and relevant ministries to perfect mechanisms and policies on salaries, preferential and specific allowances for medical staff in general and those involved in grassroots health and preventive medicine, which will be placed in the salary policy reform roadmap following Resolution No. 27-NQ/TW on salary policy reforms.
Vietnam seeks further international cooperation in equitable energy transition
The Ministry of Foreign Affairs and the United Nations Development Programme (UNDP) last week hosted an international workshop to enhance cooperation, encourage knowledge transfer, and promote experience sharing in the just energy transition.
The workshop convened senior government representatives from the three countries with Just Energy Transition Partnerships (JETPs) – South Africa, Indonesia, and Vietnam – as well as representatives from other seven developing countries with a strong interest in the energy transition, to create a forum for them to learn from one another.
The workshop also brought together representatives from the International Partners Group (IPG), the Glasgow Financial Alliance for Net Zero (GFANZ), development partners, key Vietnamese ministries and representatives from 63 provinces, and other stakeholders.
This high-level event seeks to strengthen international coordination, particularly emphasising South-South collaboration in the just energy transition. Furthermore, it aims to promote mutual understanding on finance among diverse stakeholders.
Addressing the imperative of limiting the global average temperature increase to 1.5 degrees Celsius above pre-industrial levels as the Paris Agreement mandates, the workshop emphasises the need for innovative, equitable, and sustainable approaches to decarbonise economies and achieve climate and development objectives. The concept of a just energy transition is recognised as a catalyst for achieving the Sustainable Development Goals (SDGs), fostering job creation, enhancing access to clean energy, and building resilience.
To realise the just energy transition, developing countries require multi-faceted international support in the form of finance, technology, knowledge, and capacity building to effectively decarbonise their economies and establish low-carbon development pathways.
Speaking at the event, Do Hung Viet, Deputy Minister of Foreign Affairs, said that Vietnam is one of the countries most affected by climate change, often hit by floods, droughts, sea level rise, and extreme weather events.
The country's central development policy has always been to consistently build a green, circular, and eco-friendly economy. Although just energy transition will bring many benefits, it will also pose many difficulties and challenges for developing countries, including Vietnam in ensuring socioeconomic development and ensuring the interests of the state, people, and businesses.
He emphasised the need for a just energy transition. Accordingly, each country needs to give full attention to the rights of all people and leave no one behind. Countries that have emitted a lot of greenhouse gases in the past need to fulfil their historical responsibility, supporting developing countries in finance, technology, and capacity building.
Energy transformation in developing countries should have an appropriate roadmap, taking into account the conditions and circumstances of each country.
Ramla Khalidi, UNDP Resident Representative in Vietnam said that climate and innovative finance – both domestic and foreign, and both private and public - is of paramount importance in the energy transition.
Governments can create favourable conditions for private investment by putting in place forward-looking and transparent regulatory and pricing regimes, and through strategic public investments in essential infrastructure, she said.
The energy transition needs to be fair and equity-driven for developing countries to transition sustainably to low-carbon economies and establish climate-resilient trajectories while realising their sustainable development objectives. The energy transition must be just and inclusive for workers, local communities, and affected people through the creation of new economic opportunities, job creation, reskilling, capacity-building, and enhancing social safety nets, she said.
Drug trader sentenced to death in Lao Cai
The People's Court of Lao Cai province in northern Vietnam has sentenced to death a local woman charged with trading nearly 4 kilograms of Methamphetamine.
Acording to the indictment, Luu Thi My, 40, got acquainted with a Lao citizen named Chung in August 2022 via the social network.
My was asked by Chung to sell four packages of drugs for VND380 million. She was caught red handed getting the four packages of drugs for consumption on the afternoon of November 23, 2022.
Later examinations showed the four packages contained 3,958.99 grams of Methamphetamine.
During the May 25, 2023 trial, the judge panel evaluated the causes, conditions and consequences of the offence, and decided to hand down the death sentence to the defender.
Paris workshop talks East Sea challenges
The Institute for Applied Geopolitics Studies (EGA) hosted a workshop on the East Sea at the headquarters of the French Senate in Paris on May 26.
The workshop brought together more than 120 delegates, including French Senators, representatives of the French Ministries for Europe and Foreign Affairs and the Interior, and experts in international relations, military strategy, and defense policy.
In his opening remarks, EGA president Alexandre Negrus, emphasized that disputes and tensions in the East Sea are one of the complex issues, making it a hot spot in the world today. He therefore said countries, including France, need to be fully aware of the role and importance of the region as well as the risks and challenges it poses.
The workshop did not have the ambition to solve the problem, but wanted to provide more information on international law, especially the 1982 UN Convention on the Law of the Sea (UNCLOS 1982), to contribute to reducing tension risks, he said.
Fourteen speakers provided up-to-date information about what has happened in the regional waters and warned about possible negative developments in the area. They also emphasized the importance of ensuring peace, stability, security and freedom of navigation in the East Sea, the need to respect and implement the 1982 UNCLOS, and regional countries' commitments such as the 2002 Declaration on the Conduct of Parties in the East Sea (DOC).
The experts called on France, the European Union (EU) and the rest of the world to play their role in resolving regional disputes and disagreements on the basis of international law, including the 1982 UNCLOS, and at the same time to expand international cooperation in all fields in the region.
Trị An hydro-power reservoir dries up, impacting people's livelihoods
Trị An hydro-power reservoir in the southern province of Đồng Nai is facing a severe drought, according to Trị An Hydropower Company.
Water levels have dropped to the lowest in 13 years.
The water level of Trị An reservoir on May 12 was measured at 51m, which is only 0.5m from the "dead water level", while the normal water level of the lake is 62m, the company said.
In the rainy season, the reservoir is full of water. But now, the water has receded, making the whole reservoir bed dry and inert.
The situation has caused difficulties to caged-fish farming and fishing activities of the people near the reservoir.
Trị An Reservoir was formed from the Trị An hydro-electric project located in the four districts of Vĩnh Cửu, Trảng Bom, Thống Nhất and Định Quán, about 70 km from HCM City.
There are 76 islets in the reservoir.
With an area of 32,000 hectares, the reservoir is where thousands of households make a living by raising caged-fish and fishing.
Although there has been rain at the beginning of the season, the amount of water in the reservoir has not changed much, which has greatly affected the management and protection of the reservoir.
Nguyễn Văn Nghĩa, a resident in Mã Đà Commune of Vĩnh Cửu District who has made a living on Trị An Reservoir by fishing for more than 20 years, said that he has never witnessed the reservoir has dried up as this year.
In previous years, at the end of the dry season, the water surface area was still wide and fishermen still had a source of income, but this year, the water receded dramatically and the fish source was no longer available, so the fishermen have faced many difficulties, Nghĩa said.
In a caged-fish breeding village in the reservoir, the farmers are also in a difficult situation because the receding water caused many fingerlings to die, pushing many households into debt.
Many fish farming owners had to switch to fishing to earn more income.
Lê Thị Phiên, a caged-fish farming owner in Mã Đà Commune, said that since the Lunar New Year until now, her family's fingerlings have all been damaged due to the receding water, which affected the fish's habitat.
According to the Agriculture Centre of Vĩnh Cửu District, although there have been some heavy rains, the amount of water in the reservoir has increased only slightly.
But with the current situation, it will take a few months for the water to stabilise to release new batches of fish.
The centre said that this year the fish farmers will miss a farming crop that will greatly affect the income of the people.
Nguyễn Văn Phước, head forest ranger of the Đồng Nai Nature and Culture Conservation Park, said that this dry season, the reservoir water level is not only shallower than previous years, but the time that the water has receded has also been longer.
When the water level is low, there will be shallow grounds and crannies on the reservoir bed. Therefore, many people have used prohibited fishing gear to carry out destructive fishing, making it difficult to manage and protect the reservoir, said Phước.
In addition, in the dry season, the semi-submerged land area forms very large alluvial grounds, so people come to camp spontaneously. This activity causes difficulties to the management of the park area, he added.
Việt Nam ready for AFC U20 Women's Asian Cup's second qualifying round
The Việt Nam national U20 female team are ready for the 2024 AFC U20 Women's Asian Cup's second qualifying round, which will be held in Việt Trì City in Phú Thọ Province early next month.
Việt Nam, who topped Group F of the event's first qualifying round, will compete in Group A with Australia, Iran and Lebanon in the second qualifier.
To prepare for the AFC event, Việt Nam had an intensive training trip in Japan, where they had three friendly matches with Seisa Academy, JFA Fukushima Academy and Tokyo High School.
According to coach Ijiri, this training was a valuable experience, helping young players make great professional progress in terms of skills, speed and strength.
Việt Nam team will be present in Phú Thọ on May 28 to continue practising for the tournament.
According to the schedule, the hosts Việt Nam will meet Iran, Lebanon and Australia on June 3, 5, and 7, respectively at 7.00pm.
In the second qualifying round, the teams will compete in a round-robin. The top two teams in each group, along with the top three teams from last season, including Japan, South Korea, North Korea and host Uzbekistan, will compete in the final round next year.
The organisers will hold a press conference of Group A on June 2 at Sài Gòn Phú Thọ Hotel in Việt Trì City.
The Australian team will be in Việt Nam on May 27 for a short training session at the PVF – Youth Football Training Centre in Hưng Yên Province before moving to Việt Trì on June 1 to participate in the tournament.
While the members of the referee team, supervisors, and Iranian and Lebanese squads will come to Việt Nam on May 31.
Tickets are free for the fans to support the teams.
Children's Hospital to continue liver transplants
As planned, surgeons of the Children's Hospital 2 will continue performing liver transplants with the support of their peers from the University Hospital of Medicine and Pharmacy in Ho Chi Minh City in June.
Today, the Department of Health of Ho Chi Minh City said that the Children's Hospital 2 is re-developing the Child Organ Transplantation Project which will be submitted to the Ministry of Health for evaluation and approval. The Department of Health has also asked the Board of Directors of Children's Hospital 2 not to interrupt liver transplantation for children who are in need of transplantation.
The Ho Chi Minh City Department of Health said that hospitals under the Ministry of Health in the city usually work closely; so Children's Hospital 2 continues to carry out organ transplants with the support of medical experts from the University of Medicine and Pharmacy Hospital and Cho Ray Hospital.
Doctors from the University of Medicine and Pharmacy Hospital and Cho Ray Hospital will support Children's Hospital 2 to find donated organs from adults so that surgeons of the Children's Hospital will still perform liver and kidney transplants on children as the hospital has performed for more than 10 years.
According to the plan, surgeons of Children's Hospital 2 will perform liver transplants with the assistance of their peers from the University Hospital of Medicine and Pharmacy in June.
Surgeons of the Children's Hospital 2 got success with Vietnam-Germany separation surgery in 1988 which was its first transplant. Afterward, Professor Tran Dong A, chief surgeon of the transplant, has been known all over the world and the professor later was invited to report on this rare surgery at many conferences.
In 1989, at the ninth Congress of Pediatric Surgery held in Hungary, Professor Tran Dong A met Professor Bernard Otte - a leading expert in pediatric liver transplantation in Europe with the technique of reducing brain-dead adult livers for transplantation to children.
By 1995, Professor Raymond Reding - a liver transplant specialist from the Institute of Sant-Luc accidentally read an article about the Vietnamese-German surgery published in the world's leading newspaper on pediatric surgery. Professor Raymond Reding soon contacted Professor Tran Dong A proposing cooperation in gastrointestinal diseases, hepatobiliary diseases, and liver transplantation for Vietnamese children.
In 1998, Prof. Dong A went to Belgium to discuss a plan for gastrointestinal diseases, hepatobiliary diseases and liver transplantation for Vietnamese children with Professor Reding; later, a point-to-point inter-university training program (PIC) was established.
The Belgian professor helped medical workers of the Children's Hospital 2 with training in the fields of gastrointestinal and hepatobiliary pathology and liver transplantation.
After medical workers finished their training in Belgium, the People's Committee of Ho Chi Minh City allowed the Children's Hospital 2 to implement the inter-university program and the children's liver transplant project with the technical support of medical experts from the Institute of Sant-Luc (Belgium). The municipal People's Committee has approved for Children's Hospital 2 to purchase medical supplies and equipment for children's organ transplants.
In 2005, the Ministry of Health issued a Decision allowing Children's Hospital 2 to receive the transfer of kidney transplant and liver transplant techniques for children.
According to Assoc. Prof. Tang Chi Thuong, Director of the Department of Health of Ho Chi Minh City, the incredibly rare donated organs for children are one of the difficult problems of organ transplantation. According to Article 5 of the Law on donating, taking and transplanting human tissues and organs, only persons aged full eighteen years or older with full civil act capacity have the right to donate tissues and organs while alive, after death and donation. Therefore, brain-dead children are not currently included in organ donation.
In the face of the real situation, the health sector hopes that the law will be soon adjusted to facilitate the organ transplant process so that doctors can directly take organs from brain-dead children in the future, said Dr. Tang Chi Thuong.
The first kidney transplant at the Children's Hospital 2 was performed in June 2004 and the first liver transplant was performed in December 2005 on two children who were the youngest patients in Vietnam to receive an organ transplant at the time. Currently, both children are adults and have healthy lives.
Similarly, a second successful liver transplant was performed on an 11-month-old child. The number of liver transplants from 2005 to 2019 was 13 cases. From 2020 to now, surgeons performed 12 transplants.
Nghệ An students warned of the risk of drowning
Drowning is a leading cause of death among children, and the central province of Nghệ An has launched a programme to minimise this risk.
At the launching ceremony on May 24, Nghệ An Province's organisers called for all society to work together in reducing child drowning accidents.
The provincial Department of Culture and Sports leaders and district authorities signed the commitment to implement the safe swimming programme in 2023's summer.
Ten children have drowned in Đồng Nai Province since April.
Adults lack management and supervision, and children play outside of adults' eyes. They go to ponds, lakes, and rivers without basic swimming skills, Thế said.
Three drowning accidents occurred from April 2 to 8 at Trị An Lake, Vĩnh Cửu District, killing five students over 16.
Another student died at La Ngà River, Xuân Lộc District, on May 3.
On May 5, at Đồng Nai River (the river section through Tân Vạn Ward, Biên Hòa City), a 12-year-old child drowned.
Senior Colonel Nguyễn Văn Hải, Head of the Police Department for Fire Prevention, Fighting and Rescue, said that in natural ponds, lakes, rivers and streams, the terrain of underground flow was very complex, with many deep pits.
Swimmers in lakes or rivers can easily lose their footing, leading to panic, rapid loss of strength and drowning.
Man-made lakes from construction and exploitation sites near residential areas are also a risk.
Chairwoman of Xuân Hiệp Commune People's Committee Huỳnh Thị Diệu said local authorities had reminded schools and heads of residential areas about the risk of drowning at Gia Măng Lake.
Gia Măng Lake, with 130 hectares of water, has long been visited to play, camp and fish.
Đồng Nai Province's Deputy Director of the Education and Training Department, Võ Ngọc Thạch, said that the current conditions of human and financial resources for the drowning accident prevention work were limited.
Many schools don't have funds for drowning prevention.
Teachers pass on valuable water-safety skills as part of the official lessons.
The best way, he said, parents should teach their children to swim as soon as possible. If children are well-equipped with drowning prevention skills, drowning accidents will be greatly reduced," he said.
The northern port city of Hải Phòng has 125km of coastline, with five large estuaries flowing into the sea: Bạch Đằng, Cửa Cầm, Lạch Tray, Văn Úc and Thái Bình rivers, and a very large area of rivers, lakes, ponds and streams.
As the Deputy Director of the city's Department of Culture and Sports, Phạm Thị Tô Trang said the risk of drowning, especially for children in the summer vacation was very likely.
The swimming competitions for teenagers and children were held every year to raise awareness of drowning prevention.
First pedestrian street officially put into operation in Vinh City
Authorities in the central province of Nghe An's Vinh City on Friday evening held a ceremony to officially put into operation the pedestrian night street in Vinh City after nearly a year being launched.
Authorities in Vinh City hold a ceremony to officially put into operation the pedestrian night street in Vinh City on May 26.
Lying in the city centre, the pedestrian area spans 1.50 kilometres along four streets including Ho Tung Mau, Nguyen Van Cu, Nguyen Trung Ngan, and Nguyen Tai. These are all busy streets which host hundreds of restaurants, bars & cafes, fashion shops, and entertainment venues in this area.
Opened in April 2022, this is the first walking street in the city which operates from 6:30 to 11:30 pm from every Friday to Sunday. After this time, all shops have to stop their business activities. They are also required to strictly conform to environmental protection regulations.
Since its opening, the walking street has received between 10,000 - 20,000 visitors. It has attracted not only local people but also tourists to the city.
Highways 55, 56 to have traffic surveillance camera systems
Ba Ria-Vung Tau Province is set to launch the second phase of a project to install smart traffic surveillance camera systems on national highways 55 and 56 on June 20, according to provincial authorities.
The camera systems will monitor the province's sections of the national highways, the local media reported.
Camera installation work has been completed, and the camera systems are on a trial run.
In the first phase of the project, 89 traffic surveillance cameras were installed and put into operation on the National Highway 51 section in Ba Ria-Vung Tau Province in October 2021. The cameras were used to detect traffic violations on the section between Long Son intersection and Phu My town and helped reduce traffic violations on the section.
The traffic police have detected 13,433 traffic violations, and 3,566 of them were fined a combined VND14 billion.
Israeli electro-pop band to rock Hanoi this June
A couple of artists from Israel, namely Guitarist Anton Dmitriev and Julia Garnets, will perform in Vietnam for the first time on June 3, bringing magnetic energy both on and off stage.
The duo of musicians is of the electro-pop band "Ice Hokku", regularly selling out concerts in Tel Aviv. Their performance in Vietnam will follow the European tour.
This time, there is a lot of excitement about their arrival in Hanoi for an open-air live concert.
Founded in 2016, Ice Hokku grew up listening to Western music and was inspired by the authenticity of Israel and the Middle East. The band's name is a play on words, a playful blend of Japanese poetry, Hokku, and ice hockey. Ice Hokku are Israeli live-looping artists with an electronic-acoustic sound. The mix of guitars, synthesizers, drum machines, and vocal layers creates a unique musical experience. The duo's music is mostly pop songs in English and Hebrew with powerful, creative vocals.
The duo has released their debut live album, Fikus 2, two EPs, three singles, four clips, and five live sessions. They played about 150 sold-out shows in Tel Aviv, Jerusalem, Haifa, and many other cities in Israel. In 2022 Ice Hokku participated in the international Israel Music Showcase Festival. Last year they were on tour in Europe with stops in Berlin, Budapest, Prague, Kazakhstan, and other cities.
Air, rail transport to be prioritised in Central Highlands
The Ministry of Transport (MoT) has requested more investment be prioritised for air and rail transport to the Central Highlands to ease pressure on road transport.
This is part of the MoT's recently built plan on developing modern, comprehensive, and cost-effective transportation that also guarantees defense and security for the Central Highlands by 2030, with a vision to 2045.
The Central Highlands is comprised of the provinces of Kon Tum, Gia Lai, Dak Lak, Dak Nong, and Lam Dong.
Under this plan, authorities will modernise goods handling technology at transport centres, apply advanced transport technology, comprehensively develop transport supporting services and multi-modal transport, and improve logistics services.
Enterprises will be encouraged to increase investment in container transport vehicles; the container handling capacity at goods storing centres promoted; transport vehicles and cargo handling equipment modernised while service quality improved to ensure convenience, safety, and environmental protection. Besides, authorities will work to control the quality of vehicles and fuel and encourage the use of green ones.
At the same time, relevant parties will step up applying information technology, especially automation, artificial intelligence, and Internet of Things, to transport management and operations. They will also take concerted measures to guarantee traffic safety, including increasing vehicle examination, boosting communications to promote public awareness and adherence to traffic rules, and stringently deal with violations.
The MoT requested enhancing the connectivity of transport activities so as to drive transport development in the Central Highlands and provide the best possible conditions for goods and passenger transportation.
It also asked for accelerated implementation of the international transport agreements and treaties to which Vietnam is a party, and for consideration of revisions to some of the signed deals, if necessary, to facilitate cross-border transportation.
In its plan, the MoT also outlined some key implementation measures.
Policy on ethnic minority human resources development in Mekong Delta promoted
The implementation of policies on investment for ethnic minority areas, especially training, fostering and developing ethnic minority human resources in the Mekong Delta region has proven effective, contributing to narrowing the development gap among ethnic groups, regions, and urban and rural areas.
According to the Committee for Ethnic Minority Affairs' department of local ethnic affairs, Educational activities in ethnic minority areas have been enhanced, while implementing policies on education, training, and human resources development has recorded positive results.
The Mekong Delta region has more than 2,000 preschools, nearly 5,700 primary education establishments, about 1,340 secondary education institutions, and 350 high schools. Ten out of 13 provinces in the region have universities.
Many, undergraduate and graduate training programmes and projects have been performed by ministries, sectors and localities. Notably, the Mekong 1000 Project to train 1,000 scientific and technical staff for regional localities, shows joint efforts between Can Tho University and localities in the region.
According to Assoc. Prof. Dr. Nguyen Trung Kien, Rector of the Can Tho University of Medicine and Pharmacy, the institution has paid special attention to training ethnic minority students with the aim of improving the quality and quantity of medical staff working in remote, border, island and ethnic minority areas.
The university has so far trained nearly 840 ethnic minority students, mainly from Tra Vinh, Soc Trang, An Giang, Bac Lieu, Hau Giang, and Ca Mau, with 83,7% of the total being Khmer people.
At a recent conference on education and training development in the Mekong Delta to 2030, with a vision to 2045 organised by the Ministry of Education and Training in Can Tho city, Minister-Chairman of Committee for Ethnic Minorities Affairs Hau A Lenh proposed the ministry and localities to take measures so that ethnic minority residents have equal opportunities to access education.
Meanwhile, Kien suggested the Ministry of Education and Training (MoET) and the Ministry of Health continue training ethnic minority people in accordance with specially prescribed regimes and reviewing relevant training programmes to ensure the quality of training.
Dr. Ngo So Phe from Tra Vinh University said that localities should pay attention to improving the capacity and position of women to ensure gender equality in economic development as well as strengthen their decision-making role in the family and society.
Minister of Education and Training Nguyen Kim Son emphasised that the MoET will coordinate with relevant ministries and sectors to review policies and propose plans to increase investment in infrastructure for education, and work with Can Tho University on solutions to increase the number of people studying university education programmes.
Da Nang applies digital transformation to urban management
With 43% of the population aged 18 and more owning electronic accounts on the public service portals, the central city of Da Nang is among the leading localities in Vietnam in digital transformation.
Digital transformation is being promoted with the participation of all agencies, enterprises and residents.
Digital economy accounts for 17% of the city's Gross Regional Domestic Product in 2022. This has contributed to the city's digital socio-economic recovery and development and created digital skills and habits for local people.
Nguyen Quang Thanh, Director of the municipal Department of Information and Communications, said the e-government and smart urban area building inspire the city's digital transformation.
Since 2020, the city has built a database based on various sources. For example, he said a database of citizens, businesses, household registration, officials and employees, and administrative procedures have been completed so far.
Local authorities and agencies have built 560 public service databases. In addition, free wifi stations are now available in the city. The city has also developed Internet of Things (IoT) infrastructure such as a security and order centre, a smart traffic centre, and a water and air environment monitoring centre to collect more data sources.
Thanh said the data has helped State agencies manage work better, supervise public service provision, and monitor traffic flow, water and air quality.
The city has also launched digital assistants, including chatbots and voicebots which automatically instruct local people about administrative procedures and public services.
Da Nang smart city mobile platform provides more than 30 smart services and utilities for communities.
Each Da Nang citizen has an electronic account. They need to register one time and access to the available database.
About 260,000 citizens have registered for electronic accounts, making up more than 43% of the population aged 18 and more.
The proportion of documents handled online has reached over 78%, 1.5 times higher than the average number of the whole country.
A lot of agencies have actively applied digital technology in their administration.
The Ngu Hanh Son Medical Centre has launched a digital health certificate for people who want to apply for a driving licence.
The Department of Transport has launched QR codes for bus tickets and accepted online payment.
The Department of Information and Communications has added rainfall and flood maps to Da Nang Smart City App so that local people can follow them.
Discovery of undamaged 227kg bomb during construction in Ha Tinh
While carrying out excavation work for constructing the foundation of a house in Cam Hung Commune in Cam Xuyen District, Ha Tinh Province, residents stumbled upon an undamaged bomb weighing 227kg.
On May 26, following the implementation of necessary safety precautions, the Military Command of Cam Xuyen District collaborated with the Military Engineering Department under the Provincial Military Command of Ha Tinh to safely transport the 227kg intact bomb to the designated collection site at the training field of the Provincial Military Command in Ngoc Son Commune in Thach Ha District for detonation as scheduled.
On May 25, at 7 a.m., while excavating the ground to lay the foundation for their house, the family of Le Khac Lien in Hung Loc Hamlet, Cam Hung Commune, Cam Xuyen District, came across an intact bomb buried approximately 3 meters below the surface.
Without delay, the family promptly notified the local authorities about the incident.
MOT proposes to add US$68.3 mln to total investment of Rach Mieu Bridge 2

The Ministry of Transport (MoT) proposed to lift the investment capital of the Rach Mieu Bridge 2 project to over VND6.8 trillion (US$291 million).
The Ministry of Transport has just a report to the Prime Minister and Deputy Prime Minister Tran Hong Ha on the approval of investment capital adjustment of the Rach Mieu Bridge 2 project connecting Tien Giang Province and Ben Tre Province with a total amount of over VND6.8 trillion (US$291 million), an increase of more than VND1.6 trillion (US$68.3 million) over the approved plan of the Prime Minister.
Of which, the capital for medium-term public investment in the period of 2021 – 2025 will be nearly VND5.6 trillion (US$239 million) and the capital for the medium term public investment in the period of 2026 - 2030 shall reach over VND1,218 billion (US$52 million).
Regarding the capital surge, the Ministry of Transport said that the cost of site clearance, support and resettlement had increased sharply by more than VND1,964 billion (US$84 million) triggering the rise of the project's total investment.
Concerning capital balance solutions, the Ministry of Transport informed that in the period of 2021 – 2025, the total medium-term plan arranged for the project was expected to reach nearly VND5.6 trillion (US$239 million).
The lack of capital can be balanced from the adjustment of the medium-term public investment plan for the 2021 - 2025 period of the North-South expressway project in the Phan Thiet - Dau Giay section.
The Ministry of Transport also proposed to extend the project implementation to 2026 instead of 2025 due to the handover progress of the construction site.
Upon receiving the information, the Military Command of Cam Xuyen District promptly deployed a team to the scene to protect the area and ensure safety. They also reported the incident to higher authorities.
Following an examination conducted by the Military Engineering Department, it was confirmed that the discovered bomb is an MK82 penetration bomb, measuring approximately 274mm in diameter and 1.54m in length and weighing 227kg.
Patients aged 18, 26 with botulinum poisoning under severe condition
Cho Ray Hospital yesterday informed that the health situation of the two patients who were siblings developed seriously after 14 days of hospitalization.
According to Doctor Do Thi Ngoc Khanh, Deputy Head of the Department of Tropical Diseases under the Cho Ray Hospital, the health condition of a patient aged 18 at the hospitalized period was severe and his quadriceps muscle strength was one out of five. His health has not been overcome and recovered.
As for his brother aged 26, his health situation at the hospitalization period was better but the current situation gets more serious.
At the current times, the patients' quadriceps muscle strengths were some two out of five to three out of five. The two patients are under treatment at Intensive Care Unit (ICU) and the doctors are trying to take care of the patients and prevent incidents, and severe development for the two siblings. However, the two patients are foreseen unassertively.
The Children's Hospital No.2 is performing treatments for a patient aged 13, named N.V.D who was hospitalized on May 14 and was infused with Botulism Antitoxin Heptavalent (BAT) antidote on May 15. At the moment, the patient knows how to perform health directions of doctors, pain stimulus meets the requirement, quadriceps muscle strength has not been overcome, two upper limps' strength is two out of five, two lower limps' strength is two out of five, eyelashes are falling out, cannot self-breath, paralytic ileus, was opened windpipe on May 24 and is being put into ventilator with low parameter, parenteral nutrition.
Besides, the 14-year-old patient named N.V.H who was administered for hospitalization on May 15 was infused with a half of BAT vial on May 15. The patient's two upper limps' strength is five out of five, two upper limps' strength is five out of five as well. The patient can now stand and move normally, the eyelashes are not falling out anymore, can breathe, eat, drink and digest normally, and will be discharged from the hospital soon.
In addition, the 13-year-old patient named N.T.X. who was hospitalized on May 14 was infused with a half of BAT vial on May 15. The patient is suffering from chronic respiratory failure progresses and was intubated and transferred to ICU on May 18. At the moment, the patient breathes weakly, the child's two upper limps' strength is four out of five and the two lower limps' strength is two out of five, has peristalsis, one-time failure when coming off the ventilator and is being put into ventilator with low parameter, nutrition through gavage.
The Children's Hospital No.2 held a consultation with Cho Ray Hospital on the ways how to treat two children named D. and X. Accordingly, the two patients are under supportive treatment with a ventilator, nutrition, anti-infection and long-time care without BAT usage.
Photo exhibition, musical show marks Vung Tau – Gunsan anniversary
A photo exhibition and a musical show were organised on May 27 in Vung Tau city, the southern province of Ba Ria- Vung Tau, to mark the first anniversary of the signing of a Memorandum of Understanding on the establishment of friendly cooperative relations between Vung Tau and Gunsan, Republic of Korea (RoK).
On show are 90 works by photographers from the two cities, helping visitors understand more about the culture, daily life, nature, tourism, festivals, and local people, introducing the unique cultural features of Vietnam and RoK. The exhibition will run until June 4.
The same day, artists from Vung Tau city and Gunsan city staged a special art performance.
Kim Bong Gon, Director of Gunsan City's Department of Culture and Tourism, said the friendship and cooperation between the two cities have deepened through friendship visits and cultural activities.
Meanwhile, Nguyen Thi Thu Huong, Vice Chairwoman of the People's Committee of Vung Tau city, said art exchange programmes are expected to pave the way for cultural and artistic cooperation between Vung Tau and Gunsan cities, enhancing mutual understanding and tightening their friendly relationship.
Vietnamese festive day features vibrant activities in Netherlands
Over 100 Vietnamese expatriates converged on Utrecht city in the Netherlands on May 28 for the Vietnamese festive day featuring a wide range of cultural activities.
The highlight of the festival was Vietnamese expats donning Ao Dai (traditional long dress) and Non La (palm conical hat) to form the shape of the Vietnamese map, including the Hoang Sa (Paracel) and Truong Sa (Spratly) archipelagos.
The festival also welcomed the participation of Dutch brides and grooms wearing Vietnamese Ao Dai.
The participants then formed the phrase "I love Vietnam" to deliver a message of strengthening solidarity among the Vietnamese community in the Netherlands.
During the festive day, young artists performed traditional and modern Vietnamese songs, accompanied by musical instruments.
The event was organised by Vietnamese associations in the Netherlands to celebrate the 50th anniversary of the establishment of diplomatic relations between the two countries this year.
Source: VNA/SGT/VNS/VOV/Dtinews/SGGP/VGP/Hanoitimes