VIETNAM NEWS HEADLINES NOVEMBER 27
NA Standing Committee to consider important issues at 17th session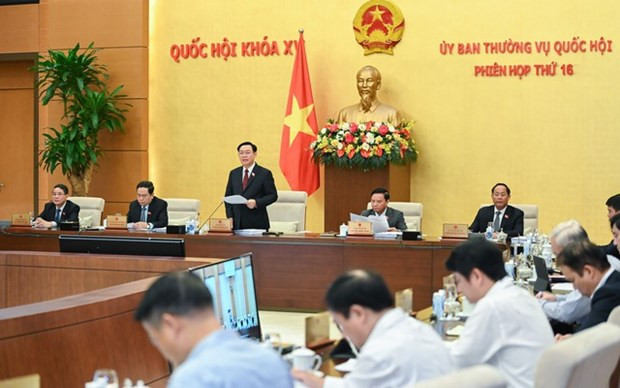 At the 16th session of the NA Standing Committee (Photo: VNA)
The 17th session of the National Assembly Standing Committee on November 28 will discuss the allocation of remaining development investment capital for the three national target programmes.
The committee members will consider the addition of foreign capital to the national target programme on building new-style rural areas for 2021-2015; and the adjustment of on-lending capital plan of localities in 2022.
They will give opinions on the summarisation of the 4th session of the 15th National Assembly and preparations for the legislature's 2nd extraordinary session and 5th session; and the signing of an agreement between the governments of Vietnam and the US on conditions for renovating, constructing and maintaining diplomatic sites of the two sides (COCA Agreement).
The proposal of the Prime Minister on the appointment and dismissal of Vietnamese Ambassadors abroad will be also considered and approved at the session.
Remains of 8 martyrs buried in Ha Giang province
Authorities of the northernmost border province of Ha Giang on November 26 held a memory service and burial for the remains of eight martyrs who laid down their lives in the fight to defend the border.
Prominent among the participants was former President Truong Tan Sang.
Chairman of the Ha Giang People's Committee Nguyen Van Son stressed that the province was the fiercest battlefield in the fight more than 40 years ago.
More than 4,000 officials and soldiers laid down their lives in the fight, and over 1,000 of them still not found. Bombs, shells and other explosives are still scattering over thousands of hectares of land there.
The remains of the eight, found in Giang Nam village, Thanh Thuy commune, Vi Xuyen district, were buried at the Vi Xuyen National Martyrs' Cemetery.
Vietnam ready to contribute more to UN peacekeeping operations: minister
Minister of Foreign Affairs Bui Thanh Son highlighted Vietnam's readiness to further contribute to United Nations peacekeeping operations, while meeting visiting UN Under-Secretary-General for Peace Operations Jean-Pierre Lacroix in Hanoi on November 25.
The host emphasised the significant contributions by UN peacekeeping operations to the efforts to prevent and resolve conflicts, as well as protect and assist people in conflict-hit areas, helping maintain international peace and security.
He also thanked the UN and Lacroix for supporting Vietnam's participation in peacekeeping operations.
Minister Son affirmed Vietnam's consistent foreign policy of independence, self-reliance, multilateralisation and diversification of external relations, advocating multilateralism and the UN's central role, and respecting international law, particularly the UN Charter.
The country is ready to further contribute to UN peacekeeping operations in the time ahead and hopes for assistance in this regard from the UN and partners, he said, noting that basing on its historical lessons and experiences, it has continually worked to promote UN peacekeeping operations' connection with local communities and build up trust to win people's support so as to guarantee the operations' efficiency and effectiveness.
For his part, Lacroix highly valued Vietnamese peacekeepers' capacity, initiatives, and sense of responsibility at UN peacekeeping missions, highlighting that Vietnam's participation has helped substantially improve the effectiveness of the missions' activities and become good and important practices for peacekeeping forces to learn from.
Applauding Vietnam's major contributions to the UN Security Council in 2020 - 2021 and the UN as a whole, especially in promoting the Women, Peace and Security Agenda, he called on the country to increase contributions to UN peacekeeping operations.
The UN official also affirmed continued assistance for Vietnam to build capacity and prepare personnel for effectively engaging in UN peacekeeping operations, including in terms of digital transformation.
At the meeting, the two sides also exchanged views on the world situation with many challenges, tensions, competition, along with non-traditional security challenges like climate change and disease outbreaks, which have caused numerous difficulties to peacekeeping operations and international cooperation.
They also underlined the need to keep stepping up multilateral cooperation within the UN framework, while reforming and improving the capacity and quality of UN peacekeeping operations as a useful tool for maintaining international peace and security.
Thua Thien-Hue art programme celebrates anniversary of Vietnam-RoK ties
An art programme featuring traditional dances of Vietnam and the Republic of Korea (RoK) was held on November 25 evening in the central province of Thua Thien-Hue to celebrate the 30th anniversary of the establishment of bilateral diplomatic ties (December 22, 1992-2022).
The event was jointly organised by the Hue Royal Art Theatre and the Gyeonggi Dance Company of the RoK.
On November 24 evening, the Korean Traditional Music Association also introduced to Thua Thien-Hue audience traditional songs and dances at Duyet Thi Duong theatre in the Imperial City of Hue.
Seventh Vietnam-Laos political consultation held in Hanoi
The seventh Vietnam-Laos political consultation took place in Hanoi on November 25 under the co-chair of Deputy Foreign Minister Pham Quang Hieu and his Lao counterpart Phoxay Khaykhamphithoune.
The two sides expressed their delight at the positive and sustainable development of the great friendship, special solidarity and comprehensive cooperation between Vietnam and Laos, including contributions from the two foreign ministries.
They also showed their satisfaction at the results achieved in defence and security cooperation, and noted that economic, trade and investment collaboration has made positive progress as well, with two-way trade turnover topping 1.4 billion USD in the first 10 months of 2022, up 28.2% year-on-year.
Attention has also been paid to cooperation in education - training, energy, transportation, agriculture, culture, tourism, and cooperation between localities.
The two officials agreed on orientations and measures to further promote the roles of their ministries in contributing to strengthening the close and trustable political relations, as well as boosting bilateral cooperation.
They reached consensus on the continuous implementation of the cooperation agreement between the two ministries in the 2021-2025 period; maintenance and effective promotion of consultation mechanisms at ministerial and deputy ministerial levels; strengthening the exchange of information and experience, and coordination, especially in the study of polices and strategies on external affairs, economic diplomacy, consular affairs, expatriates, and border.
Regarding international and regional issues of mutual concern, the officials agreed that in the context of complicated developments in the world and region, the two sides need to promote close coordination and mutual support at international and regional forums, especially the United Nations, ASEAN and sub-regional cooperation mechanisms, particularly in strategic issues related to peace and stability in the region.
The Vietnamese official affirmed that Vietnam will closely coordinate with and provide maximum support for Laos to successfully assume the role of the ASEAN Chair in 2024.
Vietnam developing green buildings towards net zero emissions
Vietnam is focusing on developing more green works as an effort to achieve net zero emissions by 2050.
This target was committed by Prime Minister Pham Minh Chinh at the 26th United Nations Climate Change Conference (COP26) last November.
Policies have been issued to realise the commitment such as the national green growth strategy and action plan for 2021 - 2030, with a vision to 2050; the national strategy on climate change by 2050; and the national programme on efficient energy use for 2019 - 2030.
Last May, the Minister of Construction also approved the construction sector's action plan on climate change response for 2022 - 2030, with a vision to 2050, to help implement the COP26 commitments.
According to the Ministry of Construction's report delivered at the recent Vietnam Green Building Week 2022, the sector has posted average annual growth of 9% in recent years, while the urbanisation rate reached 40.5% by the end of 2021, leading to rising energy demand in the sector.
Meanwhile, green buildings in Vietnam total only more than 230 at present, too small compared to the number of those already built as well as the potential and demand for energy efficiency and environmental protection.
According to experts from Savills Vietnam, investors have paid greater attention to the sustainable construction in real estate, especially green offices, to satisfy the new requirements of tenants.
They predicted that by 2025, green office will become a major trend. Hoang Nguyet Minh, Commercial Leasing Director of Savills Hanoi, said that from now to 2024, at least six office projects in Hanoi will receive green certificates.
Healthy Lung programme expands to improve pediatric care in Vietnam
Young patients and their families will benefit from the Healthy Lung programme, AstraZeneca's initiative to improve respiratory disease management in Vietnam.
The Healthy Lung programme aims to improve the quality of outpatient management of asthma and chronic obstructive pulmonary disease (COPD) in nine Asian countries. Vietnam is among the first countries to implement this programme in 2017 under the guidance of MSA.
During the second phase from 2020–23, the programme expanded to more fields of lung cancer and pediatric care with the participation of four partners (the Vietnam Lung Association, Vietnam Respiratory Association, Ho Chi Minh Association of Asthma, Allergy & Clinical Immunology and Vietnam Pediatrics Association) and five leading oncology hospitals (K Hospital, HCM Oncology Hospital, Da Nang Oncology Hospital, Cho Ray Hospital and Hanoi Oncology Hospital).
The programme was announced by the Medical Service Association under the Ministry of Health (MSA), AstraZeneca Vietnam and professional associations at an expert discussion at the Ministry of Health.
It is expected that in the next phase, the programme will be expanded to the field of pediatric respiratory diseases with the participation of the Vietnam Pediatric Association.
Accordingly, the Vietnam Pediatrics Association, a new partner of the programme, will lead specialised activities for pediatric patients to enhance and synchronise respiratory care capabilities for children. Key activities include raising awareness of disease management, providing medical equipment, and developing treatment guidelines to strengthen the capacity of health workers throughout the patient journey.
Nitin Kapoor, Chairman and General Director, AstraZeneca Vietnam and Asia Area Frontier Markets, said: "Children's health is crucial to a nation's future, I am truly confident that the Healthy Lung programme will enable better care for children with respiratory diseases in the community and help them grow up healthier."
To date, the programme has reached and managed more than 200,000 patients, set up 150 standardised clinics and organized more than 260 scientific seminars for nearly 14,000 medical staff members. In this new phase, the partners organised activities on digital and social media such as Youtube, and online patient education events besides its website http://vilaphoikhoe.kcb.vn, fan page https://www.facebook.com/vilaphoikhoe.
Thanh Nga represents Vietnam to compete at Mrs Universe 2022
Local business woman Hoang Thanh Nga will be the Vietnamese representative competing at Mrs Universe 2022, which is scheduled to take place in Sofia, Bulgaria, from January 30, 2023, to February 5, 2023.
This marks the first time that the nation sent a Vietnamese representative to compete at the international beauty pageant.
Nga, who graduated from Foreign Trade University in Ho Chi Minh City, worked for a retail giant in the United States and then ran her own company operating in fine art stone, building materials, and interior decoration. Currently, she is the CEO of a diamond and jewelry company.
Mrs. Universe is an annual international event held for "the most honorable married woman" and was first organised in Sofia, Bulgaria, back in 2007.
The event is open to married, divorced, and widowed women from nations on all continents across the world who are between the ages of 18 and 55, have a family and career, and are involved in a "significant cause".
The upcoming pageant is expected to attract the participation of outstanding women from 100 countries globally.
Ly Hoang Nam knocked out of Challenger Yokkaichi in Japan
The nation's leading male tennis player Ly Hoang Nam suffered defeat in the men's singles Round 2 of the ongoing Challenger Yokkaichi in Japan on November 24.
The No.1 Vietnamese player, ranked as world No.236, was defeated 6-2 and 6-3 by Sho Shimabukuro, world No.284, from the host country in the second round.
Following this result, Nam only accumulated an additional seven points, thereby lifting his total to 240. Currently, the Vietnamese ace is ranked 229th in the ATP rankings.
Challenger Yokkaichi marked Nam's last international tournament of the year, meaning that he no longer has the opportunity to improve his ATP points.
From now until the end of the year he will be deducted 20 points from last year's Cancun tournament in Mexico.
According to coach Tran Quoc Phong, Nam will therefore retain his spot within the top 250 of the ATP rankings at 247th in the world.
Moving forward, he noted that the Vietnamese player will still have the opportunity to compete in the qualifying round of the Australia Open 2023 in January. The Tay Ninh-born player must now wait for the official list which will be announced by the organising board of the Australian Open in December.
The coach stressed that this year represents the most successful period of Nam's career so far after rising from No.589 since March. Indeed, this represents the highest ranking ever achieved by a player from Southeast Asia and Vietnam.
5,000 local and foreign runners to compete at int'l half marathon in Hanoi
As many as 5,000 local and foreign elite and amateur runners are set to participate in the 2023 Vietnam International Half Marathon which will take place in Hanoi.
The tournament is scheduled to take place at 5 a.m at Hoan Kiem lake on January 1, 2023, and will consist of three categories, including a five km race, a 10 km race, and a half marathon.
The event will be held by the Vietnam Athletics Federation and the municipal People's Committee and will be the first international standard event of its kind to be held in the country. It will be operated by Vietnamese referees and supervised by officials of the Asian Athletics Association.
A total purse of VND500 million, equivalent to US$20,100, will be awarded to the winners.
Proceeds collected from selling bibs at the event will see 5% donated to the athletic talent development fund in Vietnam.
Three Hà Nội students win medals at World Scholar's Cup
Three 10th graders from Hà Nội won nine medals at the world final round of the Tournament of Champions at the World Scholar's Cup 2022 which took place at Yale University in the United States earlier this week.
They are Đặng Khánh Linh, Cao Ngọc Bảo Anh and Chu Vân Yến from the international Olympia School, based in Từ Liêm District.
Linh, Bảo Anh and Yến attended the senior table, which is for students in grades 10, 11 and 12.
Overcoming 1,600 contestants from 46 countries, the three Vietnamese students won a total of nine medals, including two golds and seven silvers as individuals and as a team.
The World Scholar's Cup (WSC) is an academic competition for high students around the world.
This is a playground for students to express their opinions about many topics such as civics, science, history, literature, and the arts through discussions and debates in English.
The programme attracts competitors from more than 50 countries around the world and is attended by more than 3,000 students each year.
Students participate in the WSC in teams, with each team consisting of three members divided into primary from 8-11 years old, junior from 12-14 years old, and senior from 15-18 years old, with four official contests: Scholar's Challenge, Collaborative Writing, Team Debate and the Scholar's Bowl.
After two qualifiying rounds, the world final round – Tournament of Champions (ToC) which takes place in November every year at one of the most prestigious schools in the world, Yale University.
This year, themed "A World Re-Renewed", was divided into six fields of Special Areas - Mistakes & Recoveries; Science & Technology - To Edit a Planet; History - The History of Succession; Social Studies - Out with the Old; Art & Music - Second Chances, Second Glances; and Literature & Media - Reboots, Sequels, and Reconsideration.
Pertussis vaccine recommended for pregnant women to protect newborns
GSK Pharma Vietnam Company Limited (GSK Vietnam), the Việt Nam Association of Gynecology and Obstetrics and the Việt Nam Association of Preventive Medicine, have organised a series of scientific seminars on the benefits of maternal immunisation against pertussis, especially for pregnant women.
The seminar series themed "Increasing antibodies by pertussis vaccine to protect babies during the pregnancy" attracted the participation of top industry experts and more than 1,000 health professionals nationwide.
This was an opportunity for experts to emphasise the need once again for adult immunisation, especially for pregnant women.
The experts discussed the latest scientific data and the burden of pertussis infection in infants who are too young to be vaccinated.
Alumni reunion celebrates contributions to Australia-Viet Nam relations
More than 500 Vietnamese alumni who have studied in Australia joined the Aussie Alumni Reunion in Hà Nội on Friday.
The event celebrated alumni's contributions to Việt Nam's development, the deepening relationship between Australia and Việt Nam and the role of Australian education in supporting Việt Nam's continued inclusive growth.
Having graduated with Australian qualifications across a range of fields, the alumni are now sharing their expertise in Việt Nam's public, private, and civil society sectors, said the Australian Embassy in Hà Nội in a press release issued on Saturday.
Australian Chargé d'Affaires, Mark Tattersall said, "The calibre of our Australian alumni in Việt Nam is outstanding. I'm truly impressed with how they are using the benefits of a world class Australian education to contribute to Việt Nam's development".
The event also launched the 2023 Australian Alumni Awards, to recognise and celebrate alumni.
7 Vietnamese projects enter finale of Malaysia students' programming contest
Seven outstanding software projects by Vietnamese students are in the finale of the 2022 Coolest Project Malaysia in December along.
It is an international competition for people aged 18 or less to showcase ideas they have created using technology, and attracts hundreds of programming projects from all over the world every year.
This is the third edition of the competition and public voting will be held on December 4 to determine the winner of the Most Popular Project Award.
The seven include the Micobit IOT-based system for Disease Detection in Rice by a group of six students from the Code Club at the Hiếu Phụng Secondary School in Vĩnh Long Province. The system not only automatically detects and alerts against harmful rice diseases, but also enables farmers to remotely control irrigation equipment to ensure timely supply of water to their crops.
To create the system, the team used 40 types of integrated sensors, artificial intelligence and the internet of things (IoT).
Master Duong triumphs at Asian junior championship
Vietnamese master Bạch Ngọc Thùy Dương won one gold and one bronze at the Asian Junior Chess Championship which closed on November 25 in Tagaytay City, the Philippines.
Women International Master (WIM) Dương was seeded No 5 in the girls' standard chess event. She secured 7.5 points in nine matches - seven wins, one draw and one loss - to take her title.
WIM Rakshitta Ravi of India finished second with seven points and WIM Kairbekova Amina of Kazakhstan was third with six points.
The championship title brought Dương 37 Elo points to improve her world ranking and her first norm for the Women Grand Master (WGM) title.
To date, Dương has 2,201 points for her Elo rating. She needs two more norms and lift her Elo to 2,300 to be a WGM.
Earlier, Dương, 19, claimed a bronze in the rapid chess event. After seven games, the No 4 seed pocketed five points.
She was behind Women FIDE Master (WFM) Zahedifar Anahita of Iran who had 5.5 points and WIM Nurgali Nazerke from Kazakhstan who took 5.5 points.
Dương, however, was not successful in the blitz chess event. She placed ninth with five points after nine matches.
National Wheelchair Tennis Championships to start in Hanoi
The National Wheelchair Tennis Championships takes place in Hà Nội on December 1.
Independent participants as well as players from units and member clubs of the Việt Nam Tennis Federation (VTF) will take part in the event.
Athletes will compete in four events, men's and women's singles and men's and women's doubles.
This is the first time the VTF has cooperated with the International Tennis Federation (ITF) to organise the Vietnamese national wheelchair tennis event.
The tournament will apply the wheelchair tennis rules issued by the International Tennis Federation. The only difference between wheelchair tennis and regular tennis is that the ball can bounce off the court twice. The second bounce off the court is allowed outside the touch-line.
Project on plastic waste management based on circular economy model launched in Can Gio
A project on plastic waste management in Cần Giờ based on the circular economy model was launched on Friday by the People's Committee of Cần Giờ District and Centre for Supporting Green Development (GreenHub).
Expected results include evaluation of the situation of local plastic waste management, plastic leakage into the ocean, and the participation of technology enterprises; enhancing capacity in managing and sorting, collecting, and recycling plastic waste of stakeholders, especially residents, junk shops, and enterprises that work on solutions for operating a circular economy model for plastic waste; and extensive communications to raise awareness and change behaviors regarding collecting, delivering, recycling plastic waste effectively and sustainably for stakeholders.
The project will be implemented from November 2022 to December 2023 with 3 main components: Local plastic waste assessment; circular economy solutions design and capacity building for stakeholders to implement the model; plastic public outreach and raising awareness, behavioral change promotion and policy advocacy.
HCM City to spend VND140 billion to support workers on Tet
HCM City Labour Federation has planned to spend roughly VND140 billion (USD5.6 million) to hold activities for workers during the coming Tet Lunar New Year.
The federation will help 10,000 families of employees which are in financial difficulties and can not return home for Tet. They will be given a gift worth VND1 million each on Tet Holiday.

The city will offer gifts to 5,000 families.
Trade unions at all levels will launch online and in-person subsidised markets for workers and visit and offer Tet gifts for those who can't return home for Tet.
Northern region to face first strong cold spell this winter
The northern region of Vietnam has been forecasted to experience the first strong cold snap this year.
According to the National Centre for Hydro-meteorological Forecasting, the northern region would face a widespread strong cold spell with the lowest temperatures of between 15-17 degrees centigrade from December 1-3. Mountainous areas would see the lowest temperatures of between 13-15 degrees centigrade.
The cold spell, which is triggered by a tropical depression, will also cause widespread heavy rains on the two days of November 29-30 in the region.
The tropical depression will also affect the central and central highlands regions with heavy rains and strong winds. Flood warnings for low-land areas have been issued while warnings of flash floods and landslides have been highlighted for mountainous localities.
More cold spells will hit the northern region in December with the most severe cold weather falling between December and February, the centre forecasts.
Event held in India to introduce Vietnamese culture
The Vietnamese Embassy in India recently held an event introducing the culture of Vietnam, as part of the activities marking the 50th anniversary of bilateral diplomatic relations.
It was attended by Indian Minister of State for External Affairs and Culture Meenakshi Lekhi, General Secretary of the Communist Party of India Doraisamy Raja, General Secretary of the Communist Party of India (Marxist) Sitamram Yechuruy, and leaders of the ruling National People's Party and the Indian National Congress party. It also saw the presence of diplomats of ASEAN countries and representatives of government agencies, major enterprises, and the Vietnamese community in the South Asian country.
Vietnam's Level-2 Field Hospital No. 4 presents gifts to South Sudanese students
Vietnam's Level-2 Field Hospital No. 4 (Field Hospital 2.4) in South Sudan announced that the hospital held many Civil-Military Co-operation (CIMIC) activities from November 22-24 to encourage local students to go to school.
Under the direction of Lieutenant Colonel Pham Tan Phong, Commander of the Vietnamese peacekeeping force in South Sudan, Field Hospital 2.4 organised activities at some local schools, including the presentation of books, school supplies and clothes to disadvantaged students. The Vietnamese officers also planted trees on school campuses.
While receiving meaningful gifts from Vietnam's Level-2 Field Hospital No. 4, many teachers in South Sudan said that the people of the country previously only knew about Vietnam's resilience and strength during the war in the past. However, since the green beret soldiers of Vietnam came their country, they have learned more about the peaceful and developing country with its responsibility for the community and willingness to share in the difficulties of the South Sudanese people.
Lieutenant Colonel Do Thi Hang Nga, Deputy Director of Field Hospital 2.4, touchingly shared that, when looking at the students in South Sudan, she and other women of the hospital think about their children in Vietnam and wish to inspire them to constantly strive for a brighter future.
Year-end painting exhibitions open in HCMC
Around 14 painting exhibitions have been organized in HCMC and Hanoi from November 25-27, showing the domestic painting market that is more attractive to people and art investors.
The display titled "Yesterday" of painter Tran Quoc Giang opened at the Eight Gallery, 8 Phung Khac Khoan Street in District 1. Some 40 exhibits, including 20 paintings presenting natural landscapes of Lai Thieu, Go Cong and Tien Giang will run until December 9.
Another show by Tran Quang Dung presents to painting lovers nearly 30 oil pictures at Huyen Art House, 8A Dang Tat Street in District 1's Tan Dinh Ward. The exhibition will remain open until December 4.
"The wild dance" event of painter Hoang Vo will open from November 27 to December 1 at the HCMC Fine Arts Museum. About 70 artworks were made of various materials of acrylic, watercolor and Do paper in three recent years. Do paper (poonah paper) is made from the bark of the Do tree, which can be found in Vietnam's Northern region. This type of paper dating back hundreds of years ago has been used in Vietnamese folk art.
Party chief requires Fatherland Front role promotion to meet people's aspiration
Party General Secretary Nguyen Phu Trong on November 26 stressed the need to promote the role of the Fatherland Front to better meet people's aspirations.
At a meeting with 63 outstanding delegates involved in the front work in the 2017-2022 period of the 63 provinces and cities, the Party leader appreciated the efforts of the entire Party, people and army to the nation's development and defense, including important contributions by the Vietnam Fatherland Front (VFF).
Stressing that the people are the root and the core foundation for the activities of front staff at all levels, he expressed his hope that the Fatherland Front, its chapters and their staffs and mass organizations will continue to forge a close bond with the grassroots.
Fatherland Front chapters at all levels need to implement the Party's guidelines and the State's policies and laws on the work of great national solidarity seriously and responsibly.
Trong also requested dissemination and education be bettered to help people be fully aware of their obligations and rights.
Awareness Week launched to raise people's awareness of antimicrobial misuse
The Ministry of Health issued a press release about the World Antimicrobial Awareness Week to raise people's awareness of overuse and misuse of antimicrobials to prevent antimicrobial resistance.
The Ministry of Health and the Ministry of Agriculture and Rural Development (MARD), with support from the World Health Organization (WHO) and the Food and Agriculture Organization of the United Nations (FAO) have led the observance of World Antimicrobial Awareness Week calling on individuals, groups, institutions, and communities to take action to protect human and animal health by stopping misuse and overuse of antimicrobials.
Dr Angela Pratt, WHO Representative to Vietnam, said that antimicrobial resistance is an extremely important issue for Vietnam, for the Asia-Pacific Region, and for the world. This is because AMR is a real threat to public health – and if we don't step up our efforts to tackle it, we are fast hurtling towards a world where common infections are impossible to treat, and routine surgery is high-risk because the potential of infection is much harder to control.
Dr. Rémi Nono Womdim, FAO Representative to Vietnam, said that FAO is working closely with Vietnamese Government to ensure proper dissemination of new regulations on antimicrobial use in livestock and aquaculture, as well as monitoring for the presence of antimicrobial resistance in animals and food. FAO also encourages responsible antimicrobial use in animal production, which will help keep our environment and food free from antimicrobial residues and antimicrobial resistant bacteria.
Source: VNA/SGT/VNS/VOV/Dtinews/SGGP/VGP/Hanoitimes