Central Vietnam is experiencing a big spell of heavy rain as a result of the ongoing cold air wave that is prompting floodwaters to swell up and submerge parts of the region.
The cold spell that struck northern Vietnam two days ago have brought heavy downpours to central localities for the past two days.
In less than 24 hours from 07.00 on October 10 to 03:00 on October 11, provinces stretching from Thua Thien-Hue to Binh Dinh received between 150-400mm of rain. Several localities such as Bach Ma, Tam Lanh, Tra Hiep and Ba Lien even collected approximately 500mm of rain.
Heavy rain caused violent floodwaters and cut off parts of Tu Mo Rong district of Kon Tum province. The local administration allowed more than 8,000 students to stay at home for safety reasons.

Torrential rains also turned major streets in Tuy Hoa city of Phu Yen province into rivers on October 11 morning. Severe flooding in rush hours disrupted traffic and inundated houses, causing people's life to be plunged into chaos.
In the ancient town of Hoi An, a UNESCO-recognised World Heritage site, water levels in its river exceeded the alert level 3, flooding a large area in the locality. All preschools, primary and lower secondary schools were requested to temporarily close on October 11 until further notice.
Heavy rain is forecast to continue to pour down in the region on October 11 that will cause water levels in regional rivers to rise above the alert level 2. Though rain will let up on October 12, a new spell of heavy rain is anticipated to hit the region again on October 13-15.
Weather experts warned the region about a high risk of flashfloods, landslides, and severe flooding on a large scale.
Vietnam calls for comprehensive approach in addressing climate change challenges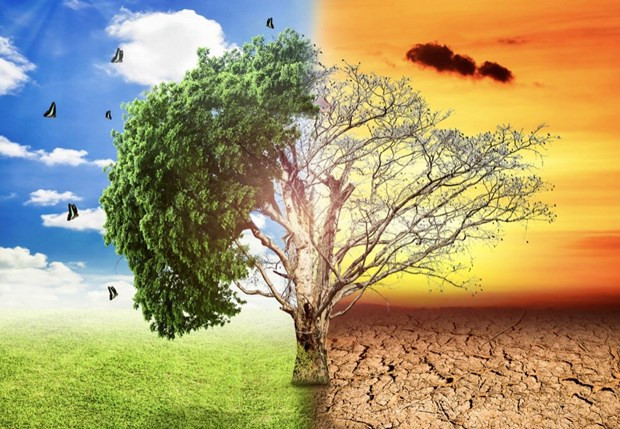 Vietnam called for a comprehensive approach in addressing challenges relating to climate change, environment and bio-diversity, at a meeting of the Economic and Financial Committee of the United Nations General Assembly's 77th session on October 10.
Le Thi Minh Thoa, Deputy Permanent Representative of Vietnam at the UN, suggested that ahead of the upcoming relevant meetings of the UN, countries should work to ensure pragmatic progress in the implementation of international commitments.
People should be put at the centre in the response efforts, she said, stressing the need to ensure financial balance for climate change mitigation and adaptation.
Thoa proposed countries continue to integrate climate, environment and biodiversity issues into their legal frameworks, policies and action plans; build and promote a green, sustainable economy; and raise public awareness of the matters.
She emphasised the significance of science, technology and innovation to national sustainable development strategies, as well as scientific and technical cooperation, and technology transfer in this regard.
The representative spoke of Vietnam's efforts in implementing comprehensive and specific measures to fulfill its climate and environment commitments, saying the country has amended and adopted relevant legal documents and updated its National Climate Change Strategy to 2050 and the Nationally Determined Contributions under the UN Framework Convention on Climate Change (UNFCCC).
Eighth Vietnam- Japan Festival to be held in HCMC
The Eighth Vietnam - Japan Festival will be held in Ho Chi Minh City on the occasion of the fiftieth anniversary of the establishment of diplomatic relations between the two countries.
Mr. Phan Van Mai, Chairman of the People's Committee of Ho Chi Minh City, yesterday had a meeting with Mr. Takebe Tsutomu, Special Advisor to the Japan-Vietnam Friendship Parliamentary Alliance cum Head of the Organizing Committee of the Vietnam - Japan festival on the occasion of his visit in the southern largest city.
At the meeting, Chairman Phan Van Mai expressed his pleasure to meet Mr. Takebe Tsutomu again. Moreover, he highly appreciated the activities of the two friendship parliamentary groups of the two countries and Mr. Takebe's valuable contributions to the friendship and cooperation between Vietnam and Japan for many years.
On his part, Mr. Takebe thanked the support and companionship of leaders of the municipal People's Committee and departments of the city for their cooperation in successful Vietnam-Japan festivals over the years.
Ly Hoang Nam wins M25 Tay Ninh for first time
Top Vietnamese tennis player Lý Hoàng Nam defeated Ajeet Rai of New Zealand on Sunday to win the M25 Tây Ninh – Hải Đăng Cup tennis tournament for the first time.
This was Nam's fourth attempt after losing an M25 final three times before.
In 2019, he was defeated by Daniel Nguyễn, before losing to French player Kenny de Schepper at the M25 Toulouse-Balma in France earlier this year. Last week, he lost to Hsu Yu-hsiou of Chinese Taipei at the M25 Tây Ninh.
The M25 tennis event is part of the ITF men's world tennis tour.
Sharing about the journey to compete in two consecutive M25 professional tournaments in his hometown of Tây Ninh Province, Nam said he was not satisfied with himself because he was not playing in the right form.
With 41 points earned from the two M25 events for the title and second place, Nam is expected to be ranked in the top 250 ATP for the first time.
If Nam can stay in the top 250 ATP until the beginning of 2023, he will qualify for the Australian Open.
Local weightlifters win five golds at Asian championships 2022
Vietnamese weightlifters claimed five gold medals at the Asian Weightlifting Championships 2022 held in Manama, Bahrain.
Most notably, Nguyen Tran Anh Tuan overcame a strong rival of China Jia Xionghui to bag a gold medal in the clean and jerk of the men's 61kg category on October 10.
In the men's 55kg category, Lai Gia Thanh brought home two gold medals after lifting 120kg in the snatch event and 262kg in total.
Elsewhere, local athlete Khong My Phuong lifted 78kg in the snatch and 166kg in total, clinching two gold medals in the women's 45kg in the process.
The 2022 Asian Weightlifting Championships is currently taking place in Manama, Bahrain from October 6 to October 16. It is the 50th men's and 31st women's championship, with Vietnam sending seven athletes to compete in the tournament.
Vietnam ranks fourth among top search travel destinations in Australia
Vietnam is the fourth most searched tourist destinations among Australian users on Google over the past two decades.
To mark the 20th anniversary of the search engine's presence in Australia, Google has recently released a list of the top searched destinations in Australia over the past 20 years.
Leading the list was Japan, followed by other locations such as New Zealand, Thailand, Vietnam, Tasmania, Australia, Cambodia, Bali, New South Wales, and Borneo.
According to details given by the Australian Bureau of Statistics (ABS), the country was also among the top 10 most popular destinations for Australian tourists during the opening seven months of the year.
Before the COVID-19 pandemic, Australia had been one of the nation's leading source of customers with approximately 383,000 visitors making a trip to Vietnam in 2019, ranking ninth in terms of number of travelers.
Before international travel was halted due to the COVID-19 pandemic, Japan had been the fastest-growing overseas destination in Australia.
More Hanoi-Lao Cai trains services
More trains linking Hanoi and the northern mountainous province of Lao Cai will be provided to meet the increasing travel demand to Sapa. Trains are seen as the safest way of transport to Lao Cai.
The SP3 train service departs Hanoi Station for Lao Cai Station every Monday, Thursday and Friday. While train service SP4 leaves Lao Cai for Hanoi every Wednesday and Sunday. The ticket for these trains is VND330-350,000 per person.
From October 13, the SP3 service will be operated every day, departing Hanoi Station at 10 pm and arriving at Lao Cai Station at 5:55 am the next day. From October 14, train service SP 4 will also run daily, leaving Lao Cai at 9:30 pm and arriving in Hanoi at 5:25 am the next day.
Train services SP1/SP2 are also being maintained on the route. SP1 leaves Hanoi for Lao Cai every Friday and SP2 departs Lao Cai for Hanoi every Sunday.
Bus services from Lao Cai Station to Sapa Town are also provided at VND55,000 each way.
The Hanoi Railway Transport Joint Stock Company has continued offering discounts for passengers on this route. People who buy tickets 5-9 days before the departure time will enjoy a five percent discount. Discounts of 40 percent are available on bookings 10-19 days in advance.
People who buy Hanoi to Lao Cai return tickets will enjoy a discount of 10 percent.
30-kilo python found in Son Tra Peninsula
A rare reticulated python weighing 30 kilos has been found wrapping and killing a monkey in Son Tra Peninsula in the central city of Danang.
According to local forest rangers, the python was discovered on Sunday by a group of people who were searching for a severely injured monkey in the area to provide treatment.
The group tried to save the monkey from the python but failed. They then informed local forest rangers who arrived and captured the python. And they found that the monkey was dead. It was a rhesus macaque, not a red-shanked douc which is listed as endangered.
Forest rangers said that this was the first time such a huge python was seen in this location. The python was then taken to their station for further care before being released back into the wild.
The reticulated python is listed in Vietnam's Red Data Book of rare and endangered species.
Vietnam, Japan boost UN peacekeeping cooperation
Lieutenant General Phung Si Tan, Deputy Chief of the General Staff of the Vietnam People's Army, on October 10 hosted a reception for Matsuzawa Tomoko, Director for Defence Cooperation in the Indo-Pacific Region of the International Policy Division of the Defence Policy Bureau under the Japanese Ministry of Defence, who is also head of Japan's experts' working group on peacekeeping.

During the meeting, the Vietnamese official affirmed that the bilateral defence cooperation has been strongly promoted, including in the field of United Nations peacekeeping.
The Memorandum of Understanding (MoU) signed between the two countries' defence ministries on September 15, 2015, is a foundation for the two sides to further expand this kind of cooperation, he stressed.
He expressed his hope that the upcoming 16th Meeting of the Experts' Working Group on Peacekeeping Operations (EWG PKO) Cycle 4 for the 2021-2023 period within the framework of the ASEAN Defence Ministers' Meeting Plus (ADMM-Plus) in Vietnam will contribute to further promoting the Vietnam – Japan cooperation in UN peacekeeping, thus maintaining peace and stability in the region and the world.
For her part, Tomoko highlighted the breakthrough developments of the Japan – Vietnam relations, especially in UN peacekeeping operations. She expressed her hope that the two sides will continue to strengthen their cooperation in this field, and expand cooperation to other fields where they have potential and strength.
Hanoi honours ten outstanding citizens
Ten outstanding citizens of Hanoi were honoured for their extraordinary contributions to the capital city's development at event held on October 10.
The event was organsied to review 30 years of the city's movement "Good People, Good Deeds" (1992 – 2022) and commemorate the 68th anniversary of Hanoi Liberation Day (October 10, 1954 – 2022).
This year, 747 individuals were granted the title of "Good People, Good Deeds", while the list of outstanding citizens included people of various professions, including Buddhist monk, doctor, factory worker, educator, businessperson, photographer, athlete, and military and public security officer.
Vietnam Post to assist Lao counterpart in digital transformation
The Vietnam Post Corporation will help the Lao Post Corporation with digital transformation and application of digital platforms to postal services, General Director of the Vietnamese firm Chu Quang Hao said on October 10.
Meeting a visiting delegation of the Lao Ministry of Technology and Communications led by Minister Boviengkham Vongdara in Hanoi, he said as digital services and e-commerce will boom in the time ahead, the two corporations will step up collaboration in e-commerce shipping.
In particular, Vietnam Post will boost advertising and selling specialties of Laos on its e-commerce platform Postmart.vn, he added.
Croatia ready to promote all-around ties with Vietnam
Croatia always supports to boost ties with Vietnam in various areas and serves as a gateway for Vietnam to enhance cooperation with the European Union, Croatian President Zoran Milanović told visiting Vietnamese Vice President Vo Thi Anh Xuan during a meeting on October 10.
Milanović affirmed that Croatia supports the EU's early removal of "yellow card" warning on Vietnamese aquatic products. He added that the European nation is ready to share its experience in sustainable aquaculture with Vietnam.
Vice President Xuan, who is on an official visit to Croatia from October 9-11, stressed that Vietnam always treasures and wishes to boost bilateral traditional friendship and all-around cooperation, which was founded decades ago.
She thanked Croatia for providing 60,000 COVID-19 vaccine doses for Vietnam in late 2021 as well as supporting the negotiation and signing of the EU-Vietnam Free Trade Agreement (EVFTA) and early approval of the EU-Vietnam Investment Protection Agreement (EVIPA), which have opened up up opportunities in fields of each country's strength and demand such as marine economy, agriculture, food processing, logistics and clean energy.
Both sides agreed to enhance the exchange of all-level delegations, especially those at high level and reached consensus on measures to intensify bilateral ties, particularly in economy, trade and investment, as well as expand cooperation into the most promising areas such as tourism, transport, education-training and sports.
On the occasion, Xuan conveyed President Nguyen Xuan Phuc's invitation to President Milanović to visit Vietnam. The Croatian President accepted the invitation with pleasure and wished to visit Vietnam at the earliest.
On the same day, Xuan met with Deputy Speaker of the Croatian Parliament Ante Sanader, who considered the Vietnamese delegation's visit an opportunity for Croatia to strengthen its relations with Vietnam.
The Vice President stated Vietnam wishes to promote the traditional friendship with Croatia in all fields through all Party, State, government, parliament and locality-to-locality channels.
Appreciating the Croatian Parliament for being one of the first in the EU to ratify the EVIPA, she proposed the body continue to encourage parliaments of other EU countries to soon ratify the deal so that it will take effect as soon as possible, creating a legal basis to promote trade and investment cooperation between Vietnam and the bloc in general and Croatia in particular.
Both officials agreed to consider the early signing of a cooperation agreement between their parliaments and a possibility of establishing their friendship parliamentarians' groups.
Earlier on October 10, Xuan visited the University of Zagreb, suggesting Vietnam and Croatia soon sign an agreement on educational cooperation, implement join projects on scientific research and innovation, and establish a direct student exchange mechanism between the University of Zagreb and Vietnamese universities.
On October 9, she had a meeting with staff at the Vietnamese Embassy in Hungary and Croatia, and representatives of the Vietnamese community there.
Three Vietnamese police officers to join UN peacekeeping mission in South Sudan
The Ministry of Public Security held a ceremony on October 10 to assign three police officers to join the UN peacekeeping mission in South Sudan.
The three officers are Colonel Le Quoc Huy, Lieutenant Colonel Vu Viet Hung, and Lieutenant Colonel Luong Thi Tra Vinh. They are scheduled to leave Vietnam on October 13 to carry out their new tasks at the United Nations Mission in South Sudan (UNMISS).
Vietnam Post issues new stamp collection on Vietnamese cuisine
The Ministry of Information and Communications, working in collaboration with Vietnam Post, has launched a new postage stamp collection in honour of typical dishes from the nation's three regions.
The stamp sets feature four local dishes, including banh mi, a type of Vietnamese sandwich, banh xeo, crispy Vietnamese pancake, com tam, broken rice, and banh khot, mini savory pancakes.
A stamp featuring banh khot costs VND19,000, while the price of the three remaining stamps stands at VND4,000 each, reported Radio the Voice of Vietnam (VOV).
The stamp collection has been designed by artist Nguyen Du from Vietnam Post Corporation and will be available on the public postal network until June 30, 2024.
The release of the stamps comes as part of efforts aimed at honouring the beauty of Vietnamese culinary culture and introducing Vietnamese cuisine to international friends through postage stamps.
Exhibition to celebrate 75th anniversary of Southern Revolutionary Cinema
An exhibition marking the 75th anniversary of Southern Revolutionary Cinema (October 15, 1947-2022) will be held at the HCMC's General Sciences Library in District 1 on October 12-23.
The exhibition will present to audiences more than 140 photos featuring the Southern Revolutionary Movie in the 1947-1952 period that will be divided into four main topics, including outstanding artists, the imprint of time, activities of film production and screening, and significant movies.
There will also be around 500 documents, articles and publications describing the history of the revolutionary struggle of the Southern people in the 1945-1954 period and the Southern region's culture.
On this occasion, some well-known documentaries will be screened, including Moc Hoa Battle, Military engineering firm of the Military Zone 8, Tra Vinh Campaign.
Vietnam calls for stronger int'l efforts in disarmament, non-proliferation
Vietnam appealed to countries to augment international efforts in disarmament and non-proliferation, during a general debate of the UN General Assembly's Disarmament and International Security Committee on October 10.
Ambassador Dang Hoang Giang, Permanent Representative of Vietnam to the UN, held that the current international security environment is the most complex in decades, which may adversely affect common efforts by the international community.
In that context, countries should strengthen international efforts in disarmament and non-proliferation to protect the hard-earned achievements, he said, calling for the joint promotion of a framework for effectively responding to new challenges and areas like cyber security and outer space issues.
In that process, it is necessary to continue complying with the fundamental principles of international law and the UN Charter, promote the peaceful settlement of international disputes, maintain the centrality of multilateralism, and boost the mechanism for global disarmament, according to the diplomat.
Giang also reaffirmed Vietnam's readiness to actively engage in the committee's common works and support for efforts for the sake of a world of peace, stability, and development.
At the debate, which attracted nearly 140 member states and observers, most participants shared the view that international security is facing many unpredictable challenges such as armed conflicts, risks of nuclear threats and use, and risks of weapons falling into the hands of terrorist groups and crime gangs or used for illegal purposes.
Vietnam Airlines launches online check-in at Tuy Hoa airport
National flag carrier Vietnam Airlines has announced it will launch an online check-in service for passengers departing from Tuy Hoa airport in the south-central province of Phu Yen from October 11 to improve convenience.
The move will raise the carrier's total number of domestic and international airports applying the service to 19 and 30, respectively, toward its goal of becoming a digital airline.
Passengers will be able to check-in via www.vietnamairlines.com or the Vietnam Airlines app within 24 hours to one hour ahead of departure.
After the check-in process, they will receive an online boarding pass via email. In case they do not have check-in luggage, they can go directly to the security counter with their online or printed boarding passes.
The service has already been deployed at domestic airports including Noi Bai, Tan Son Nhat, Da Nang, Cam Ranh, Van Don, Cat Bi, Vinh, Chu Lai, Con Dao, Phu Quoc, Da Lat, Dien Bien, Can Tho, Tho Xuan, Pleiku, Phu Cat, Phu Bai, and Dong Hoi.
Painting contest inspires children's love for homeland
The ART TREE studio and the UNESCO centre for international cultural exchange and conservation ICEP - Hanoi Classy have launched a children's painting contest themed 'I love Vietnam', aiming to kindle their affection for their home country.
Children aged from 4 to 15 are eligible to submit their works between October 9 and November 30.
Each candidate can send a maximum of two A3 sized paintings and posters, including those made using computer software such as Photoshop, Illustrator and Paint.
Along with their works, the two groups of 7 - 10 and 11 - 15 year old students need to submit short descriptions of no more than 50 words.
Finalists will receive valuable prizes and participate in community activities, art exhibitions, and charity auctions of their works. All proceeds from the auction will be donated for building schools in upland areas and helping children living in extremely difficult circumstances.
The awards ceremony, an exhibition of 50 works, and the auction are expected to take place in December in Hanoi.
Ministry hands over five schools to Committee for Ethnic Affairs
Four pre-university schools and one high school under the management of the Ministry of Education and Training (MoET) have been handed over to the Government's Committee for Ethnic Affairs.
The hand-over ceremony, which took place in Hanoi on October 8, was co-chaired by MoET Minister Nguyen Kim Son and Minister-Chairman of the Committee Hau A Lenh.
The five institutions comprise the central pre-university school for ethnic groups, the Sam Son pre-university school for ethnic groups, the Nha Trang central pre-university school for ethnic groups, the Ho Chi Minh City pre-university school, and the Viet Bac boarding high school.
The MoIT will also review, amend and supplement legal regulations regarding state management over specialised schools.
Following the hand-over, the Committee will be in charge of issues relating to personnel, finance and material facilities of the schools. Meanwhile, the MoIT will maintain its supervision over their professional operations.
2,300 runners join "Running on Happiness Route" international marathon
As many as 2,300 runners joined "Running on Happiness Route" international marathon in the northernmost mountainous province of Ha Giang's Meo Vac district on October 9.
The runners, including 40 foreigners, competed in the categories of 6 kilometres, 12 kilometres, 21 kilometres and 42 kilometres.
Athletes and visitors have a chance to experience local popular tourist destinations such as Dong Van Karst Plateau Geopark, Quan Ba Twin Mountain, and Lung Cu National Flagpole.
Binh Dinh has new Chairman
The Government has confirmed Mr. Pham Anh Tuan as Chairman of Binh Dinh Provincial People's Committee for the 2020-2025 tenure.
Earlier, Pham was elected by the provincial People's Council as new Chairman of the Binh Dinh Provincial People's Committee.
Pham, born in 1973, was promoted to the new role from his previous position as Deputy Minister of Information and Communications.
Hoi An destined for Mekong tourism forum 2022
Under the theme of "Rebuild Tourism, Rebound with Resilience", the Mekong Tourism Forum (MTF) will be held in the central province of Quang Nam, home to Hoi An ancient town, from October 9-14.
The forum will bring together delegates who are representatives of the Viet Nam National Administration of Tourism (VNAT), representatives of other GMS countries' national tourism agencies, and the Asian Development Bank (ADB), Destination Mekong, Agoda, Asia Pacific Travel Association, OAG, YAANA Ventures, EXO Travel, Travelife and ASEAN Travel Association, among many others.
HCMC assigns missions, grants higher level of authority to Thu Duc City
Chairman of the HCMC People's Committee Phan Van Mai signed a decision on assigning tasks and granting authority to Thu Duc City in the four sectors.
In the field of construction, environment, and urbanity, the People's Committee of Thu Duc City has been allowed to implement procedures of land revocation, approve detailed planning projects of 1:500 scale and plans for resettlement areas and compensation, and collect and transport municipal solid waste.
In the sector of the economy, finance, and project, Thu Duc City will directly implement State management functions in the first-class markets, issue decisions for the establishment of the second and third-class markets, organize bidding for selecting businesses, carry out business strategy, production plans, investment and development, organizational structure and approve salaries in a Public Service One Member Company Limited.
In the justice sector, the People's Committee of HCMC has authorized the People's Committee of Thu Duc City to inspect and handle violations, resolve claims and denouncement on the organization and operation of law firms providing legal and lawyer services, and implement centralized purchasing of State-owned property in Thu Duc.
In the field of culture, education, information, society, and science, the People's Committee of Thu Duc City has been given empowerment to check operation conditions of representative offices of press agencies and issue documents asking news services to stop operations if they do not meet requirements.
In addition, Thu Duc City will be allowed to name public works, and large-scale important constructions; approve art performances, not including events within the framework of international cooperation of the Central associations of performing arts and Public non-business units; take missions and functions in the Thu Thiem College of HCMC and Thu Duc College of Economy and Technology.
The empowerment grant will take effect from now until December 31, 2024.
Hanoi applies digital technology in road traffic control
The Hanoi People's Committee will intensify the application of digital technology in traffic control and road infrastructure maintenance.
Under a plan issued on October 5, the city will improve efficiency and safety and save money in Hanoi's construction, management, operation and maintenance of traffic infrastructure.
By 2025, the city will complete digital transformation in the construction, management and maintenance of the transport infrastructure system. It will build a transportation management database by installing an intelligent traffic management and administration system on all national roads passing through Hanoi.
By 2030, the city will put the Intelligent Transportation Center (ITS) into operation and train human resources to handle the fourth industrial revolution's technological applications effectively.
Vietnam retain top position in SEA in latest FIFA rankings
The Vietnamese men's national football team jumped one spot from 97th to 96th place in world football governing body FIFA's latest rankings released on October 6.
Two wins against India and Singapore in the recent international friendly tournament in Ho Chi Minh City helped Vietnam gain a considerable advantage. The country earned an additional 7.81 points to take them up to 96th place in the FIFA rankings with 1,226.65 points.
Vietnam continued to lead the Southeast Asian region and are now 15 places higher than Thailand which held on to 111th position in the global rankings after their poor performance in the King's Cup.
Some regional teams, such as Indonesia, Malaysia, and Brunei, showed progress after recent wins, although Singapore, the Philippines, and Laos dropped in the latest world rankings.
Overall, Vietnam ranked 17th in Asia, while the leading five Asian teams went to Iran, 20th in world, Japan, 24th, the Republic of Korea, 28th, Australia, 38th, and Qatar, 50th.
Brazil topped the global rankings with a total of 1,841.3 points, followed by Belgium, Argentina, France, and England.
FIFA is scheduled to announce the next rankings on December 22 after the conclusion of the 2022 World Cup.
Source: VNA/SGT/VNS/VOV/Dtinews/SGGP/VGP/Hanoitimes