More gas stations have run out of stock as distributors have neither responded to their orders nor specified a delivery time, the HCMC market surveillance agency reported yesterday, October 11.
Yesterday evening, 16 petrol stations announced they were out of stock, bringing the number of gas stations temporarily closed to 137, nearly a fourth of the total gas stations in the city.
The fuel shortage has caused a majority of operational gas stations in the southern metropolis to be overwhelmed with crowds of motorcyclists waiting to refuel in recent days.
The agency said it had sent out market surveillance forces to inspect whether the stations are hoarding gasoline, have good reason for their closure and are restricting gasoline sales.
Meanwhile, the Vietnam Directorate of Market Surveillance under the Ministry of Industry and Trade has sent official dispatches to provincial and municipal market surveillance agencies, ordering them to strengthen inspections of gasoline retailers and work with provincial industry and trade departments to clamp down on violations.
Over 170 gas stations in Binh Duong shut
The southern province of Binh Duong had had 173 gas stations suspending operations for various reasons by October 11, according to the provincial Department of Industry and Trade.
Binh Duong has 477 gas stations and nine distributors with fuel reserves of over 66,000 cubic meters.
Among the 173 closed gas stations, 123 have shut as their fuel trading business certificates expired, 17 are seeking approval for business conversion and 30 closed down pending fuel trading business certificates.
By yesterday afternoon, local people and workers flocked to the operational gas stations for refueling. They had to wait an average 15-30 minutes each to get their vehicles refilled with a limited amount of fuel, Thanh Nien Online reported.
Commenting on the issue, a representative of the provincial Department of Industry and Trade said many gas stations had to suspend their fuel sales as they were encountering losses from higher operating costs and no distributor discounts.
The loss-making gas stations closed down in droves while the demand for fuel among local people remained high. Therefore, they swarmed into operational gas stations, resulting in congestion at these places, the representative explained.
Another modern park opened in Hanoi
Covering an area of more than 14 hectares, Matrix One Park, located in Hanoi's Nam Tu Liem District, promises a clean and peaceful environment for residents.
The park is also expected to be another exciting option and green space for Hanoi's children.
The park includes a 2.5-ha lake, a plaza, a flower garden, a gymnasium and a walking trail.
The outdoor recreation area is in a prime location between the prominent arterial traffic routes of the capital city, including Le Duc Tho, Ham Nghi, Ring Road 3, Thang Long Boulevard, Highway 32, and others.
It is surrounded by office buildings of state agencies, schools and hotels such as the Ministry of Foreign Affairs, My Dinh Stadium, JW Marriott Hotel, BigC Thang Long, Amsterdam High School for the Gifted, and so on.
The park includes a children's play area of about 2,750 square meters with various entertainment activities suitable for children and adults, such as sliding and hill climbing.
In addition, there is a large parking area built with high-tech materials for events and festivals in the park.
HCMC People's Council passes 10 important resolutions
The HCMC People's Council passed 10 important resolutions in the fields of economy, society, training and education at the seventh session of the 10th tenure of the municipal People's Council.

Accordingly, the People's Council of HCMC approved a proposal for tuition fees for public kindergarten and high school levels from the academic year 2022-2023 and in the next few years. The fee is divided into two groups, including students studying in schools in Thu Duc City and inner-city districts, and schoolers in rural districts.
The monthly tuition fee for a student in secondary schools sees the highest rate of increase from VND60,000 (US$2.5) to VND300,000 (US$12.55), up VND240,000 compared to the 2021-2022 academic year. School fee for a student in preschool and high school will rise from VND70,000 to VND180,000 per month.
Particularly pupils in public primary schools will enjoy tuition exemption. However, the tuition rate serves as a basis to implement the support policy on tuition fees for students in private primary schools, and kids in private primary schools who are eligible for a tuition fee exemption and reduction.

In addition, the HCMC People's Council approved the adjustment of the medium-term public investment plan for the 2021-2025 period, including increasing capital of more than VND14.3 billion for the project of Nga Ba Giong Memorial Area of Heroic Martyrs in Hoc Mon District; allocating over VND308 billion for public investment projects; providing capital for historical and cultural projects, including upgrading projects of Tan Tuc and Phu Lac temples with costs of VND41 billion and VND26 billion respectively.
The city will continue to create a reserve capital of more than VND5,700 billion, including a budget deficit totaling VND2,318 billion and the city's budget revenue amounted to over VND3,400 billion; and use the rewards fund worth over VND1,633 billion to provide for the medium-term public investment plan.
Deputies at the session also approved proposals on tuition fee support for preschool children, public and non-public high school students, and continuing education students in HCMC in the 2022-2023 period, the use of Hoc Mon District's investment resources of socio-economic infrastructure, adjustment of the State budget allocation of recurrent expenditure estimates, construction investment project of Tan Ky Tan Quy bridge in Binh Tan District, public investment program in 2023, adjustment of the construction project of embankment protection to prevent riverbank erosion and protect residential areas in Binh My village in Can Gio District's Binh Khanh Commune, construction investment project of Ca Chay residential area in Can Gio District's An Thoi Dong Commune, and adjustment of the capital of public investment plan in 2022 sourced from the local budget.
Event honouring President Ho Chi Minh held at UNESCO headquarters
Vietnam's Permanent Delegation to UNESCO and its Embassy in France held a ceremony at the UN body's headquarters in Paris on October 11 to honour President Ho Chi Minh – a great man of peace and culture.
This is part of the activities in celebration of the 35th anniversary of the adoption of UNESCO Resolution 24C/18.65 honouring the late President, held by the Foreign Ministry and relevant agencies at home and abroad.
Xing Qu, UNESCO Deputy Director-General, expressed his honour to attend the event and stressed that President Ho Chi Minh has left an imprint on human history.
He affirmed that with the UNESCO making this decision, member states all want to honour those who have always pursued an ideal in which the power of education and culture can nurture the identity and aspirations of the peoples.
At the event, around 200 participants who are leading officials and members of the UNESCO Secretariat, heads of other countries' permanent delegations, and ambassadors to UNESCO, visited a photo exhibition featuring the late President's life and career.
Site clearance boundary for Ring Road No.3 in HCM City approved
The HCM City People's Committee has approved the acquisition of 408 hectares of land and relocation of 740 households that own them to make way for the construction of a 47km section of the Ring Road No.3.
Ring Road No.3, identified as a key national project and one of the city's urgent traffic projects in 2021-25, is expected to improve the transport infrastructure and inter-regional connectivity, and create a new driving force for socio-economic development in the southern economic region.
It will help ease congestion in HCM City and transport goods from Mekong Delta provinces to the Nhơn Trạch Industrial Zone in Đồng Nai Province and Cái Mép-Thị Vải Port in Bà Rịa-Vũng Tàu Province.
It will run more than 76km through the city and the provinces of Đồng Nai, Bình Dương and Long An. A total of 1,476 households living on 640ha need to be relocated. The four-lane road will be built in four phases.
Construction has been delayed repeatedly after the project was approved by the Government more than 10 years ago.
Dialogue on social, health insurance policies with Japanese firms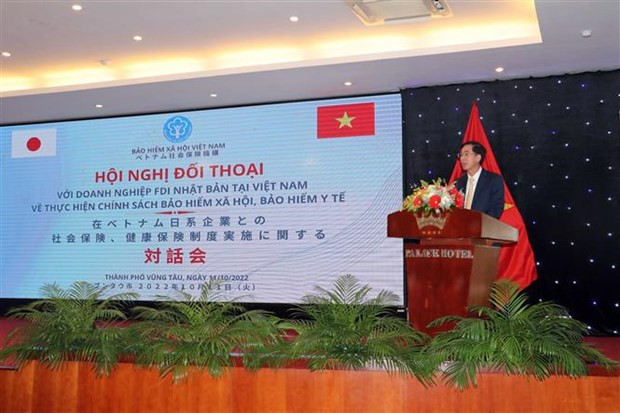 The Vietnam Social Security (VSS) hosted a dialogue with Japanese businesses on the implementation of social and health insurance policies, in the southern province of Ba Ria - Vung Tau on October 11.

The conference is part of the steps to exchange and update information, and prepare a roadmap for negotiating and signing a bilateral agreement on social insurance between the Vietnamese and Japanese governments.

The VSS has so far served over 2,100 Japanese businesses in Vietnam, with nearly 525,000 employees participating in social insurance, including more than 522.000 Vietnamese employees and 2,100 foreign ones. Social insurance revenue from Japanese FDI enterprises accounts for 12.9% of the total revenue from foreign invested enterprises operating in Vietnam.

In the first eight months of 2022, about 228,976 employees working at FDI enterprises nationwide received medical examination and treatment at a total cost of 58.9 billion VND (2.46 million USD) paid by the health insurance fund, including 7.3 billion VND for over 37,000 employees from Japanese FDI firms.
Vietnamese Vice President holds talks with Croatian PM
Vietnamese Vice President Vo Thi Anh Xuan held talks with Croatian Prime Minister Andrej Plenković in Zagreb on October 11, during which the latter welcomed the Vietnamese delegation and affirmed that their ongoing visit was an important hallmark in the history of traditional friendship and multifaceted cooperation between the two countries.
The two sides informed each other about the socio-economic development situation in each country and spoke highly of fine and reliable relations in politics and diplomacy between Vietnam and Croatia, and agreed to increase the exchange of delegations via all State and parliament channels and between ministries, sectors and localities.
Xuan conveyed the regards and invitation from Vietnamese PM Pham Minh Chinh to Plenković to pay an official visit to Vietnam at an appropriate time and the latter accepted the invitation with pleasure.
The leaders reached consensus on measures to improve the efficiency of bilateral economic-trade-investment ties, including considering the establishment of the inter-governmental cooperation mechanism, and launching projects in promising areas such as maritime, transport, light industry, clean energy, information technology and innovation while tapping new opportunities brought about by the EU-Vietnam Free Trade Agreement (EVFTA) and the EU-Vietnam Investment Protection Agreement (EVIPA), toward lifting two-way trade to 200 million USD by 2025.
On this occasion, Xuan thanked Croatia for early ratifying the EVIPA and suggested Croatia prompt other EU member states to soon approve the deal and urge the European Commission to lift its "yellow card" warning on Vietnam's seafood.
The two sides pledged to boost seaport cooperation to become hubs for goods transshipments between ASEAN and Europe, as well as expanding partnership in education-training, labour, culture, sports and tourism as Croatia is to join the Schengen visa-free zone and eurozone from January 1, 2023.
They consented to review bilateral cooperation agreements to create a legal corridor for increased cooperation between the two nations in various areas.
On regional and global issues, the host and guest shared a view that issues must be handled by peaceful means on the basis of respecting basic principles of international law, especially the principle of respecting independence, sovereignty and territorial integrity of countries.
Xuan took this occasion to thank the Croatian Government for creating favourable conditions for the Vietnamese community in the country to stabilise their lives, helping to enhance mutual understanding between the two nations and their economic, cultural, tourism and education exchanges. She also thanked the Croatian Government for its donation of 60,000 doses of COVID-19 vaccine to Vietnam in late 2021.
In the afternoon of the same day, the Vietnamese Vice President left Croatia for Kazakhstan to attend the sixth Conference on Interaction and Confidence Building Measures in Asia (CICA) and have bilateral activities in the country.
Vietnamese teenager tricked to work in Cambodia rescued
Border guards in the northern border province of Lai Chau announced that they have coordinated with their counterparts in the southwestern province of Tay Ninh and Blue Dragon Children's Foundation to successfully rescue a teenager who was tricked to work in Cambodia.
Sung Chinh Tuan, 16, was taken back home in Phong Tho district of Lai Chau province on October 11.
In mid-September, border guards in Phong Tho district received information from Sung A Do – Tuan's father - who said that Tuan was cheated to work in Cambodia.
Tuan said he was asked to join a job relating to online fraud after arriving in Cambodia. Because he refused to do the job, Tuan was beaten and forced to contact his family and pay a ransom of more than 100 million VND (4,191 USD)
After verifying the information with his family, the border guards in Lai Chau coordinated with their colleagues in Tay Ninh province and the Blue Dragon Children's Foundation, a charity that helps street kids and rescues victims from slavery and human trafficking in Vietnam, to rescue Tuan.
Vietnamese weightlifters perform impressively at Asian tournament
The Vietnamese team won six gold medals as of October 10 at the 2022 Asian Weightlifting Championships which is being held in Bahrain from October 6 to 16.
In the men's 55kg category, Lai Gia Thanh brought home a gold for a combined lift of 262kg, another gold for snatch and a silver in the clean and jerk event.

Nguyen Tran Anh Tuan took a gold medal in clean and jerk in the men's 61kg category.

Quang Thi Tam earned a gold in snatch in the women's 59kg category, a silver in combined lift and a bronze in clean and jerk.

Earlier, Khong My Phuong took two golds with one for snatch and the other for a combined lift of 166kg in the women's 45kg category on October 8. She also earned a silver medal in the clean and jerk event.
Her teammate Tran Thi My Dung clinched a silver medal in the 49kg women's category in the clean and jerk event on the same day.
Vietnam, Japan co-chair 16th meeting of EWG on peacekeeping
The 16th Meeting of the Experts' Working Group on Peacekeeping Operations (EWG PKO) Cycle 4 for the 2021-2023 period took place via video conference on October 11.
The event was co-chaired by Col. Nguyen Nhu Canh, Deputy Director of the Vietnam Department of Peacekeeping Operations, and Tomoko Matsuzawa, Director for Defence Cooperation in the Indo-Pacific Region of the International Policy Division of the Defence Policy Bureau under the Japanese Ministry of Defence, who is also head of Japan's working group on peacekeeping.
Delegates focused their discussions on issues related to "Action for Peacekeeping" Plus (A4P ); effective coordination among UN member countries; and activities will be held in Cycle 4 such as the 17th meeting of ADMM EWG on peacekeeping operations.
A seminar on women, peace and security will be organised within the framework of the event, the second in Cycle 4.
Quang Binh fishing boat in distress rescued
A ship from Naval Region 3 has been towing ashore a fishing ship which was in distress offshore the central province of Quang Binh, according to the provincial Border Guard Command.
At 3:00 pm on October 10, the fishing ship with seven crewmembers on board had an engine failure at a location 77 nautical miles east of Gianh Estuary.
After receiving information, the ship from Naval Region 3 immediately rushed to the place and conducted rescue work for the fishing vessel.
The fishing ship and its crewmembers are expected to arrive at the Naval Region 3's port in Da Nang city around 7:00 pm - 8:00 pm on October 11.
Binh Thuan to host Visit Vietnam Year 2023, promoting green tourism
The Ministry of Culture, Sports and Tourism has approved a plan to organise the Visit Vietnam Year 2023 by the south-central province of Binh Thuan, with the focus on promoting green tourism.
According to the provincial Department of Culture, Sports and Tourism, a ceremony to announce the Visit Vietnam Year 2023 - Binh Thuan is scheduled to be organised in December.
The opening ceremony of the programme will take place in March 2023, while the closing ceremony is slated for December 2023.
With the theme of "Binh Thuan: Green Tourism", the activities will focus on green products and clean energy, preserve and promote cultural heritage and good traditional values of Vietnam, towards a green growth, sustainable tourism development.
Along with the activities hosted by Binh Thuan, ministries, sectors and localities nationwide will organise events in response to the Visit Vietnam Year 2023 so as to speed up tourism recovery and development.
Capella Hanoi ranks among 10 new standout hotels in Asia
The New York Times has recently published an article unveiling the top 10 new standout hotels in Asia, with Capella Hanoi of Vietnam featured in the list.
Rosenbloom noted the hotel is located on a quiet and leafy boulevard in the capital which is just a few steps away from historic sites such as the Hanoi Opera House and the Old Quarter, with Capella Hanoi conjuring up images of glamour and high society from the roaring twenties. The hotel's art nouveau style is the work of Bill Bensley, an architect and designer renowned for creating special environments for luxury hotels around the world.
The 47 plush rooms and suites that feature either French balconies or terraces are decorated with operatic memorabilia. At the Backstage restaurant, opera costumes set the scene for fresh takes on Northern Vietnamese cuisine, while at Diva's Lounge, cocktails and Vietnamese-inspired tapas can be enjoyed against a backdrop of mirrors and red velvet curtains.
The author emphasised that even the indoor swimming pool was made to look fit for a prima donna. Referred to as La Grotta, it's a glossy area illuminated by several chandeliers and numerous mirrors.
Dengue fever cases continue increasing, especially in southern region
Việt Nam has recorded more than 236,700 cases of dengue fever since the beginning of this year, including jumps of 600 per cent and 1,800 per cent in HCM City and Quảng Trị Province, respectively, as compared to last year, according to the Ministry of Health.
There have been a total of 98 deaths across the country this year, an increase of 78 cases from last year.
The number of deaths had risen due to many factors, especially the prolonged COVID-19 pandemic that caused many difficulties for many healthcare facilities, said Nguyễn Trọng Khoa, deputy director of the Department of Medical Examination and Treatment (Ministry of Health).
In fact, in the past 10 years, the mortality rate from dengue in Việt Nam was lower than in other countries in the region, Nghĩa said.
Although it is October now, the dengue fever epidemic has not shown any signs of slowing and even continues to increase sharply in many localities across the country, especially in the south.
HCM City has registered more than 62,000 infections since the start of this year, including 1,360 severe cases.
Notably, the number of deaths from dengue this year in HCM City has been quite high, with 25 cases, an increase of 20 cases compared to the same period in 2021, 75 per cent of which have been adults.
One of the reasons for the high number of deaths was that patients were hospitalised late so they did not receive timely treatment.
Some southern provinces have also recorded an increase in dengue cases this year, such as An Giang Province with 13,200 cases, an increase of seven times compared to the same period last year, and Tiền Giang Province with 7,096 cases, including four deaths just in one week.
Specifically, in Hà Nội in the past week, there were 807 cases recorded. Although this is a slight decrease compared to the previous week, the number of cases was still very high. Dengue fever patients were mainly in the districts of Đống Đa, Thanh Oai, Hà Đông, Thanh Trì and Phúc Thọ.
Northern Hà Nam hosts National Chèo Festival
Around 1,000 artists of chèo (traditional opera) from the northern art troupes will attend a national festival in the northern province of Hà Nam between October 12 to 28.
Chèo is believed to have originated in the 10th century and has its roots in village festivals in the Red River Delta.
The National Chèo Festival will feature 16 troupes, including Hà Nội Chèo Theatre, Ninh Bình Chèo Theatre, Thái Bình Military Theatre and the host province.
The troupes will conduct 27 performances to entertain traditional chèo lovers and inspire young audiences.
The festival is a good chance for junior and high school students to access traditional chèo. Around 300 students will be part of the nightly festival audiences.
This will be an extra activity for the students to make them feel proud of and love traditional art genres, according to Tuân.
The best performances and artists will be awarded gold and silver medals and cash rewards during the closing ceremony at Culture Centre in the province.
VinUniversity awarded 4 Star overall rating by Quacquarelli Symonds
VinUniversity (VinUni), located in the capital city of Ha Noi, has become the youngest university in the Asia-Pacific region receiving 5 Star in 7 categories by London-based educational consultancy Quacquarelli Symonds (QS).
VinUniversity becomes the youngest university in the Asia-Pacific region receiving 5 Star in 7 categories by London-based educational consultancy Quacquarelli Symonds (QS)
Seven categories consist of Teaching; Academic Development; Internationalization; Social Responsibility; Facilities; Arts and Culture; and Inclusiveness.
After only two-year operation, VinUni officially received a 4 Star overall rating by QS at the opening ceremony for the school year 2022-2023 held on October 10.
Earlier, Viet Nam National University-Ha Noi and Viet Nam National University-Ho Chi Minh City were included in the top 1,000 best universities in the world in the QS World University Rankings 2022.
Of the 1,300 universities in the ranking, Viet Nam's Ton Duc Thang University ranked in group 1001–1200 and Ha Noi University of Science and Technology was named in the 1201+ group.
Viet Nam, Finland sign MoU on agriculture cooperation
Minister of Agriculture and Rural Development Le Minh Hoan and Finland's Minister of Agriculture and Forestry Antti Kurvinen signed a Memorandum of Understanding (MoU) on agriculture cooperation in Ha Noi on October 10.
Under the MoU, the two nations will continue bilateral cooperative programs and promote trade in agriculture.
Currently, Finland is supporting Viet Nam in human resource training and implementing projects relevant to the national forest information data to help the Southeast Asian country manage its forest information system in an effective manner.
Addressing the signing ceremony, Antti Kurvinen said that Finland will also assist Viet Nam in realizing its commitments made at the COP26 on climate change adaption.
Meanwhile, the Vietnamese Minister hoped that Finland will help Viet Nam strengthen its forest management capacity, including the realization of the Convention on International Trade in Endangered Species of Wild Fauna and Flora (CITES).
Over 11,500 medical facilities look up health insurance via chip-based ID cards
Information of over 3.1 million health insurance cards had been looked up via chip-based citizen identification cards at more than 11,500 medical facilities, accounting for 90.2% of the total number, as of late September.
To date, the insurance sector has completed a database of more than 98 million people, corresponding to nearly 28 million households. Nearly 13,000 medical facilities are interconnected.
As of late September, information of nearly 52 million people had been authenticated.
The national insurance database was launched on June 1. It covers social, health, unemployment insurance as well as medical and social security information to ensure citizens' rights and interests.
Expansion of Con Dao Airport to be completed in 2024
The renovation, upgrade and expansion project of Con Dao Airport in Ba Ria – Vung Tau province will begin in 2023 and be completed in 2024 to ensure large aircraft may land on the island.
According to the Ministry of Transport, the Civil Aviation Authority of Vietnam has been assigned as the investor and is organising the preparation of a feasibility study report for the project.
The Civil Aviation Authority of Vietnam is also calling for investment in aviation petroleum depots.
For civil aviation projects such as stations and parking lots at Con Dao Airport, the Ministry of Transport has assigned Airports Corporation of Vietnam (ACV) to develop the first investment proposal according to regulations, and later report to the Committee for the Management of State Capital at Enterprises for consideration and approval before investing.
Currently, the project to build an air traffic control tower and an automatic meteorological monitoring system at Con Dao Airport has been prepared by the Vietnam Flight Management Corporation and it is expected to be completed in the first quarter of 2024.
The Ministry of Transport will continue to direct relevant agencies to urgently complete necessary procedures, promote investment efficiency and implement the project.
Con Dao Airport is currently a level 3C airport according to International Civil Aviation Organisation (ICAO) standards. The passenger terminal was put into operation in 2005 with a designed capacity of 400,000 passengers per year.
Currently, Con Dao Airport is only operated by Vietnam Airlines and Bamboo Airways with ATR72 and Embraer E195 aircraft.
United Family Concert to celebrate Vietnam-RoK diplomatic relations
An art programme - United Family Concert – will be held at the Ho Chi Minh City Conservatory of Music on October 14 to mark 30 years of diplomacy between Vietnam and the Republic of Korea (RoK).
Concert is anticipated to see several special performances by artists from both Vietnam and the RoK, including Korean pianist Eun Young Joo, cellist Hye Young Joo, Vietnamese violinist Le Minh Hien, and the United Youth Harmony Choir (UYHC).
Aside from classical music pieces by famous composers Vivaldi, Mozart, Rameau, Chopin, and Dvorak, familiar Vietnamese and Korean folk songs will also be performed in a new style of chamber music for audiences to enjoy.
The concert will also celebrate five years since the founding of the UYHC, a community choir established by the Ho Chi Minh City Conservatory of Music under the sponsorship of Korea United Pharm Inc. This is also a testament to the friendship and co-operation in culture and art that exists between the country and the RoK.
The past five years has seen the Ho Chi Minh City Conservatory of Music develop the choir in a socialised way to bring music closer to the public, drawing the participation of many local people who have a great passion for music.
During the concert 50 scholarships costing VND4 million each will be handed over to the best students from universities across Ho Chi Minh City.
Thua Thien-Hue expects to set up tourism linkages with Cambodia
Chairman of the People's Committee of the central province of Thua Thien-Hue Nguyen Van Phuong has expressed his hope that an air route linking Hue city and Cambodia's Siem Reap province will be resumed in the near future to connect with tourist destinations.
Phuong made the statement during a meeting with Cambodian Minister in charge of Border Affairs Var Kim Hong on October 11, who has been in Hue city to attend the meeting of the two Chairmen of Vietnam-Cambodia, Cambodia-Vietnam Joint Border Committee.
Phuong also hoped that many cultural exchanges between the two countries will also be held in Hue city.
He wished the meeting of the two chairmen a success, contributing to building a borderline of peace, friendship, cooperation and development between the two nations.
Var Kim Hong expressed his delight to visit Hue ancient capital, a well-known heritage urban area of Vietnam.
As part of the programme, the Cambodian delegation is scheduled to visit Hue Imperial Citadel and relic sites in the Complex of Hue Monuments, a World Cultural Heritage.
EuroCham ready to help Vietnam build green, sustainable economy
The European Chamber of Commerce (EuroCham) and its member businesses are ready to help the Vietnamese Ministry of Natural Resources and Environment (MONRE) build policies and mechanisms to build a green and sustainable economy, EuroCham Chairman Alain Cany has said.
During a working session in Hanoi on October 11 with Vietnamese Minister of Natural Resources and Environment Tran Hong Ha, Cany said after the 26th United Nations Climate Change Conference of the Parties (COP 26) wrapped up, EuroCham has devised development target programmes and committed to stand side by side with the Vietnamese Government in the process of economic restructuring towards green, less carbon emissions and achieving the net zero emission goal by 2050.
EuroCham will hold the 2022 Green Economy Forum & Exhibition which is expected to attract over 200 European enterprises, through which the Vietnamese side will have a chance to access capital and modern technologies to develop a green, sustainable economy.
The MONRE will work closely with the EU Delegation to Vietnam and EuroCham on the ministry's state management work and those of businesses' concern.
In the near future, the EU Delegation to Vietnam and EuroCham will stand side by side with the MONRE to deliver on Vietnam's commitments on climate change and environment protection in line with the Vietnamese Government and PM's directions.
Mobilising all resources for national programme on ethnic minorities
National Assembly Chairman Vuong Dinh Hue has stressed the need to mobilise resources from society for the implementation of the national target programme on socio-economic development in ethnic minorities and mountainous regions in 2021-2030, given the limited State budget.
The NA leader made the direction on October 11 during the 16th session of the NA Standing Committee, when the committee considered the Government's report on the implementation of the programme.
He said the programme is lagging behind schedule and requirements. So far only 7% of capital allocated to the programme has been disbursed.
Hue asked the Government to accelerate the pace of implementation, adding that the NA's Ethnic Council will intensify supervision of the programme.
Chairman of the NA Ethnic Council Y Thanh Ha Nie Kdam said one year after the Government approved the programme, the promulgation of regulations on mechanisms for its implementation has been basically completed, but the pace of implementation is slow.
Minister-Chairman of the Committee for Ethnic Minority Affairs Hau A Lenh reported that the programme, approved by the Prime Minister on October 14, 2021, comprises 10 projects and 14 sub-projects with 36 components, to be managed and implemented by 23 ministries and sectors.
He said as of the end of August, 231 documents had been issued to regulate and guide the implementation of the programme.
Deputy Finance Minister Vo Thanh Hung said that the Finance Ministry has submitted to the Government and the NA Standing Committee the allocation plan for 5.429 trillion VND (around 226.8 million USD at current exchange rate) under the programme in 2022.
Vietnam to make active contributions to CICA: Ambassador
Vietnam will contribute proactively, actively and responsibly to shared concerns at the Conference on Interaction and Confidence Building Measures in Asia (CICA), Ambassador to Kazakhstan Pham Thai Nhu Mai has told the press.
Affirming the importance of the CICA, Mai said that Vice State President Vo Thi Anh Xuan will attend the sixth conference in Kazakhstan from October 12-14.
She said that Xuan will deliver an important speech affirming major guidelines and policies of the Party and State, highlighting the country's socio-economic achievements as well as its position, reputation and contributions to the settlement of regional and international issues.
The Vice President will have discussions and meetings with several head delegates and the CICA executive director within the framework of the conference in order to further promote bilateral and multilateral cooperation.
During her working visit to Kazakhstan, Xuan is scheduled to meet the country's high-ranking leaders, visit several economic establishments, and meet representatives from the Kazakhstan - Vietnam Friendship Association and the Vietnamese community. She will attend the ceremony marking the 30th anniversary of the establishment of bilateral diplomatic relations and the launch of a direct air route between the two countries.
According to the diplomat, the Vice President's working visit will make important contributions to promoting the Vietnam-Kazakhstan cooperation, thus meeting the interests and aspirations of the two peoples, and for peace, stability, cooperation and development in the region and the world over.
Regarding trade ties between the two countries, Ambassador Mai said that two-way trade hit 303 million USD in the first half of 2022, up 57% year-on-year.
Source: VNA/SGT/VNS/VOV/Dtinews/SGGP/VGP/Hanoitimes