Since August 2022, the price of Vietnam's 5% broken rice has been the highest it has ever been on the world market.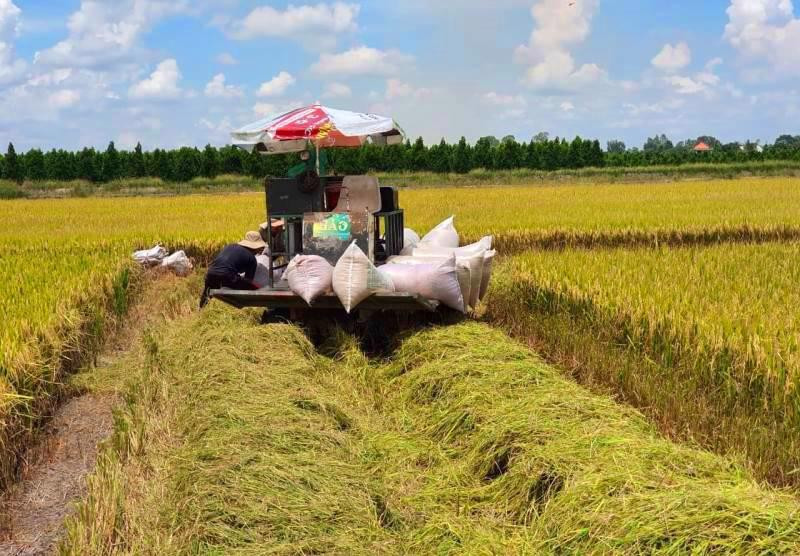 Crop harvesting in the Mekong delta region. Photo: Giang Lam
Vietnam's export price of 5% broken rice has been the highest in the world for several months since August 2022, surpassing Thailand's by US$15-27 per ton and India's by US$40-50 per ton, according to a report by the Ministry of Industry and Trade (MoIT).
Last year, Vietnam's rice export volume reached a 10-year high of 7.1 million tons. Despite a more than 20 percent drop in export volume in the first month of 2023, the upward trend in rice export prices continued, averaging more than $519 per ton in the first two months of the year.
The price increase was about 7%, offsetting the decline in volume, MoIT said.
The Vietnamese Food Association (VFA) reports that the current export price of 5% broken rice is $463 per ton, up more than 16% from last year.
The price of Vietnamese rice is now on par with Thai rice and exceeds that of India and Pakistan by $20-23 per ton.
This year, Vietnam plans to export 6.6 million tons of rice, and for the first half of the year, the country is expected to export 4.12 million tons of rice, but in fact, only about 360 thousand tons were shipped in January. This means that Vietnam needs to export more than 3.76 million tons of rice in the next few months to meet the target.
The MoIT has predicted that rice exports will remain favorable this year, with an estimated 6.5-7 million tons, thanks to the shipments to Indonesia, and Bangladesh and increased import demand from China following the pandemic.
Vietnam's main rival, India, has banned exporting broken rice and a 20% tax on white rice, prompting buyers to seek alternative markets with competitive prices, including Vietnam.
White rice constitutes 45% of Vietnam's export structure, with fragrant rice, sticky rice, organic rice, and rice fortified with micronutrients making up the rest.
Despite the positive outlook, the ministry acknowledges several potential challenges to rice exports this year. The first is that traders have limited market diversification strategies, and the rice export market still shows signs of unsustainability, relying on traditional markets such as China and the Philippines (the largest import market, accounting for more than 45% of Vietnam's total rice exports).
Moreover, Vietnam's rice exports face stiff competition from other low-cost suppliers like India and Pakistan.
The escalating prices of agricultural inputs have also pushed up the production costs, which in turn, have led to an increase in the purchase price of paddy and commodity rice. This has put immense pressure on rice exporters as the export selling price has not increased significantly. Although international freight rates have decreased compared to 2021, they remain high, especially after the Russia-Ukraine conflict.
To meet the export target, the MoIT plans to request the EU to include fragrant rice in the list of exports to that market and diversify and expand markets through trade promotion channels. The ministry also suggested that banks adopt more flexible measures, such as opening up new forms of mortgages for reputable export traders instead of just mortgaging assets, to provide them with more capital to purchase rice and export processing during the harvest season.
Source: Hanoitimes