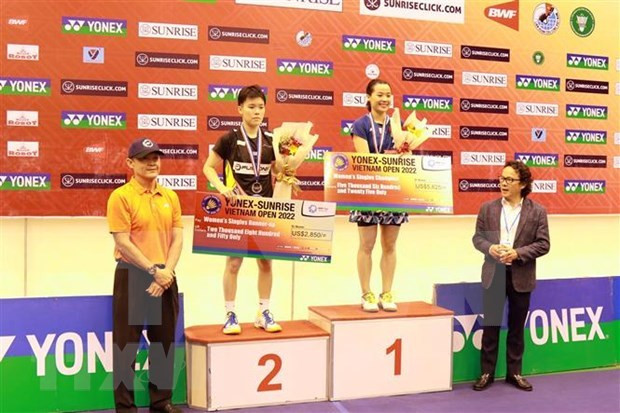 Nguyen Thuy Linh gains the top position at Yonex-Sunrise Vietnam Open women's singles champion 2022. (Photo: VNA)
After the Lunar New Year (Tet) celebration late last month, 26-year-old Linh returned to practice and she is expected to bag her first international award this year at a competition in Thailand.
Vietnam Badminton Federation, Vietnam Sports Administration's badminton department, and Linh's management unit in Dong Nai province have supported her to join international competitions for more scores which will offer further opportunities for Linh to attend Olympic Paris 2024.
Linh made a successful performance in 2022, especially after she won a bronze medal in the 31st Southeast Asian Games (SEA Games 31) hosted by Vietnam in May.
The girl also competed in the 2022 BWF World Championships and recorded an upset after losing to eventual bronze medalist An Se-young of the Republic of Korea in the second round, though she beat Aya Ohori of Japan in the first round.
In September, she won the Belgian International tournament by defeating Hirari Mizui of Japan in the final. A month later, she won her first-ever World Tour title at her home tournament of the Vietnam Open.
In the BWF's February men ranking, Vietnamese player Le Duc Phat jumped 84 notches from 299th position to 215th./. VNA