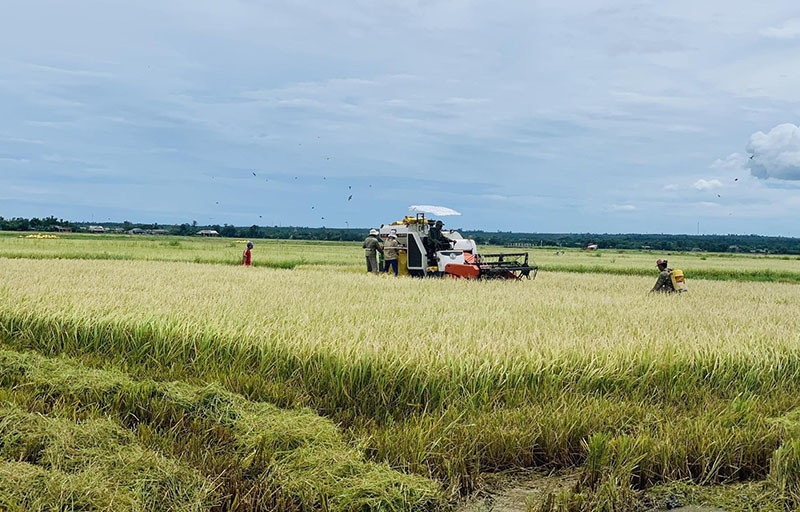 In mid-February, a consignment of organic rice of Quang Tri Agro Product Company (QTOrganic) was exported to Germany at $1,800 per ton, a rarely seen high price.
Pham Thi Diem Le, president of QTOrganic, revealed that a partner has placed one container of 23 tons of rice for the French market.
"They want four containers of organic rice a month for the European market, but we can provide only 1-2 containers, because the rice farming area remains small," she said.
Several days ago, 'Com Viet Nam' (Vietnam's rice) hit the shelves of 4,000 supermarkets in France. The fried rice uses ST25 rice variety, which is recognized as the best rice variety in the world, and was used for a special lunch at the Japanese cabinet office.
"Vietnam's ST25 rice is exported to Japan for $1,200 per ton. Distributors want to order 1,000 tons of rice a year to increase the retail at supermarkets," said Nguyen Chanh Trung, deputy CEO of Tan Long Group, which spent a year making every effort to bring ST25 to the Japanese market.
This shows that Vietnam's high-quality rice has been step by step penetrating choosy markets. However, the proportion of Vietnam's rice entering high-end markets such as the EU, US, Japan and South Korea remains modest compared with Vietnam's total rice export turnover.
The director of a company said that export prices to high-end markets could reach $1,000-2,000 per ton, which is much higher than the average export price of $531 per ton in the first three months of 2023.
However, Vietnam's rice is mostly exported to easy markets and targets low-cost market segments, so the value is not high.
In 2022, Vietnam exported 7.17 million tons worth $3.49 billion, an increase of 6.2 percent in value over 2021.
Of this, rice exports to the Philippines in 2022 brought turnover of $1.49 billion, accounting for 42.6 percent of Vietnam's total rice export turnover. The country has remained the biggest client of Vietnam over the last decade.
China is the second biggest consumer of Vietnam rice which bought $432.3 million in 2022, followed by the Ivory Coast ($294.6 million), Ghana ($203 million) and Malaysia ($198.9 million)
In the first three months of the year, Vietnam's rice exports brought total revenue of $952 million.
Over the last three decades of export, rice has become a multi-billion USD export item and Vietnam has become one of the three biggest rice exporters in the world.
However, after hitting a record high of $3.65 billion in 2011, export turnover began falling and has been flat since then.
Vietnam has to compete with a number of rivals. In the low-cost market segment, Vietnam competes with India. In the high-end market segment, Thailand and Cambodia have advantages in brands.
According to Le Thanh Tung from the Ministry of Agriculture and Rural Development (MARD), the rice yield in Mekong Delta is 6.2 tons per hectare, the highest level in the world, but yield and output are close to hitting the ceiling.
Making rice more valuable
Rice is compared to a Vietnamese gem. Rice production not only aims to satisfy domestic demand and ensure food security, but also brings billions of dollars a year from exports. However, the income of rice farmers remains low.
In 2016-2022, total rice consumed was 20-25 million per annum and rice exported was 5-7 million per annum. Experts say that the time for Vietnam to strive to put out as much as possible is over, and now is the time to improve quality to increase farmers' income, i.e. it is necessary to improve the quality of Vietnam's rice.
MARD, institutions, enterprises and localities are discussing a plan to develop 1 million hectares of high-quality rice in association with green growth in the Mekong Delta.
The Mekong Delta is the rice granary of the country. The rice output of the area has been stable in recent years, 24-25 million tons, making up 90 percent of the country's total rice output, bringing income to 1.5 million agriculture production households.
However, production efficiency and farmers' income remain low, and so is competitiveness. The plan, if implemented, is hoped to solve the problem.
MARD estimates that VND40 trillion is needed to implement the project.
Farmers would be provided with 30 percent of the cost to buy the rice variety for the first four consecutive crops, and would be allowed to access unsecured loans of up to VND 20 million per crop (6 months).
It is expected that from now to 2025, the Mekong Delta would have 500,000 hectares of high-quality rice and farmers' average profit would be over 35 percent. The figures would be 1 million hectares and 40 percent, respectively, by 2030.

Tam An