VietNamNet Bridge - Vietnam needs to develop a qualified labor force that can meet the requirements of industrialization and reduce the number of guest workers abroad, according to experts.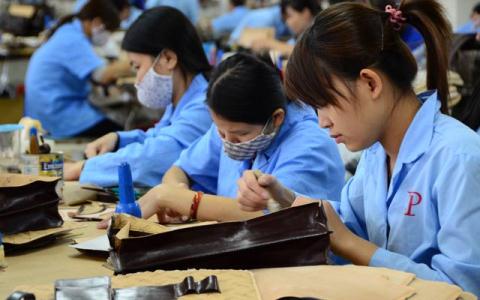 A report of the Ministry of Labor, War Invalids and Social Affairs (MOLISA) says that 57,000 workers were sent abroad in the first six months of the year, an increase of 6.08 percent over the same period last year.
Vietnam has been targeting easy-to-please markets which don't require high skills such as Taiwan and South Korea.
57,000 workers were sent abroad in the first six months of the year, an increase of 6.08 percent over the same period last year.
MOLISA has asked Thailand to create favorable conditions for Vietnamese workers to live and work legally in the country. The jobs are mostly as workers at restaurants and hotels, domestic help and porters, sellers of goods for owners and workers at construction projects and cattle slaughterhouses.

Pham Pho, former president of the Sai Gon Polytechnic & Economics College, said Vietnam should focus on training the domestic labor force to produce qualified workers who can help improve the country's productivity and work for foreign investors. If foreign investors feel satisfied with local workers, they will pour more money into projects in Vietnam.

He said Vietnam just tries to send as many workers abroad as possible to earn foreign currencies.

"Untrained workers can only take simple jobs and earn modest money. Those few workers who can be trained overseas will not want to come back to Vietnam," he said.

"The policy on sending untrained workers abroad will not last forever. It is should be seen as a temporary solution," Pho said.

"Domestic workers must be trained to have high skills. Even if they work for foreign invested enterprises, they will still be able to contribute to the country's development. If they work overseas, they will help other countries get rich," he continued.

He also warned that since Vietnamese workers are unskilled, they can be sacked at any time. "If foreign employers don't need them anymore, they will be laid off and will have return to Vietnam with empty hands," he said.

The expert decried the current policy under which vocational schools are put under MOLISA's control.

"MOLISA is not where highly qualified workers can be trained. It is just where workers are used," he said, adding that vocational schools need to be put under the Ministry of Education and Training's (MOET) management.

Vietnam had 1,465 vocational training units, of which 189 are colleges, 279 secondary schools and 997 centers, as of the end of April 2016.
RELATED NEWS
Vocational education is being revised
Vocational schools in Vietnam scale down despite huge investments
Kim Chi