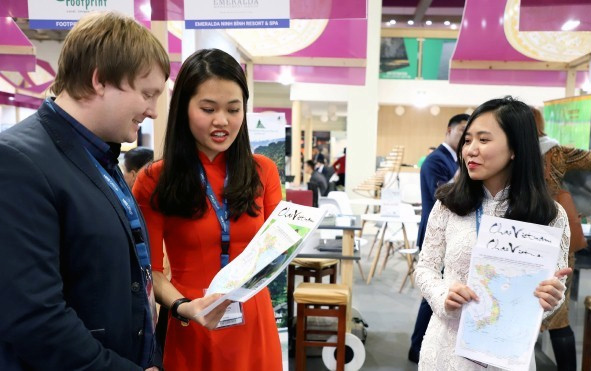 The Ministry of Finance's (MOF) Circular 12 dated February 2022 shows how money from the State budget will be used to promote, advertise and support tourism development.
The money for the Tourism Development Fund would come from two major sources, including the 10 percent of visa granting fees and 5 percent of excursion fees at attractions.
The fund will spend money to organize activities to introduce Vietnam's tourism; attend international tourism trade fairs; organize inter-country, regional and international tourism promotion events; advertise Vietnam's tourism on mass media; and organize conferences, seminars and press conferences and other tourism promotion events.
The new regulation in the circular is that Vietnam will spend money to receive key opinion leaders who have influences on Vietnam's tourism promotion; and organize reality TV shows to catch up with popular media trends.
The fund will also support electronic marketing development that serves tourism promotion and advertisement in the new period, in line with the new development phase of the digital economy and digital platforms.
Regarding spending on tourism development, the fund will support market survey and tourism product developments; develop the workforce for the tourism industry; and organize traditional tourism activities in the community.
Those who follow training courses for up to three months can receive financial support of up to VND4.5 million/head/training course. Those who follow training courses for more than 3 months can receive no more than VND1.5 million/head/month for no more than six months. As such, the support is no more than VND9 million/head/training course.
When organizing the contests on Vietnam's touris, the fund will give financial support of VND20 million maximum for collective prizes and VND15 million for individual prizes.
The state budget allocated to the fund can be used to support up to 50 percent of total expenses needed to perform the tasks presided over by tourism organizations and firms (one activity and one time within a year).
Analysts say that Vietnam's spending on tourism promotion is too modest. While other countries spend $60-100 million a year, Vietnam spends only $2 million on these activities.
In related news, since December 2021, the number of searches by international passengers about Vietnam's aviation and tourism accommodations has increased by 75 percent, the highest level in the globe, according to Google Destination Insights.
The highest number of searches are from the US, Australia and Russia. 
Ngoc Ha

The green city with a long cultural history, friendly people and reasonable prices is top of mind for many foreign tourists.
Cities and localities across the country have devised their own digital transformation programmes, which shows they have realised the importance of digital transformation to tourism development.