Vietnam to have its first Covid-19 vaccine
Results of a clinical trial phase 2 of made-in-Vietnam Covid-19 vaccine Nanocovax showed that 100% of vaccinated people made antibodies to fight the virus. The vaccine was also effective on the British variant of the coronavirus.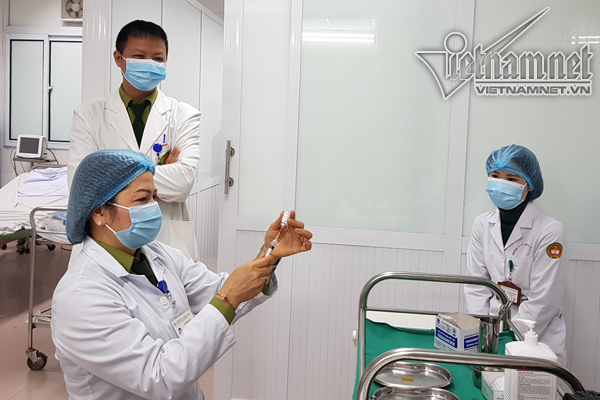 Phase 2 started on February 26 on 554 volunteers at the Military Medical Academy and the Medical Center of Ben Luc district in Long An province and ended on April 8.
According to the research team, the vaccine worked well as expected. All three doses have proven to be safe. 100% of participants produced antibodies at different levels.
In particular, the antibody index to neutralize the virus (the ability to destroy the SARS-CoV-2 virus) after two weeks of injection in the group of people injected with a 25mcg dose showed the highest results, with over 90%. It was lower for those injected with doses of 50mcg and 75mcg for the result but the gap is minor.
In phase 2, the team continued to confirm that the Nanocovax vaccine was effective with the British variant. The South African variant has not been tested.
On April 27, the research team will report to the Ethics Council in the field of biomedical medicine of the Ministry of Health for the final conclusion, and then choose the optimal dose before moving on to phase 3, scheduled to begin from May 5.
In phase 3, Nanocovax vaccine will be tested on 10,000-15,000 people, including people in India and Indonesia. At the Hanoi-based Military Medical Academy, nearly 800 volunteers have registered for trial of phase 3.
If it is favorable, by the end of September, the phase 3 trial will be completed, and then Vietnam can produce the first Covid-19 vaccine.
In the near future, WHO will have official guidance on vaccine testing on the principle of comparison with officially licensed vaccines.
This will create more favorable conditions for Vietnam's vaccines, especially when they can be compared with AstraZeneca vaccine, which has been used in Vietnam.
Nanogen's Nanocovax vaccine is the first Covid-19 vaccine in Vietnam to have a clinical trial, which started on December 17, 2020.
In addition to Nanocovax, the Covivac vaccine of the Institute of Vaccines and Medical Biologicals (IVAC) is also in a phase 1 clinical trial, expected to be completed on May 15.
Thuy Hanh

Two COVID-19 vaccines Nano Covax and Covivac, which were studied and developed in Vietnam, have proved to be safe and effective in the first and second clinical trials.