Vietnam to prepare for solar power boom
The proportion of solar and wind power projects in the entire national electricity system is expected to increase, requiring thorough preparation because of the instability of these power sources, experts have said.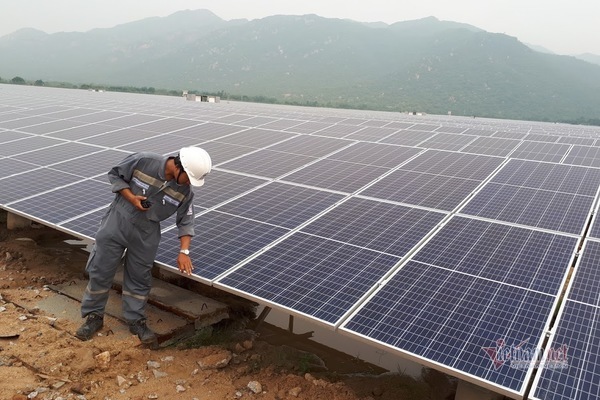 The draft of the eighth national power development plan shows majir changes in power source development from now to 2030 compared with the seventh plan.
Under the draft, Vietnam will develop wind and solar power on a large scale, with the capacity of wind power increasing by three times and solar power by two times compared with the adjusted seventh plan.
Vietnam will only continue the projects under construction or under investment promotion, to be operational in the 2021-2025 period.
The coal-fired thermopower proportion will decrease gradually from 34 percent in 2020 to 27 percent by 2030.
The Ministry of Investment and Trade wants to strongly develop gas-fired power with capacity increasing from 7GW in 2020 to 13.5GW by 2025 and 28-33GW by 2030 and the proportion of gas-fired power increasing from 15 percent in 2020 to 21-23 percent by 2030.
The wind power capacity would rise from 600MW in 2020 to 11,000-12,000MW by 2025 and 18,000-19,000MW by 2030. Wind power would account for 11 percent of total installation capacity by 2025 and 13 percent by 2030.
As for solar power, the capacity would increase from 17,000MW in 2020-2025 to 19,000-20,000MW by 2030. The proportion of solar power would be 17 percent of total installation capacity by 2025 and 14 percent by 2030.
Wind and solar power would also be strongly developed in 2031-2045, accounting for 42 percent by 2045.
However, because of the high uncertainty, the strong development of these power sources will have a major impact on the national electricity system.
The ministry believes that as the electricity generation capacity of the sources of power can change rapidly, wind power will cause considerable fluctuations to the electricity system when the wind changes or stops.
If other sources of power cannot replace wind power at that time, or existing power sources cannot be adjusted quickly to offset the capacity decrease, the electricity system will fall into imbalance in terms of supply sources and additional charges will occur. In the worst scenario, this may cause electricity outageon a large scale.
Warning of the problem, the ministry said it is necessary to develop other backup power sources which will be mobilized when wind and solar power sources fail. The capacity of the sources to be used needs to be nearly equal to the total capacity of wind and solar power sources which provide electricity to the national grid.
The ministry said it wants to encourage the development of rooftop solar power systems rather than large-scale solar power farms with the capacity of tens or hundreds of MW. 
Luong Bang

Vietnam has been witnessing a solar and wind power boom for three years, becoming one of the hottest markets in the world.

Prime Minister Nguyen Xuan Phuc has asked the Ministry of Industry and Trade (MoIT), localities and Vietnam Electricity Group (EVN) to review issues related to Vietnam's solar power development.