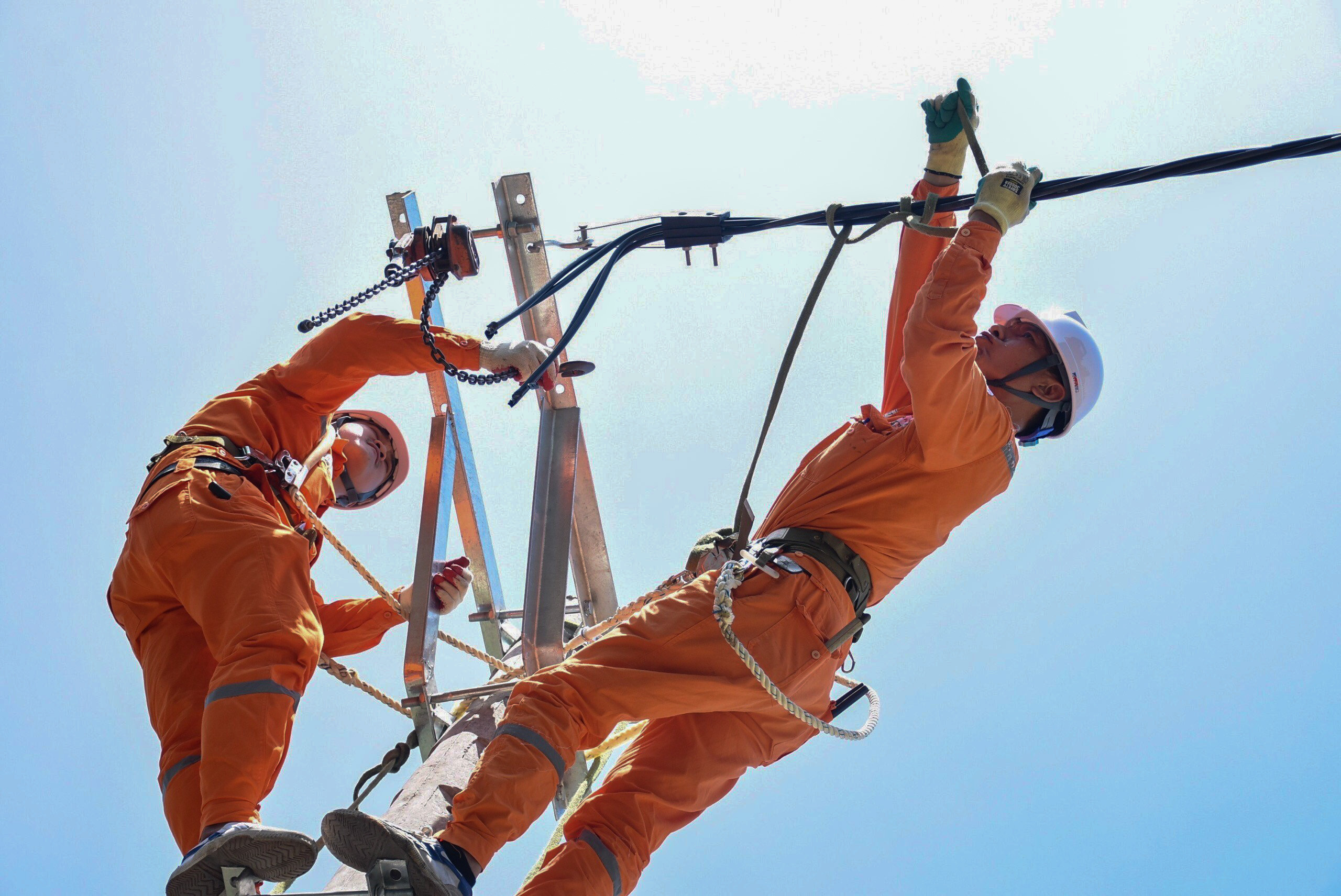 Deputy Minister of Industry and Trade Dang Hoang An said Vietnam imports 7 million kwh a day from Laos and 4 million kwh from China, including 450 million kwh/day for the north.
"We import electricity not because we lack electricity. We have been purchasing electricity from China since 2005 and we buy electricity from Laos under an inter-governmental agreement. We have also been selling electricity to Cambodia for many years under agreements between neighboring countries," An said.
Regarding renewable electricity output, An said the total renewables output is 100 million kwh a day, or one-ninth of the total output of the whole system, a relatively high figure.
"In the time to come, if we have more renewable sources, we will have to use technical solutions to store electricity, such as pumped hydropower storage (PHS)," An said.
Asked about negotiations about power purchase prices of transitional power projects, An said MOIT had met investors several days before and listened to investors' complaints.
To date, after many delays, 52 projects with the total capacity of 3,000MW have submitted dossiers to EVN to register negotiations with EVN, which means that the documents of another 33 projects have not been submitted yet. Of these, construction of many projects has not been completed.
The investors of 39 projects with total capacity of 2,363MW want to apply provisional prices equal to 50 percent of the ceiling price levels. To date, 16 projects have connected the grid to test parameters, while five projects can satisfy requirements to generate electricity to the national grid after the completion of the testing.
The total capacity of the five projects is 303MW. As such, the 303MW would be able to be put into commercial operation in several days.
"The figure remains modest. If investors don't make an effort, it would be very difficult to get COD (commercial operation date), because there are many regulations that need to be complied with," An said, adding that investors must fulfill their tasks, while MOIT has instructed its relevant units to undertake their duties as soon because they are required to create most favorable conditions for investors.
Meanwhile, there are still many things for other projects to do, such as inspection and official acceptance of work and electricity operation license.
Electricity supply: outages predicted for north
Vietnam now is at the end of the dry season, when the temperature is high and electricity demand is high because of summer heat. The water level at hydropower reservoirs has gone down and the capacity of hydropower plants has decreased.
The government on May 8 convened a meeting and asked relevant units to ensure sufficient power supply. After applying the measures instructed by the PM, the situation has improved.
The first and most important solution is ensuring the operational reliability of power plants. In the dry season, ensuring stable operation of thermal power plants, including turbine gas plants, is a top priority.
The second important solution is that the power generation corporations, economic groups and enterprises which have power plants, have to try every possible means to ensure enough fuel for power generation, including the supply of coal, FO and diesel.
When gas supply decreases, it is necessary to use DO, though this is a costly power source. There were problems with oil supply, but they have been settled.
"A fuel shortage must not occur; that is the instruction by the PM," An said.
To date, EVN has mobilized 900 million kwh of oil-run electricity, an encouraging figure in the context of EVN's financial difficulties.
An also emphasized the need to practice thrift in using electricity.
Regarding power supply, MOIT said the north is in summer, while the south has entered the rainy season, which means that the additional charges in the south won't increase further. The power consumption in the north will continue to be high in the north, while it will be stable in the central and southern regions.
There are 80,000MW of electricity installation capacity, while the highest demand is 44,000MW. If all power generation units go smoothly and fuel supply is sufficient, the water is used well and consumers can practice thrift, the difficulties in power supply will be overcome, according to MOIT.
Luong Bang