Vietnam warned of technological landfill risk

Vietnam is at high risk of receiving out-of-date technologies from poor-quality foreign investment projects, thereby threatening the sustainable development of the local economy, analysts have warned.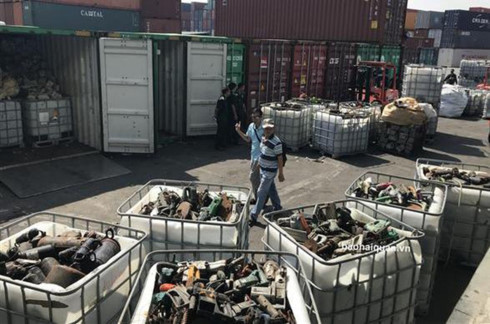 Domestic firms should remain alert when purchasing cheap technological equipment and production lines from foreign markets, experts warn. (Illustrative photo: baohaiquan.vn)
Freshly-released statistics from the General Statistics Office of Vietnam indicate that China's foreign direct investment (FDI) inflows into the country have seen sudden growth since the beginning of the year.
Hong Kong (China) topped the list of 95 foreign investors in the country with a total investment of US$5.3 billion while mainland China ranked third with the registered investment capital of US$2.29 billion, or 12.4 per cent of the total FDI inflow.
Analysts have described the soaring inflow of Chinese FDI as a result of ongoing US-China trade tensions which are expected to escalate. This could therefore pose a threat to the Vietnamese economy, putting the country at high risk of becoming a landfill for obsolete technologies.
Economist Nguyen Minh Phong noted that a number of countries, including China, have been under pressure to make technological breakthroughs in order to gain competitive advantages over rivals that impose high tariffs on their goods.
To increase their innovative performance, these countries must remove outdated technologies from their existing production process and simultaneously find ways of shifting such technologies to developing countries, including Vietnam.
Nations worldwide are eyeing the increased application of cutting-edge technologies to boost average productive capacity and cut down costs. Therefore, if Vietnam absorbs a large amount of imported low-tech production lines, it could hamper the quality of domestic goods and exports.
Domestic firms should remain alert when purchasing cheap technological equipment and production lines from foreign markets, Phong said.
Vu Tien Loc, chairman of the Vietnam Chamber of Commerce and Industry (VCCI), said China has embraced an explicit strategy regarding the use of advanced technologies to boost overall socio-economic development.
Loc added that China has been accelerating the development of new technologies arising from Industry 4.0, encompassing artificial intelligence, 5G, blockchain, and machine learning. As a result, it must eliminate outdated technologies.
Meanwhile, having entered a new phase of development, Vietnam must hasten the renewal of its foreign investment attraction policy towards luring additional high - quality, high added - value, and eco-friendly projects.
FDI inflows from the US, Europe, and Japan could well exceed expectations. Notably, the EU - Vietnam Free Trade Agreement (EVFTA), inked by both sides on June 30, is believed to open up additional quality FDI inflows into the domestic market.
Local firms should seek partnerships with enterprises from Europe - one of the world's most significant economic powers in terms of trade and corporate administration. These partnerships could enable Vietnamese firms to enjoy a better administrative capacity and, in time, grow into powerful entities themselves.
The Prime Minister has set a target of developing Vietnam into one of the world's top 20 most powerful economies in terms of competitiveness and business climate by 2045.
In the near future, the Government still sticks to its consistent policy of being selective with FDI projects, especially key and large-scale projects and those likely to lead additional FDI inflows into the country. VOV

The Vietnam Tourism Association and its chapters in the northern mountainous provinces of Phu Tho, Hoa Binh and Son La provinces are scheduled to launch an anti-plastic-waste action programme from July 15 to 17.

People passing Truong Chinh Street in Hanoi every day are used to a pile of trash in front of Alley 554 blocking traffic on one of the city's most congested roads.