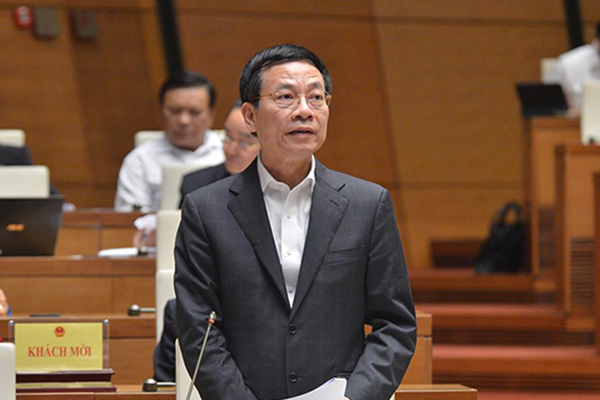 Minister of Information and Communications Nguyen Manh Hung
Phuong, a teacher in Ha Tinh, said she was worried when she had to continue meeting students in the new academic year via the internet because of Covid-19.
"No one told us what we need to do. My school last year provided a Teams account, but it doesn't provide accounts this year because of finance-related reasons. We discuss with each other and try Zoom and then use Google Meet," she said.
"We managed to make clips and then post the clips of lessons on platforms. We teach each other which platforms we should use, which ones have high quality and which ones we can use for free," she said. "Some days ago we used Zoom. It was okay though we were automatically thrown out every 40 minutes. But there's too much lag these days, so we have shifted to use Google Meet."
Phuong and other teachers said that despite some inconvenience, it's still easy to use foreign platforms for online teaching.
Nguyen Hong Hanh, Deputy Headmaster of Ly Thai To Primary School, said that most schools in the locality are using Zoom for online teaching, because it's simple and easy for primary school students. Google Meet is more suitable for secondary and high school students.
Hanh said the school tried apps provided by domestic firms but "teachers said they were not really effective and they did not have many utilities like Zoom".
The interaction capability was the biggest problem of Vietnamese-made software, according to a teacher in Hanoi.
He said while the interfaces of Zoom, Meet and Teams are friendly and simple, some Vietnamese platforms have too many features and have superfluous information, including ads.
"The software developers might think that having many features will be an advantage. But in fact, teachers and students just need some basic features. The most important things are simple login, easy operation and good interaction," he said.
The online learning market has seen a 150 percent growth rate a month over the last two years. Over 80 percent of market share is held by Zoom with 300 million users, while Microsoft Teams has 250 million and Google Meet 120 million.
Meanwhile, according to To Hong Nam from the Ministry of Education and Trianing (MOET), 90 percent of schools are using Zoom because Vietnam-made platforms do not meet their requirements.
Chu Cam Tho from Vietnam Institute of Educational Sciences, said that software products, both foreign and Vietnamese, used in online teaching in Vietnam just allow communication with others, but don't have the function of total systematic management, assessment and interactions.
Learning management systems (LMS) such as Teams, Google Classroom and Canvas are not specifically designed for administration in education, and are unconnected with digitized education data.
"Education is a system of activities and separate subjects. And education technology must be tools used just to solve educational problems," she said.
She said that teachers are using Zoom and Zalo just to see the faces of students, but they cannot show slides or e-books. They cannot give exercises and supervise the students' learning process, and students' achievements cannot be assessed immediately.
Tho pointed out that Vietnam has no true technology system specifically designed for online teaching, and this is the reason behind the problems.
Specific requirements
Phuong, a teacher from Ha Tinh, said she doesn't know which platforms to use if Meet is no longer useful.
Meanwhile, Nam said online teaching platforms have servers located overseas and don't have representatives in Vietnam so it's difficult to handle violations.
Nguyen Dinh Duc from Hanoi National University said it's necessary to build a software product for common use in online teaching throughout Vietnam. Schools are using different products, which makes it impossible to share resources in lesson plans and online courseware.
Tran Nam Dung, Deputy Headmaster of the High School for the Gifted under HCM City National University, said schools and teachers are willing to use Vietnamese software in online teaching, provided that suppliers improve the software to satisfy the requirements.
Experts believe that even if Covid-19 does not break out again, online teaching will still develop thanks to its great advantages. Minister of Education and Training Nguyen Kim Son at the National Assembly Q&A on November 11 affirmed that online teaching will continue even after the pandemic is controlled.
The Government and Ministry of Information and Communications (MIC) have recently created policies to develop digital technology products, including a 'Make in Vietnam' strategy and national digital transformation; and have organized competitions to encourage businesses to create useful technological solutions, such as the Make in Vietnam and Viet Solutions awards.
Vietnam's technology firms now have great opportunities and encouragement from the Government to enter the online learning platform market. 
Ha Anh

Video lessons made by outstanding primary school teachers identified by local education officials will be used by all primary schools in HCM City.

In a report answering National Assembly Deputies' inquiries, the Ministry of Education and Training (MOET) affirmed the efficiency of online teaching and learning, and fairness in accessing learning conditions among regions.