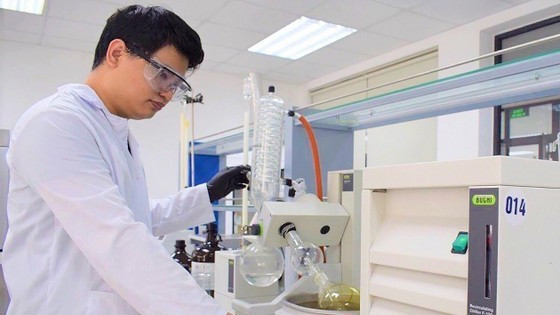 MS. Dr. Truong Thanh Tung working in his lab
Due to the dormant nature of HIV, it is highly difficult to cure patients of this disease. To bypass this mechanic, Truong Thanh Tung and his team used another substance to activate HIV within the cells, then let anti-HIV drugs access and remove infected cells, leaving healthy cells unaffected.
In another research, Dr. Tung and his colleagues revealed an alternative to antibiotics called "inhibiting bacterial pathway". The results of this study open up new hope for patients with multi-drug resistance to combat severe infections, which is a common cause of death in Vietnam.
MS. Dr. Truong Thanh Tung has graduated with distinction from Hanoi University of Pharmacy, studied masters at Seoul National University in Korea, completed doctoral and postdoctoral studies at Copenhagen University and Aarhus University in Denmark, and worked as an assistant professor at the University of Pittsburgh, USA.
Additionally, in November 2022, Truong Thanh Tung became the first Vietnamese scientist to be elected an official member of Sigma Xi International Scientific Research Association, one of the oldest and most prestigious scientific associations in the world with 200 members to have won a Nobel Prize.
Currently head of the New Drug Research Group at Phenikaa University, Hanoi, Tung is looking to synthesize rare and expensive medications to combat viral infectious diseases, Covid-19, HIV, cardiovascular diseases, cancer, among others.
Most prescription drugs produced in Vietnam are made from imported materials, leading to inflated costs and lack of sustainability. Therefore, Tung wishes to develop pharmaceutical substances from domestic materials to "localize" Vietnamese medicine.
However, trouble lies in limited funding for research. According to Dr. Tung, the budget for scientific studies is mostly reserved for well-established professors, and young scientists are often allocated only a tiny cut.
Fortunately, the Government recently has put in place more policies to support young researchers, the Central Youth Union also has plans to promote young talents, and Vietnamese universities are setting up more research groups.
Truong Thanh Tung was among the 10 young Vietnamese individuals to be honored in a national ceremony on March 23 in Hanoi, held by the Central Committee of the Ho Chi Minh Communist Youth Union.
There were 9 fields of study with researchers nominated, namely education, production labor, scientific research, entrepreneurship, national defense, security and order, sports, art and culture, and social activities.
Source: SGGP