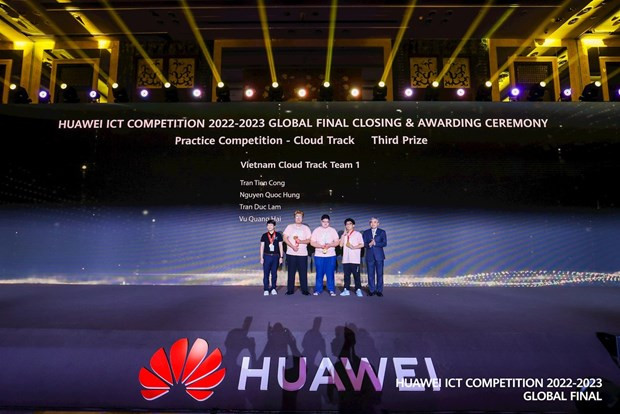 Vietnamese students win the third prize in the Cloud Track category of the Huawei ICT Competition 2022-2023 Global Final. (Photo courtesy of Huawei ICT Competition 2022-2023)
The team members included Nguyen Quoc Hung from the Posts and Telecommunications Institute of Technology (PTIT), Tran Duc Lam and Vu Quang Hai from FPT University, under the guidance of Dr. Tran Tien Cong of the PTIT.
The final round saw the competition of 148 teams from 36 countries and territories. Meanwhile, the qualifying round of this year's competition drew the participation of more than 120,000 students from over 2,000 universities in 74 countries and territories around the world.
As a key project of the Seeds for the Future 2.0 initiative of Huawei – China's leading global provider of information and communications technology (ICT) infrastructure and smart devices, the Huawei ICT Competition aims to provide a platform for global college students to compete and communicate with each other in the ICT field.
As of the end of 2022, Huawei has cooperated with 2,200 universities to build Huawei ICT Academies, helping to train more than 200,000 students each year. Since its initial launch in 2015, more than 580,000 students from 85 countries and regions around the world have participated in the competition./. VNA