Vietnam's No. 1 e-commerce brand to be dethroned?
VietNamNet Bridge – Lazada, the only foreign major player in the e-commerce market, has ambitions to dislodge Vietnamese ChoDienTu from its No 1 position.
VietNamNet Bridge – Lazada, the only foreign major player in the e-commerce market, has ambitions to dislodge Vietnamese ChoDienTu from its No 1 position.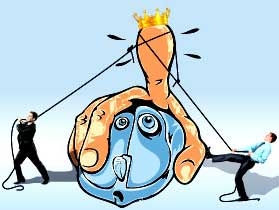 In mid-2013, when the high-tech community concentrated its attention on the "OTT wave" (over the top), Lazada.vn quietly launched an e-commerce trading floor named Marketplace.
Marketplace is believed to be Lazada's latest campaign of attack in the C2C (Customer-to-Customer) market segment, and it also plans to develop this platform in the B2C (Business-to-Customer) market segment as well.
The move by Lazada is described as a "declaration of war" against ChoDienTu.vn because C2C has been the core business for the Vietnamese e-commerce website.
Like ChoDienTu, Marketplace is believed to have taken many steps to attract suppliers by charging fees on products instead of collecting monthly fees.
Lazada may also follow the same path as ChoDienTu to increase its market share – making heavy investments in direct payment tools.
Lazada reportedly has reached cooperation agreements with 25 domestic banks, while it is discussing the possibility of more cooperation agreements with units providing card-based online payment services.
The German group made its debut in Vietnam in early 2012, but it has gained encouraging business results in Vietnam. The Rocket Internet Empire's subsidiary needed only two years to obtain 22 percent of market share, becoming the No 2 player in the market.
Regarding the "power" of Lazada, analysts said no Vietnamese e-commerce group could financially compete with Rocket Internet.
Meanwhile, Lazada had the second highest number of visitors in 2013 among retail websites, according to US-based comScore, an internet research firm.
Vietnam's e-commerce market
A report from VECITA, the Ministry of Industry and Trade's Information Technology Agency, says the e-commerce trading value in Vietnam hit the $2.2 billion threshold in 2013, a sharp growth rate of 300 percent.
It is expected that the market will create revenue of $4 billion by 2015.
The figures coincide with the report from EuroMonitor, a market analysis firm, which says that the Vietnamese internet population will reach 43 million by 2016, or 40-45 percent of the total population. This is considered to be the "golden proportion" for investors to jump into the e-commerce market.
A report showed that 79 retail of every 100 websites in Vietnam specialize in selling clothes, footwear and cosmetics.
The attractiveness of the e-commerce market is the reason that Pham Nhat Vuong, president of Vingroup, a real estate group, has decided to make investments in this business field.
Vuong, the first Vietnamese US dollar billionaire, recognized by Forbes, has set up VinE-com, an e-commerce company, with chartered capital of over VND1 trillion.
The "rookie" in the market has taken its first steps to prepare for the competition with existing and experienced rivals.
It has reportedly recruited talented executives in the field, while preparing to make several huge merger and acquisition deals. It has also registered a series of domain names as part of its long-term business strategy.
Christopher Beselin, Lazada's CEO, thinks that VinE-com will be a strong rival. However, he said the appearance of such rivals would only make the competition more interesting.
NCDT