Vietnam's tourism target looks tough to hit

Reaching Vietnam's goal of receiving 18 million foreign tourists this year looks to be in jeopardy. Hải Quan (Customs) newspaper talks with Ha Van Sieu, vice director of Viet Nam National Administration of Tourism, about the situation.
Danang aims to attract more tourists from Europe
High-tech tourism services attract more travelers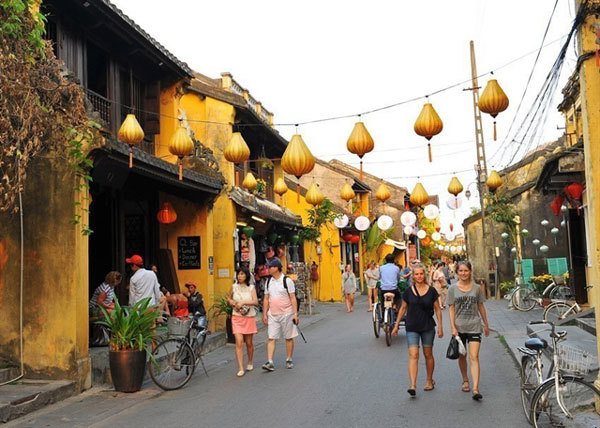 Tourists visit Hoi An Old Town in the central province of Quang Nam. VNA/VNS Photo Bui Van Lanh
The number of foreign tourists to Vietnam has decreased in the last two months. How does the administration evaluate this? Will it affect the target of welcoming 18 million foreign tourists?
According to the latest figures, the number of foreign tourists to Vietnam exceeded 1.3 million in May and was more than 1.1 million in June.
The numbers dropped about 10 per cent compared to April but were still higher than in the same period last year.
So, the total number of foreign tourists was 8.5 million for the first half this year, up 7.5 per cent compared to last year.
The main reason for the decrease in the last two months was the impact of the ongoing China-US trade war which made the number of Chinese arrivals reduce.
Moreover, the number of South Korean tourists seemed to slow down after hot growth.
The decrease of tourist numbers was obvious because the two tourist groups account for a majority of total visitors to Vietnam.
Besides, many neighbouring countries are intensively investing in tourism so the competition became more and more fierce.
Although the increase of foreign tourist number in the first half this year did not reach a rate of 20 per cent like last year, the tourism sector will make strong efforts to reach the target of 18 million tourists.
What measures will the sector carry out to cope with the situation?
To gain back the important groups of Chinese and South Korean tourists, the administration and Ministry of Culture, Sport and Tourism have carried our several tourism promotion campaigns in China and South Korea.
The administration has asked the ministry to transfer finance used for tourism promotion programmes in the US and Middle East to China and South Korea with a hope of receiving a huge number of the tourists in the second half of the year.
Besides, provinces and cities have implemented their own tourism promotion campaigns along with further investment into infrastructure works such as highways, airports and seaports.
In terms of State management, the administration has increased inspections of tourism entities as well as tourism destinations to ensure service quality.
Many have said the hot growth of tourism in recent years has caused an overload and low service quality. What's your opinion?
The dramatic increase of foreign tourists from 7.9 million in 2015 to 15.5 million in 2018 caused overloads in some tourism destinations in high seasons.
Tourist overload leads to bad services and an unsafe and unhygienic environment, harming Vietnam tourism's image.
According to the World Economic Forum, pollution of the environment, weak infrastructure and a less open market have been hindering Vietnam's tourism sector.
Also, tourism management and promotion are not yet flexible and effective.
Will the administration introduce any specific solutions to attract more tourists and deal with the shortcomings?
Despite a drop of tourists in the first half this year, the World Tourism Organisation forecasts that Vietnam's tourism sector would reach a growth rate of 6.5 or 8.5 per cent this year, higher than the rate of the Asia-Pacific region of 5 or 6 per cent, and double the global rate of 3 and 4 per cent.
Total revenue is expected to be VND700 trillion (US$30 billion), up by 10 or 12 per cent compared to last year.
To lure foreign tourists to Vietnam, the tourism sector will focus on promotion programmes including business environment improvement and national competitiveness capacity enhancement.
Management of tourism destinations, services and tour guide quality will be tightly supervised.
The administration will work with local governments to promote tourism activities such as HCM City's International Tourism Expo, the National Tourism Event in Khanh Hoa City, the 2020 National Tourism Event in Ninh Binh Province and the F1 Grand Prix in Hanoi next year.
VNS