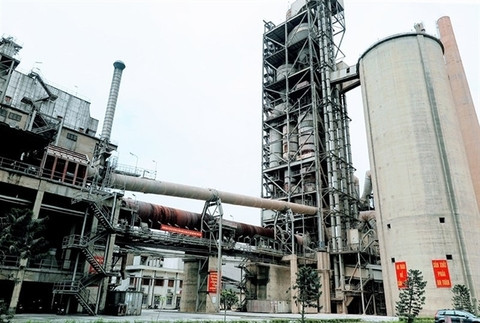 A cement plant under Vicem's management in the northern province of Ha Nam. — Photo VICEM
They claimed demand has sharply declined in domestic and export markets while input costs have steadily risen. As a result, cement makers have been posting significant financial losses since the beginning of the year.
Vicem Ha Tien Cement Joint Stock Company reported a consolidated net loss of VND85.6 billion (US$3.6 million) for the period, compared to a net profit of VND24.8 billion in the same period last year.
The company said demand fell by 18.73 per cent during the first quarter of the year while input costs rose as much as VND15.2 billion, on top of a higher financial cost of VND18.4 billion due to interest rate hikes.
According to Vicem Ha Tien's management, the company was trailing behind in both its quarterly and yearly targets and it is looking increasingly difficult to reach a revenue target of VND9 trillion this year.
Similarly, Bim Son Cement Joint Stock Company reported a loss of VND48.6 billion for the period. The company stated a fall in sales revenue, coupled with increases in financial costs and operational expenses were the main contributors.
The company has set a target to produce up to 2.8 million tonnes of clinker and 4.54 million tonnes of cement products, as well as a revenue target of VND4.6 trillion. With the first quarter being a net loss, the company said it has plans to turn things around with the acquisition of a mining licence for the Yen Duyen limestone quarry and leasing of the Tam Dien clay quarry.
Earlier, the Viet Nam Cement Industry Corporation (VICEM) announced its first quarter's financial report. The report said consumption of cement and clinker products, for the domestic market and export, fell nearly 20 per cent compared to last year.
According to KIS Vietnam Securities Corporation, Viet Nam's cement production stood at 111 million tonnes per year, nearly double the domestic market demand. To make matters worse, additional cement plants are expected to become operational in the near future.
In addition, the industry's major production centres, which were forced to locate near the source materials, have created an imbalance in supply and demand among different regions, hindering their ability to set competitive price and maintain stability in the domestic market.
The securities firm said domestic cement makers will likely struggle with the same challenges for the rest of the year due to a slowing down of Viet Nam's property market while demand from international markets is unlikely to experience a boost.
A report by SSI Securities Corporation said domestic demand for cement products fell by 15 per cent during the first months of the year while export declined by 26 per cent with the largest buyer of Vietnamese cement – China – falling by as much as 95 per cent.
An increase in electricity prices will likely hurt the industry's profit further as electricity typically accounts for 9-15 per cent of the cost of goods sold. A 3 per cent hike in electricity prices can result in a profit decrease as large as 13 per cent for the industry.
Additional rounds of tariff adjustments from export markets, such as the Philippines, are expected during the second quarter of 2023. Meanwhile, shipping costs have been projected to increase during the remaining months of the year. — VNS