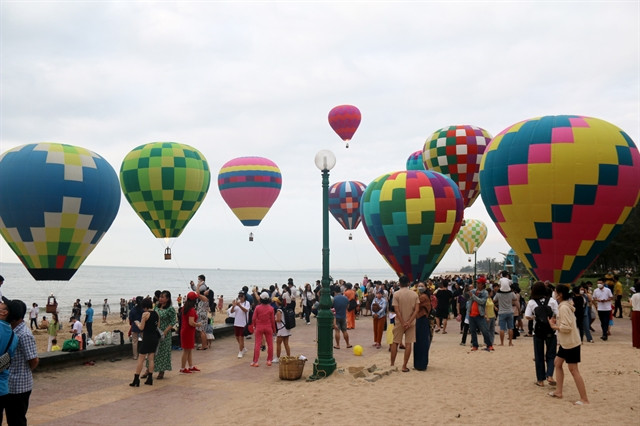 Visitors on Đồi Dương Beach during a hot-air balloon festival held on March 24 to celebrate the National Tourism Year 2023 themed "Bình Thuận – Green Convergence". — VNA/VNS Photo Nguyễn Thanh
Bình Thuận Province has been set as a destination of the National Tourism Year 2023, a move expected to pave the way for remarkable developments in the southern-central region's tourism industry.
The 'Bình Thuận-Green Convergence' themed programme seeks to drive green growth and promote tourism sustainable development through collaboration with other economic sectors.
Over 200 events of both national and international significance will be organised across Bình Thuận Province, as well as 41 other localities nationwide, as part of the programme.
A launching ceremony for the programme was held in Phan Thiết City on Saturday night with the attendance of National Assembly Chairman Vương Đình Huệ, Deputy Prime Minister Trần Lưu Quang, Minister of Culture, Sports and Tourism (MoCST) Nguyễn Văn Hùng, many other government and authority officials, local people and visitors.
At the ceremony, Deputy PM Quang said the event follows the message of the third National Conference on Tourism held on March 15, chaired by Prime Minister Phạm Minh Chính.
According to the Deputy PM, Việt Nam tourism has rapidly developed to gross outstanding achievements and has become an important economic sector of the country's economy.
It has really become a bright spot on the world tourism map and been recognised widely among the international community with many top global tourism awards, Quang said.
With the very meaningful theme, Bình Thuận - Green Convergence, the Deputy PM stated: "We affirm to develop not only just tourism but green and sustainable tourism. Bình Thuân has become a bright spot in the tourism development of the central region and the whole country. We confirm the Party's consistent policy that economic development must be in harmony with nature, and we will not sacrifice the environment for economic growth."
The Deputy PM expressed his belief that by using its "internal energy", Bình Thuận would turn the weather disadvantages into its tourism brand of "blue sea-white sand-bright sunshine".
He emphasised the country would continue to ensure sustainable values that its tourism has achieved and created a firm stand among domestic and world tourists over the years.
"It is about the messages of 'Việt Nam-a safe country'; 'Việt Nam-a safe, friendly, attractive destination', and 'Việt Nam-a friendly, peaceful, cooperative and hospitable country."
Also speaking at the launching ceremony, MoCST Hùng said Bình Thuận was selected as the host of the National Tourism Year 2023 after the success of the National Tourism Year 2022 held in Quảng Nam Province because it was not only represented for the central region with "blue sea-white sand-bright sunshine" but also for providing visitors more chances to experience green tourism with many new attractive products.
The grand ceremony featured stories on the Green Convergence theme, such as the origin of the mountains, the sea and islands, the cultural identities, people's activities, customs and habits, and village scenery. These stories convey messages on environmental protection and green, safe and friendly tourism development.
The opening ceremony also included a light show performed by drones, flying hot air balloons, paragliding performances, fireworks and art performances with the participation of many famed artists such as diva Mỹ Linh, Tùng Dương or Noo Phước Thịnh, along with 600 professional and amateur artists of professional theatres and art troupes from Hà Nội, HCM City and Bình Thuận Province.
Other major events of the National Tourism Year 2023 programme are the final award ceremony of the contest "Việt Nam aspiration: Making Phan Thiết the world's leading MICE and Wellness destination in 2045", held in September, the closing ceremony and New Year's Eve 2024, held on December 30 in Phan Thiết City, Bình Thuận Province.
Located in the southernmost part of the coastal central region, Bình Thuận is gradually gaining a firm foothold in tourism, promising a regional- and world-level attraction shortly.
The charming province is home to a 192km-long coast with various beautiful beaches, poetic landscapes, fresh air, and a warm climate.
Many prestigious travel magazines have selected the locality as one of the ideal destinations in the world.
The locality gathers enough factors to develop a variety of products such as resort tourism, excursions, recreational sports on the sea, dunes, adventure tourism, exploration of flora and fauna under the sea, cultural tourism, tours of belief and religious establishments, historical and cultural relics and special traditional festivals.
Bình Thuận is home to nearly 900 accommodation establishments, 13 travel agencies, and 25,000 tourism workers.
The locality's tourism sector recorded an average annual growth of 22.4 per cent and contributed 9 per cent to the province's GRDP. It has gradually become a spearhead economic sector of the locality.
Last year, the province welcomed 5.6 million tourists, earning an estimated revenue of VNĐ12.8 trillion (over US$546 million). It strives to attract over 6.7 million tourists this year and turn tourism into one of the three pillar economies.
With the theme, Bình Thuận – Green Convergence, the National Tourism Year 2023 promises a prosperous year for Việt Nam's tourism. — VNS