VietNamNet Bridge – The number of Vietnamese cosmetics brands in the home market remains very modest. But the situation may get different in the future, as more investors plan to pour money into the sector.
There are about 100 cosmetics brands making their presence in Vietnam, while 90 percent of the products available on the market are the imports.
Vietnamese market large enough for everyone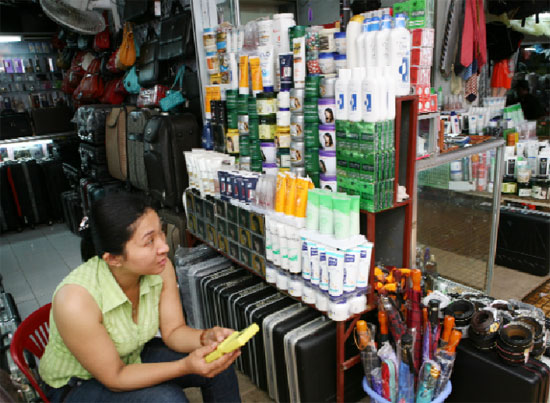 Vietnam is believed to be a potential cosmetics market with the average spending of $4 per person per annum on cosmetics, much lower than that of $20 in Thailand.
A report of a market survey firm released recently showed that 30 percent of students aged 15-16 at 30 schools in Hanoi, HCM City, Da Nang and Can Tho begin using some basic skin care and make-up products.
The proportions are 70 percent 17-19 year old students and 90 percent for over 19 year old students.
The figures only counted on the students who use at least three cosmetic products.
President of Sai Gon Cosmetics Company Nguyen Kim Thoa has noted that making cosmetics for young customers has become the new target of all cosmetics manufacturers.
Foreigners playing on Vietnamese playing field
Foreign brand cosmetics have been flooding the domestic market, available at luxurious shopping malls, cosmetics shops and supermarkets. Meanwhile, domestic brands just account for 10 percent of the market share, mostly targeting low income earners and rural consumers.
Large distribution network, noisy advertisement campaigns and renovated products are believed to be the three factors that help foreign brands conquer the domestic market.
Foreign brand cosmetics have been favored also because of the increasingly high number of middle class income earners, who have demand for high quality branded cosmetics.
While the information about foreign products can easily reach to consumers through mass media, Vietnamese products remain unfamiliar to Vietnamese people.
General Director of My Hao Cosmetics Luong Van Vinh, said Vietnamese companies remain not financially capable enough to run big-scale ad campaigns to popularize their products. They cannot pay for TV ads and cannot afford the retail premises rent at trade exhibitions
Natural materials will save domestic cosmetics industry
Despite the current inferiority of domestic brands to foreign ones, analysts still believe that Vietnamese producers have the opportunities to regain the market in the future.
The biggest advantage Vietnamese producers can take is the profuse and diversified material source - essential oils, aromatherapy, peppermint, lemongrass, anise – the traditional materials favored by Vietnamese. People all over the world nowadays also favor the cosmetics made of natural material essences.
The stories about Thorakao or Thai Duong are the typical examples proving that Vietnamese brands can also succeed if they follow the right path.
However, Vietnamese enterprises have been warned that big difficulties are still ahead. Le Chau Giang, Legal Director of Johnson & Johnson Asia Pacific, noted that Vietnamese are capable to make high quality products, but they still need the state's support to development.
"The Vietnamese cosmetics industry would still lag behind other countries unless the government can see that this is a very big and potential industry and encourages its development," she said.
DDDN