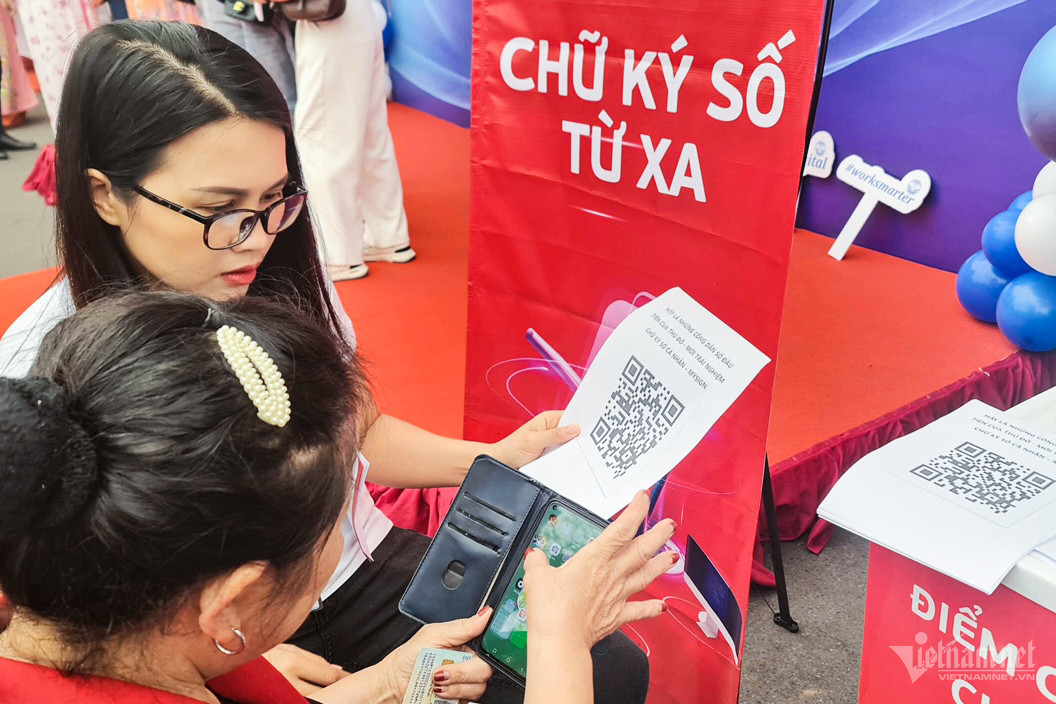 The Vietnamese digital signature service market has been growing strongly over the last few years. Digital signatures are used by many businesses, agencies and organizations to simplify and modernize administrative procedures in many fields, including taxation, customs, social insurance, bidding, and e-bills.
The Ministry of Information and Communications (MIC) wants to speed up the universalization of digital signatures and personal digital signatures in particular, with a focus on remote digital signatures.
Responding to MIC's call, digital signature authentication service providers (public certificate authority, or public CAs) have applied policies to exempt or reduce service fees for individual clients.
Nguyen Kho Din, general director of Bkav SME Digital Transformation Platform Company, a member of Bkav Corporation, said that BKAV-CA has deployed a program on providing digital signatures to people on Ho Guom pedestrian street in Hanoi every Saturday, free of charge.
BKAV-CA has also joined forces with the provinces of Quang Ninh, Thai Nguyen and Thua Thien-Hue and Da Nang to provide digital signatures directly to people.
MISA, in addition to providing digital signatures to people on pedestrian streets for free, is providing signatures to university and junior college lecturers and students.
The technology firm is offering a one-year fee exemption for using MISA eSign with full utilities and no limitation in number of turns, which aims to help people gradually change their habits.
MISA hopes that activities will encourage people to use remote digital signature service to implement administrative procedures in the electronic environment, thus contributing to promoting digital transformation.
A representative of MobiFone, the telecom carrier pioneering national digital transformation, said when deploying the digital signature service MobiCA, it offers trial use, gifts and discounts on special occasions.
MobiFone also has helped build the Law on Electronic Transactions, and has joined forces with units to disseminate knowledge about digital signatures to agencies, businesses and people.
Phung Huy Tam, CEO of Nacencomm, said the biggest challenge for him is how to spark a movement to encourage people to use digital signatures every day.
According to MISA, awareness of legality and security of digital signatures remains modest.
Trong Dat