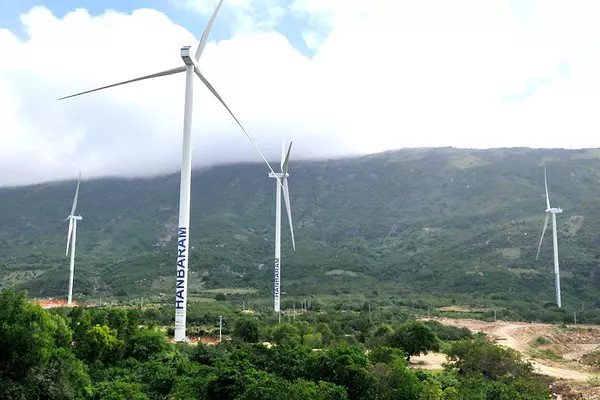 Tens of billions of VND worth of equipment are now being exposed to the rain and sun.
The Hanbaram wind power project on both sides of Highway No 1 which goes through Ninh Thuan province, for example, is not operating.
The installation and connection of 29 turbine poles, and the transmission line and transformer station connected with the national grid kicked off on October 31, 2021.
However, because of Covid-19, only six out of 29 poles, or 20 percent of the capacity, obtained COD (commercial operation date) recognition by October 31, 2021 in order to be able to enjoy FIT in accordance with the Prime Minister's Decision 39/2018/QD-TTg.
Meanwhile, the remaining 23 poles were not recognized in COD as Decision 39 expired and there is still no new policy.
The project's investors are awaiting new policies.
This is not the only project which has stalled because of the lack of policies. As of October 31, 2021, when the FIT mechanism terminated, 84 wind power plants with total capacity of 3,980.27 MW had received COD recognition, while the other projects could not become operational by that time.
Nguyen Thi Thanh Binh, deputy CEO of T&T Group, said at a recent seminar about energy development that on average, a 100 MW wind power project has investment capital of VND4 trillion and the average commercial interest rate is 10 percent. A burden will be put on investors, banks and society if it cannot obtain COD recognition and get revenue.
Like solar power, there has been no new policy for wind power projects completed after October 31, 2021, which has caused difficulties for investors in the long term.
"There must be policies designed in a way to create a stable investment environment which can predict problems, costs and feasibility of projects, especially ones which have completed construction but are partially operational," Binh said.
The Ministry of Industry and Trade (MOIT) said it is drafting a new policy for renewable power projects, under which the Electricity of Vietnam (EVN) would buy electricity from power plants through bidding.
Binh has proposed that the ministry and relevant ministries define transitional projects and classify these projects so as to design reasonable policies.
There should also be a policy that helps ease difficulties for projects which have fulfilled construction but did not receive COD recognition, for several reasons, including Covid-19 impact.
Commercial banks also hope that their clients, or renewable power developers, can enjoy a reasonable policy. A banker said the only source of income from power projects is the sale of electricity to EVN.
Meanwhile, the power projects are the only assets for banks to consider risks and provide loans. Therefore, if investors cannot sell electricity, the projects will be risky.
Worries
Many investors are discouraged about the tentative new mechanism drafted by MOIT. The draft of the mechanism was submitted to the Prime Minister in March 2022.
Under the draft plan, the power purchase contract and power prices will be applied until the end of 2025. After 2025, power plants will have to attend bids in accordance with regulations to be issued by the Government or MOIT.
The currency to be used to set power prices is the Vietnamese dong, which will not be adjusted in accordance with dong/dollar exchange rate fluctuations. Power will be mobilized based on demand, while power plants have to comply with the national power system regulatory process and other related regulations.
As such, the draft policy is different from the FIT mechanism once applied. Power investors would have to attend bids once every five years instead of enjoying a single price for 20 years as shown in the FIT mechanism.
The second difference lies in the currency used to calculate the electricity price. In the past, the electricity price in Vietnam dong was adjusted in accordance with the dollar price, while under the tentative scheme, only the Vietnam dong is accepted.
The most noteworthy aspect of the new mechanism is that EVN would only buy the volume of electricity it needs, and it would not have to commit to buy all the electricity to be put out by power plants.
An investor noted that with the draft scheme, no investor will invest in wind power projects.
Luong Bang