Pham Hung Cuong, 32, in Tinh Hiep commune, Son Tinh district, in the central province of Quang Ngai went to other localities to learn about agricultural models, after realizing that he had a special bond with plants and animals. He then came up with the idea of ​​raising rabbits and growing asparagus.
"Asparagus is easy to care for and can be harvested all year round. The period from germination to plant development is only about 3-6 months. People will normally take only the young part of asparagus buds while discarding the old portion which I think could be used to feed rabbits as they enjoy eating vegetables. Asparagus can in return benefit from the manure compost of rabbits," Cuong explained.
In 2019, he won third prize with his "Model of organic closed-loop farming" in the Innovation Entrepreneurship Contest held in Quang Ngai province. This award strengthened his confidence in starting an agriculture career.
However, it required huge capital to which he alone could barely make viable, so Cuong decided to call on like-minded friends to join him. A group of 20 people was formed. They decided to set up a rabbit breeding cooperative and assign one another to be in charge of production, marketing or accounting.
After some time running the model, Cuong sensed that asparagus was hypersensitive to plant protection drugs since herbicides sprayed around the banks of the ditch got blown into the garden by natural winds causing the mass death of asparagus.
Along with using rabbit manure, he created a special fertilizer for the plants. One of the economical and environmentally friendly methods is to make use of discarded egg shells and fruit peels from restaurants and cafes, according to Cuong.
"It sprang to my mind the idea of ​'vegetables in exchange for rubbish'. People give me garbage, and I will give them asparagus, rabbit meat ... This is to maintain the efficiency of the program. I need to show people the profit they can get when sorting out their waste," Cuong said.
Revival after the storm
Banana, pineapple, yogurt, molasses and others are used to produce probiotics that help to swiftly decompose garbage. "The people who give garbage also assist in garbage collection and composting. I just come to pick up the sealed packs of waste, and wait for it to decompose to be ready to fertilize," said Mr. Cuong.
The initiatives were a great support to Cuong's group, helping to build a 5,000 square meter wide garden of asparagus, purple onions and chili. The asparagus garden alone has an area of ​​3,000 square meters. The plants are fertilized with ecofriendly products, so they grow quite well and give high yields.
In addition to planting trees, Cuong also raises more than 1,000 rabbits for meat. His monthly outcome is 1 ton of asparagus and 4 tons of raw rabbit meat, which after harvest, will be supplied to supermarkets, convenience stores and others.
Unfortunately, in October 2020, typhoon No. 9 struck Quang Ngai province, causing damage of nearly VND4,500 billion to the people of this province.
"Before the storm, it was very nice and sunny, but my asparagus farm got knocked down in the blink of an eye. I lost nearly VND400 million," Cuong recalled. Thanks to profit from selling rabbit meat, Cuong was able to compensate for the expense of replanting trees.
The quick recovery after the storm was due to his closed-system farming with both plants and animals, and the availability of materials, he said. It had saved him a lot of money.
On the initial days of the project, the harsh climate, constant rain and storms, as well as barren land of his homeland Quang Ngai, worried the young man. However, as time passed, he gradually adapted to what could occur to his farming program.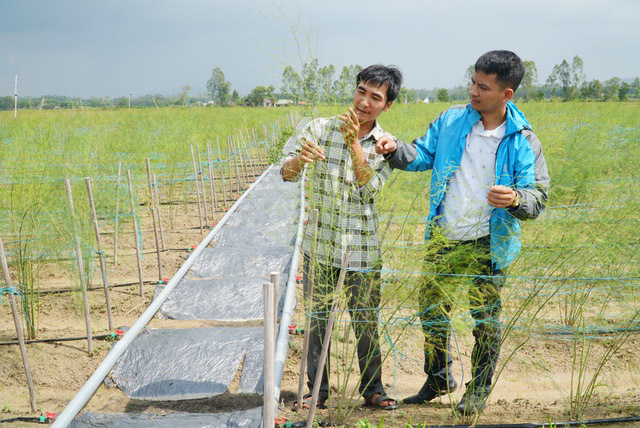 Mr. Cuong (left) shows one of his asparagus plants.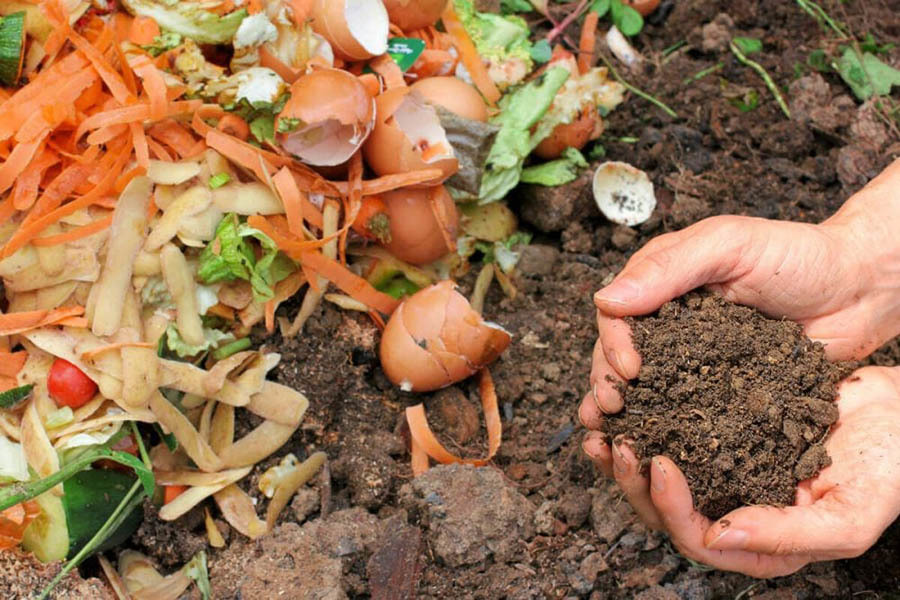 Eggshells and fruit peels are used to make fertiliser.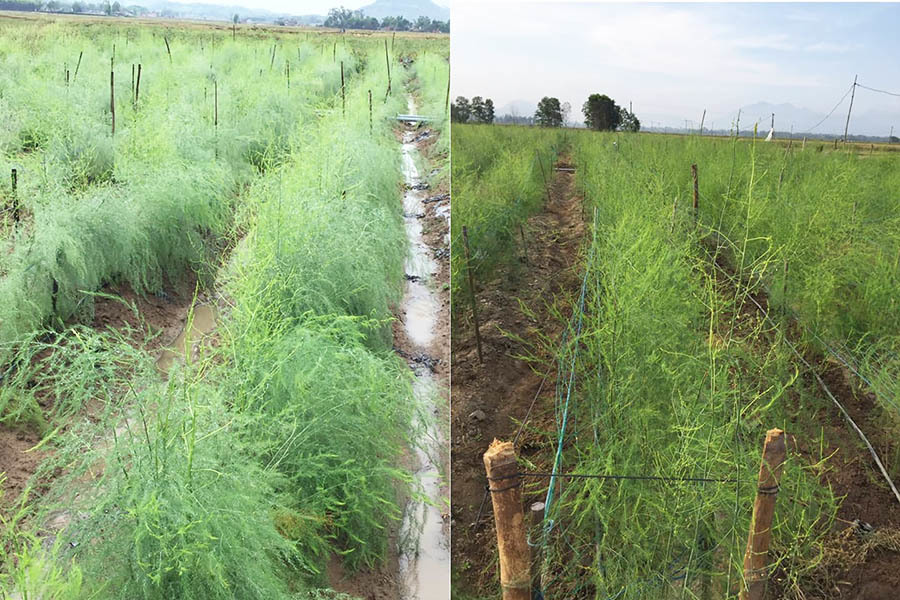 Cuong's asparagus farm.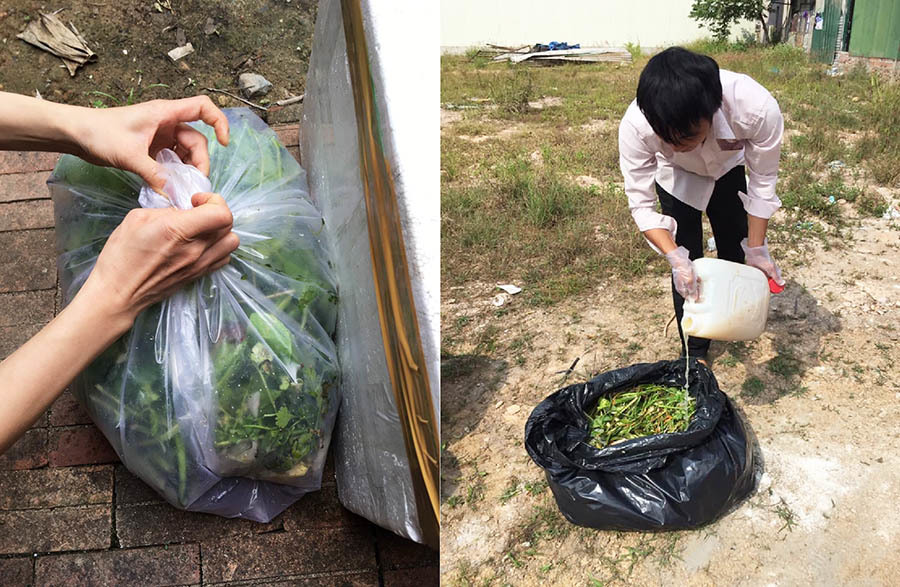 Probiotics help decompose the waste.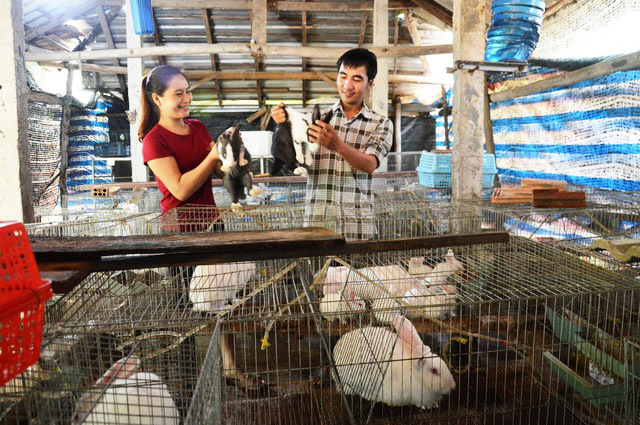 Cuong raises 1,000 rabbits, and collects four tons of fresh rabbit meat each month.
Tu Anh

Phan Van Hung now earns half billion dong a year after studying farming techniques on the Internet.

An eel farm of an older man brings turnover of nearly VND10 billion a year, and 99 percent orders are online. Another farmer sold 26 tons of rambutan by contract after putting goods on online sale.