Young magic lover should nurture their passion

Popular magician Nguyen Manh Phuong was recently awarded the world record for the first illusionist to perform with a 4D screen. Le Huong chats with the magician about his passion.
Vietnamese brothers shine at Britain's Got Talent
14 finalists of Vietnam's Got Talent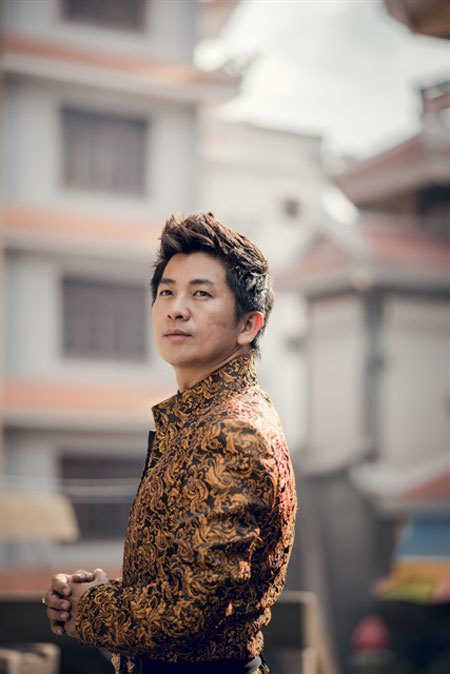 Magician Nguyen Manh Phuong. Photo Courtesy of Nguyen Phuong
How did you first get interested in magic? What obstacles did you face in pursuing your passion?
When I started to be interested in magic in 2001, there were scarce materials available and technology was not as common as it is now. Magic should be handed down from parent to child, and tricks should only be revealed to family members.
It was extremely difficult for me to study the secrets of magic tricks. I used to search for books on the tricks and practise at home, before showing them to my friends. Sometimes I went to see professional shows and stood behind the stage to learn their methods. If I learned one, that night I would lose sleep over the happiness. Then the next morning I practised in front of my friends for fear that I might forget the tricks. Gradually, I combined tricks learned from magicians and those from books. I thought of different performances based on small tricks and techniques. Recently I learned from various sources online, imitating foreign magicians in my own performances.

You are working full-time as a gymnastic teacher at a college in HCM City, how do you balance your work and passion?
I teach gymnastics at Ly Tu Trong College. I try my best to complete the lessons. If I have a show at the same time, I ask for permission from the director two days in advance. After the show, I make up the lesson the students missed. I often perform at night, so this doesn't happen often.

Could you tell us about your success?
In 2013, I was the 4th finalist at Vietnam's Got Talent. The next year, I was nominated to compete at Asia's Got Talent in Malaysia. In 2015, I performed the first live show by a Vietnamese magician in Australia. In 2016, I received the Merlin Award for the Best Stage Magic Vietnam by the International Magicians Society. Last year, I set two records in Vietnam and received an Honourary Doctorate as a record breaker.
In June this year, I set another world record for performing magic with an LED screen.
Mentioning the records, I just wanted to set myself a challenge that I should overcome not in one or two years, but maybe five or ten years.
I don't let myself 'sleep on victory', but always advance to reach further targets. The more I succeed, the more I find myself small in the immense world of art.
I also want to find a unique way to go, do what no other people do and show the world that Vietnamese magic is developing like in other countries.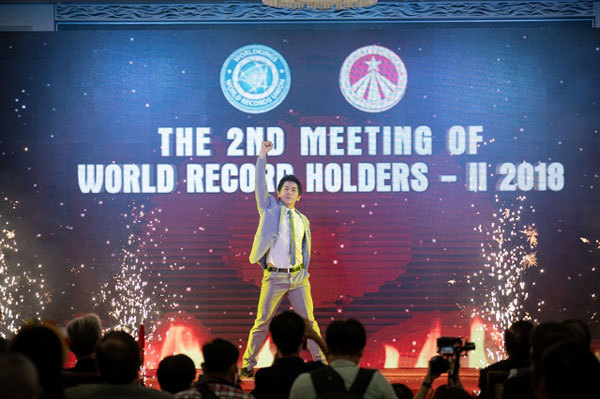 ABRACADABRA: Nguyen Manh Phuong on stage at the second meeting of world record holders in HCM City in August 2018.
You have performed a number of times internationally. What do you think about the tastes of Vietnamese audiences and foreign ones?
I mostly perform throughout Vietnam. Sometimes I have shows in Australia, Malaysia and Laos. I have found that Vietnamese audiences require more than foreigners. I have to adjust my performance to suit that difference.
In the past, people watch magic shows as they are curious about how magicians can do that or do this. But today, people can find that out on the internet.
Now audiences are more demanding. They want the shows to be more artistic and meaningful.

How have you influenced young artists?
I run the Magic Club Vietnam to teach magic to students at my college and young people, who like the art. It's totally free, every Sunday, at 9-11am.

What do you think about magic in Vietnam?
I think the magic movement is developing wildly in the country, especially in HCM City, where there are more and more young people who love magic. I think the magic market will soon develop as strongly as that in other countries. But we have a big drawback – a lack of creativity.

What's your advice for young magic lovers?
I just want to tell them to find themselves a good teacher. Please learn from them, always stick with your passion and realise your dreams.
VNS