Thai women in Vietnam's northwest region always wear shoulder bamboo baskets when they work in terraced fields or go to the forest to pick vegetables and fruit.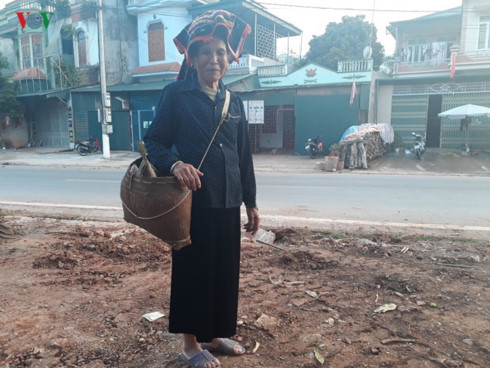 A Thai woman wears a shoulder bamboo basket to market. 
A shoulder bamboo basket and a knife are essential items for Thai women when they leave their house.
Picking vegetables, roots, and fruits in the forest is a woman's job. A woman wearing a shoulder basket full of vegetables and fruits is seen as a hardworking person and responsible to her family.
Lo Thi Phang in Chieng An ward, Son La province, said "When I was small, I went to the forest with my mother to collect wood and bamboo shoots and dig roots. I always remembered to carry a shoulder basket. It's a habit of all Thai women. It's a very convenient accessory."
All Thai men know how to weave bamboo containers and other household items. They make shoulder baskets for all the women in their family. Shoulder baskets of various sizes always have a wide mouth, no lid, and a long bamboo strap.
The men chop bamboo in the forest and cut it into pieces according to the size of the baskets they are going to make. They whittle thin bamboo strings to weave the baskets. Fresh bamboo baskets are dried on a shelf above the cooking fire before use.
Tong Van Hia, a senior craftsman in Hua La commune, Son La province, said "Thai women have worn shoulder baskets for generations. But making the baskets is a man's job. Young men learn to weave bamboo baskets for their families. Skilled weavers can sell their products. It takes me 2 days to make a sparsely-woven basket and 3 days for a densely-woven basket."
While urban women wear shoulder bags made of leather or synthetic fabric, Thai women carry shoulder baskets made of bamboo, which are durable and environment friendly.
The shoulder bamboo baskets of the Thai are now sold at trade fairs, displayed in ethnic museums, and used as an props in art performances and ethnic fashion shows.
VOV5