Youths inspired by technology start-ups, experts
Successful entrepreneurs inspired young people at a recent discussion about start-up businesses powered by information and technology (IT).
Successful entrepreneurs inspired young people at a recent discussion about start-up businesses powered by information and technology (IT).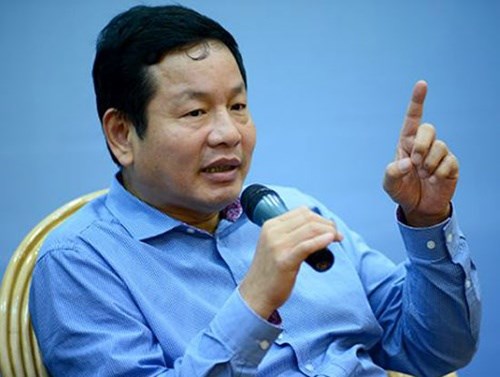 Truong Gia Binh, president of Vinasa.
Amidst an anticipated wave of start-ups in Vietnam, fuelled by a new legal framework, young people heard about the potential of technology-driven businesses.
Speaking at a conference last week, jointly held by the Vietnam Chamber of Commerce and Industry (VCCI) and the Vietnam Software and IT Services Association (Vinasa), Truong Gia Binh, President of Vinasa, said that the time was ripe for the rapid development of start-ups in Vietnam.
IT-powered start-ups are an inevitable trend in a digital world. Binh, who was also chairman of technology giant FTP, said that previously the rich were those who possessed an abundance of assets, land and cash. But today things have changed, as the rich have become those owning information and who are familiar with using technology.
Uber was a clear example, being a giant transport service company that owns no cars.
Vietnam has a technology-savvy young generation with a global mindset, along with a high percentage of the population using the Internet, and is one of the leading countries in developing mobile applications, according to Binh. He cited estimated figures showing that Vietnam had some 1,500 start-up firms, mainly in the IT sector.
"If we join together, with a Vietnamese will of steel, we will succeed," Binh said.
Speaking about that Vietnamese iron will, Lu Thanh Long, chairman of software services company MISA, said starting a business always involved many challenges.
The amount of work demanded by a start-up was very large, Long said. He added that there were periods when he had only one hour of sleep per day, and was still short on time to complete his work. "Being prepared for challenges and high pressure are important."
He noted that a start-up needed an idea, a business plan, consultancies, understanding of legal procedures, knowledge about how to raise capital and a plan for how to operate.
Long added that universities and colleges should include courses on how to start a business in their educational offerings.
He also said that the Government should provide assistance and develop incubators to support start-ups.
In addition, procedures related to investments of venture funds in start-ups must be simplified, while the business climate for the operation of venture funds must be improved.
Start-ups have received attention from the Government recently, with initial efforts to encourage entrepreneurs to build a start-up ecosystem. According to Hoang Quang Phong, VCCI's Deputy Director, the term "start-up" was mentioned, for the first time, in the draft document of the 12th National Party Congress in February.
Recently, the Prime Minister approved a project to develop the national ecosystem for start-ups by 2025, in an effort to encourage a start-up boom.
Also, a circular on venture capital funding is being drafted by the Ministry of Planning and Investment.
The Ministry of Science and Technology hopes to promote incubation of technology businesses by having a comprehensive legal framework, improving links between research institutes, universities and businesses and commercialising research outcomes.
There are around 50 technology business incubation centres at research institutes, universities and high-tech parks around the country.
They provide start-ups with comprehensive assistance from the beginning with respect to business ideas, product development, establishment and successfully running the business.
VNA