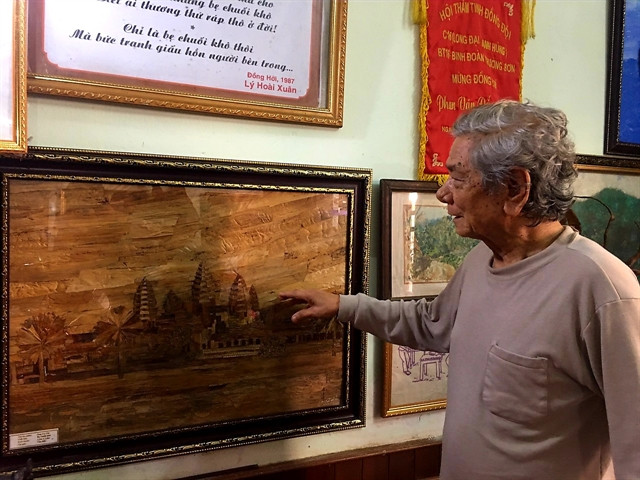 Artist Phan Văn Đắc has created over 700 artworks from dried banana barks. Photo suckhoedoisong.vn
Dried banana bark might sound useless to many, but by using his creativity and skill, artist Phan Văn Đắc in Quảng Bình Province creates vivid landscapes and soulful portraits.
Living in a small alley in coastal Đồng Hới City in the central province, the 80-year-old artist is often seen trimming and glueing rough-dried banana barks together to create pictures with the themes of nature, history or war.
Đắc has had a passion for art since a young age. However, he chose to study at the Vinh Technical Workers School with the hope of having a stable job while growing up.
In 1965, he enlisted in the army and joined the 599th Division, stationed west of Trường Sơn Mountain Range.
Despite years of military service along the mountain range, the young soldier retained a passion for creating art. In the middle of the forest, he found a special material that was abundantly available, eschewing the need for paper, paints or pencils.
"Wild banana trees grow luxuriantly along the western side of the range. I recognised that dried banana bark had a beautiful reddish-brown colour, the shades of which varied in each layer. They could be combined with creativity to make pictures," the self-taught artist said.
Rough dried banana barks could turn into soulful artworks with the artist's creativity. Photo suckhoedoisong.vn
Đắc's first picture made from the material was entitled Vũ Điệu (Dance), which was inspired by the performance of a student at the Việt Nam Dance Academy.
"When I created this first artwork, I was overwhelmed with happiness as I did not expect banana bark to bring out such a rustic and unique look," he said.
After returning from the army, he created many works and had more time to study the characteristics of the material and methods to prolong its longevity.
The artist revealed the secret to a perfect picture: "The banana bark must be naturally dried. Fresh bark that is peeled off and dried cannot be used."
The duration of a picture depends largely on the glue that binds the bark and the way it is preserved. Its colours will fade during the rainy season but resume their original reddish-brown colour in the dry season.
In the past 60 years, Đắc has created over 700 works, many of which are displayed in cultural museums and have travelled abroad to as far as Germany and Russia.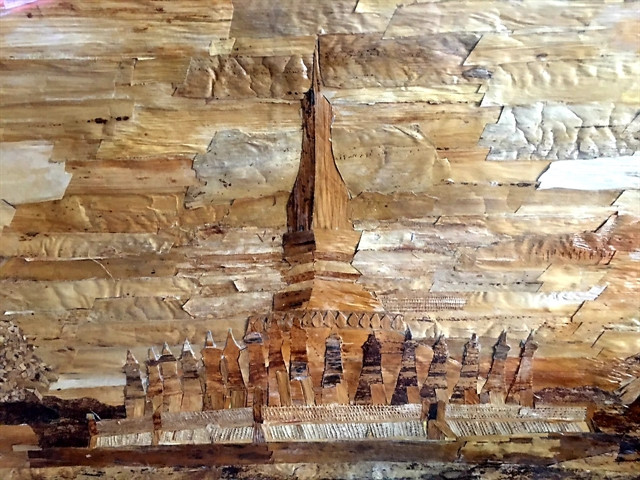 Many of Đắc's artworks depict foreign landscapes: Pha That Luang in Vientiane, Laos. Photo suckhoedoisong.vn
The main themes of his art are historical and regional heritage, the army, landscapes, and portraits. Đắc said that the length of time needed to complete a work depended on the level of details. Those with simple colours might be finished in one or two days, but more complex ones can take longer time.
Some of his most renowned works are Điểm Chốt (The Key Point), depicting the image of the South Vietnamese Liberation Army at the Quảng Trị battlefield, which is exhibited at the Việt Nam Military Museum, or Bình Yên Ở Biển (Peace at the Sea) that is now a part of the collection of the Việt Nam Fine Arts Association.
Portraits of President Hồ Chí Minh and General Võ Nguyên Giáp, as well as the landscape of UNESCO heritage site Phong Nha-Kẻ Bàng, are also displayed at many tourist attractions in Quảng Bình.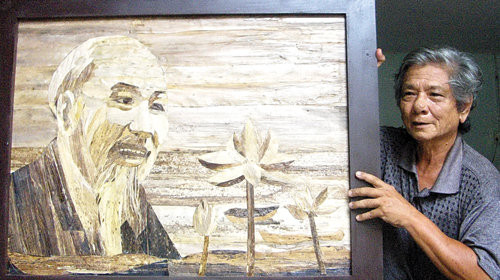 Artist Phan Văn Đắc beside one of his portraits of President Hồ, entitled 'Hương Sen' (Lotus Scent), was presented to the Hồ Chí Minh Museum in 2013. Photo tuoitre.vn
One of his portraits of President Hồ, entitled Hương Sen (Lotus Scent), was presented to the Hồ Chí Minh Museum in 2013. The picture impresses viewers with its soulful image of the late president, with his white hair and beard, gentle eyes, and affectionate smile, familiar to millions of Vietnamese. In front of the portrait is an image of some blooming lotus flowers that symbolise his hometown, Sen (Lotus) Village.
Painter Nguyễn Lương Sáng, head of the Fine Arts Division, Literature and Arts Association of Quảng Bình, appreciates and respects Đắc's work.
"Đắc is among the first generation of Quảng Bình artists. His pictures evoke feelings of familiarity and simplicity from their subjects to expressions. He has also contributed to introducing the image of Quảng Bình, its culture and people to domestic and international friends," Sáng said.
Source: VNS