A contemporary dance based on Truyện Kiều (The Tale of Kieu), the masterpiece by the great poet Nguyen Du, will be restaged at the HCM City Opera House on June 22.
Literature - a bridge between cultures
Television series to tell the Tale of Kieu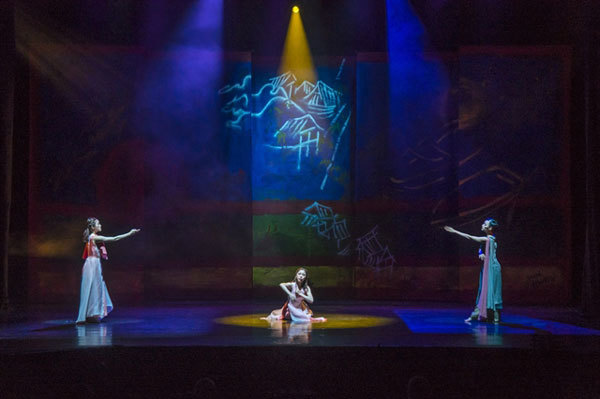 Young dancers perform during the contemporary dance Kieu's Tale at the HCM City Opera House last year. Photo courtesy of Nguyen Phuc Hung
The dance is directed by Jung Sun-Goo and choreographed by Chun Yoo-Oh of South Korea. It premiered in HCM City in March last year.
The work recounts the life, trials and tribulations of Thuy Kieu, a beautiful and talented young woman who sacrificed herself to save her father and younger brother from prison.
Kieu sold herself into marriage to a middle-aged man, unaware of his profession as a pimp. He later forced her into prostitution, marking the start of a series of tragic events in her life.
Chun will bring three "Kieu" on stage representing the character's life, spirit and future portrayed by Tran Hoang Yen, Nguyen Thu Trang and Phan Tieu Ly.
Yen said: "My dancers and I were nervous portraying Kieu. We spent time on researching Kieu and how to express her feeling and pain."
Chun worked with Vietnamese choreographer Nguyen Phuc Hung to offer training to young dancers from the HCM City Ballet Symphony Orchestra and Opera (HBSO) and the Y.O. Saigon Dance Ensemble, including performers Sung A Lung, Phan Thai Binh, Ha Khanh Vy and Ho Phi Diep.
She also brought staff from South Korea to be in charge of sound and light effects and stage design.
Hung said: "After the premiere last year, we received praise and comments from the audiences. These comments helped us make some changes in expression of feelings, dance language, and visual and sound effects."
The show will also feature People's Artist Thanh Hoai, who will perform ca tru (ceremonial singing), and Korean traditional vocalist Kang Kwon-Soon.
The music accompanying the dance will be played by dan T'rưng (bamboo xylophone) player Cao Ho Nga, bamboo flutist Tran Khanh Tuong, and dan ty ba (a pear-shaped guitar with four strings) player Nghiem Thu.
Kieu's Tale dance will begin at 8 pm at the Opera House, 7 Lam Son Square, in District 1. Tickets are available at the venue.
VNS