The famous Hungarian novel, Stars of Eger by Gardonyi Geza (1863 – 1922), has been released in Vietnam with a new translation and illustrations.
Painting contest launched for fans of Euro literature
Hungarian stories to be told by author
Drawings of European characters go on show at Goethe Institut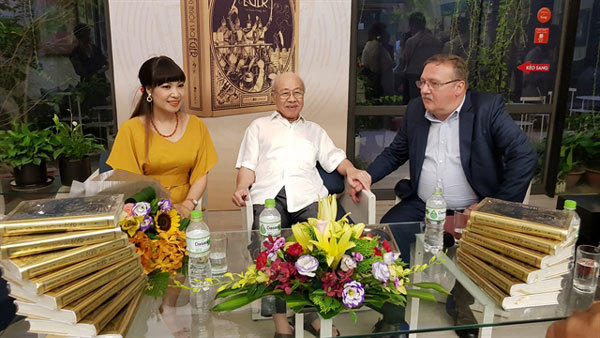 Writer Di Li, translator Le Xuan Giang and Hungarian Ambassador Ory Csaba spoke at the book launch. VNS Photo Minh Thu
The release is part of activities to celebrate the 70th anniversary of relations between Vietnam and Hungary which falls next year, according to Ambassador Ory Csaba.
Addressing the book launch on June 20 in Hanoi, Csaba said Vietnamese and Hungarian people have many similarities in mind and soul, despite their geographic distance.
"Through the book, the author described Hungarian people with patriotism, strong will, bravery and a desire for peace. I believe that all Vietnamese people in any historical period have the same characteristics."
"The book was first introduced in Vietnam in 1972. It received a lot of attention and interest, with Vietnamese people and students always visiting Eger when they come to Hungary," said Csaba.
He stressed that the book will contribute to strengthening the cultural exchange and friendship between the two countries.
The book is a story about the well-known siege of the Hungarian city of Eger by the Turkish armies of the Ottoman Empire in 1552.
It was translated and introduced to Vietnamese readers in 1972 by translator Le Xuan Giang who was born in 1937.
Giang studied in Budapest and became the first Vietnamese person to translate Hungarian books from their original language.
Now Giang and Dong A Books Company have introduced a new version with some updates in translation. The book has illustrations by painter Pham Ngoc Tan. Book lovers can collect the copies in hard or soft cover, or with a handcrafted cover designed by artisan Nguyen Duc Khuynh.
VNS