The cải lương (reformed opera) play Lan và Điệp (Love Story of Lan and Điệp), a production by well-known scriptwriter Tran Huu Trang, will be restaged in a new version 82 years after its premiere.
New show honours cai luong to be held in HCM City
Historical play restaged at National Cai Luong Festival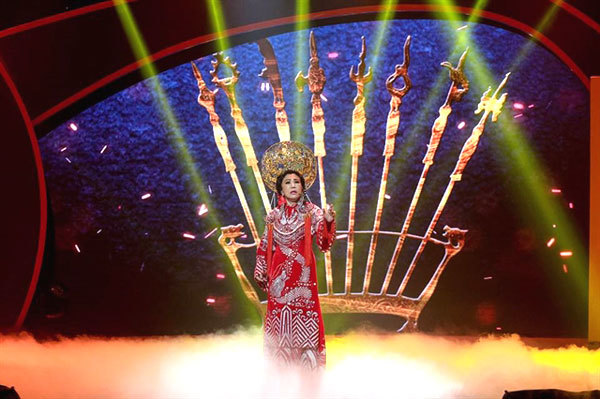 Meritorious Artist Thanh Kim Hue performs in the cải lương play Lan Và Điệp, which will be staged in HCM City in a new version combining cải lương and bolero. — Photo courtesy of the organiser
The 90-minute play portrays the challenges and suffering faced by Lan, a Vietnamese woman, under the feudal society in the south. It features the themes of love and unfaithfulness.
Producer Gia Bao worked with his partner, Meritorious Artist Thanh Dien, to complete the new version, a mix of cải lương and bolero, a genre of slow-tempo Latin music.
Bao invited Meritorious Artist Thanh Kim Hue to play the leading character, Lan.
Veteran actor Chi Tam, one of the region's most talented cải lương performers in the 1970s and 80s, plays Lan's boyfriend, Diep, while Vietnamese-American comedic artist Hong Dao and Minh Nhi play supporting roles.
"Even though our new version is targeted to young audiences, we offer cải lương in a traditional style," said Bao, who spent several hundred million dong on production.
"We want to encourage young people to learn more about Vietnamese history and culture through traditional theatre," he added.
Meritorious Artist Dien, the play's art director, said that Lan và Điệp is considered a canonical work of cải lương, a Vietnamese dramatic form that originated in 1918 in the Cuu Long (Mekong) River Delta region.
The 73-year-old also performs a small role in this new version.
Dien, who has won several top prizes at cải lương festivals, has performed in more than 300 plays, videos and movies.
Last year, Dien's project, Những Ánh Sao Đêm (Stars at Night), of 12 shows featured the 100-year-old history of cải lương, leaving a strong impression on audiences.
The shows starring veteran actors offered tickets at only VND100,000 (US$4.5) each to serve students and labourers.
"Through the new version of Lan và Điệp, we will show our love of cải lương and desire to expand the art among young people, who can encourage our artists," said Dien.
Lan và Điệp will be staged on August 17 and 18 at the Ben Thanh Theatre on 6 Mac Dinh Chi Street in District 1. It will also be performed at the Trung Vuong Theatre in Da Nang City at a later date, which has not been disclosed.
Playwright
Lan Và Điệp was written by Trang, a leading scriptwriter of the south, in 1934.
The play is known as a Vietnamese version of William Shakespeare's Romeo and Juliet.
Since its debut by Nam Phi Troupe in 1936, the play has been staged many times by art troupes in HCM City and southern provinces.
Its leading character, Lan, was played by Nam Phi in the 1930s, Thanh Nga in the 1970s, People's Artist Le Thuy in the 1980s and Thoai My in the 1990s.
Trang was born in 1906 to a farming family in Cho Gao in My Tho Province (now Tien Giang). He began his career in 1928, working for leading troupes in Tien Giang and Sai Gon.

In the 1930s, Trang was at the peak of his artistry and fame, trying to put his new ideas in plays such as Lan và Điệp, Đời Cô Lựu (Life of Ms Lựu) and Khi Người Điên Biết Yêu (When the Madman Loves).
After the August Revolution in 1945, Trang joined the revolution and worked in Sai Gon-Cho Lon. He was a member of the National Front for the Liberation of the South. He died in 1966 in battle. His body has never been found.
Trang created more than 30 works and all feature Vietnamese characteristics. Most of them have been recognised as canonical cải lương works and have been staged many times by different generations at home and abroad.
For his contributions, he was awarded the Ho Chi Minh Prize by the Government in 1996. He was named after a theatre in HCM City and the national theatre awards, which were launched by the HCM City Theatre Association.
By Thu Anh
VNS