Hanoi's Old Quarter is a charming place that many want to explore.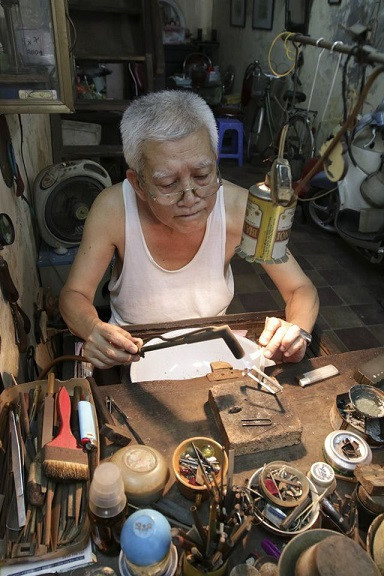 Mr. Thanh's family came from Dinh Cong, a craft village in Hanoi. He is now the 5th generation to keep the silver craft (Photo: dantri.com.vn).
The area is made attractive by its culture, history, architecture, and especially its traditional crafts. The Old Quarter has 36 streets, each of which is associated with a handicraft.
In the heart of Hanoi's Old Quarter, Hang Bac street has been famous for jewelry for hundreds of years. Just 500 meters long, the street has hundreds of shops selling jewelry. The silver handicraft is still practiced by a handful of families living there. 
Nguyen Chi Thanh is one of the few craftsmen who still practice Hanoi's traditional silver craft. Mr. Thanh's small shop in busy Hang Bac street is one place preserving the craft.
Thanh said, "My family has been involved in the silver craft for 5 generations. Until today we practice the traditional craft".
Thanh's family came from Dinh Cong, a craft village in Hanoi, which is famous for its long history of jewelry crafting. In 1902, the family moved to Hang Bac street and continued their silver craft. Though Hang Bac has many jewelry shops, not many make jewelry in the traditional way using hammers and anvil as Mr. Thanh does.
Thanh said Dinh Cong's silver craft was also different from that of Chau Khe village in Hai Duong province or Dong Xam village in Thai Binh province.
"Dong Xam village focuses on carving, and silversmithing large silver items, while Dinh Cong primarily makes earrings, bracelets, and rings. We carve on gold, not on bronze or silver as craftsmen do in Dong Xam," said Mr. Thanh.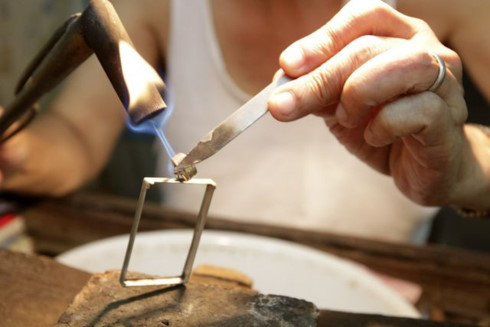 Though Hang Bac has many jewelry shops, not many make jewelry in the traditional way using hammers and anvil. (Photo: dantri.com.vn).
Silver products made using traditional methods require a lot of time and meticulous attention. It may take 2 or 3 days to make a ring. Mr. Thanh works in a small room at a small table covered with tools.
Thanh says most of the tools were made by him: "A craftsman needs to create his own tools. I made most of the tools, except for the scissors and the file which I had to get the blacksmith to make for me".
With advances in technology, jewelry making has changed considerably, but Thanh still prefers using traditional methods to give each product a soul.
Thanh noted, "Though modern machinery facilitates the craft a lot, I still use the traditional methods of my family and make my handicraft products by hand. Products made with machines all look exactly the same, but products made by hand look are unique".
Silver products made by Mr. Thanh (Photo: dantri.com.vn).
Maybe for that reason, Mr. Thanh's small shop continues to attract lots of customers despite being surrounded by hundreds of more glamorous shops in Hang Bac street.
"At first, every product looks the same. But, in fact, each has a small difference which is imbued with the soul of the craftsman. Products made today are different from those made tomorrow. Each handmade craft product is unique," said Thanh.
Visiting Hanoi's Old Quarter, you should never miss a chance to drop at Nguyen Bao Nguyen's small portrait shop at 47 Hang Ngang street, a busy street full of clothing and footwear shops.
All four walls of the artist's 10-square-meter shop are covered with portraits. A little child with soulful eyes, a smiling mountain woman carrying a child on her back. 82-year-old artist Bao Nguyen talks proudly about the portraiture he has been doing for many years.
Mr. Nguyen said, "I began painting portraits in the 1960s. The art of portraiture exists in other countries but their painting styles are quite different".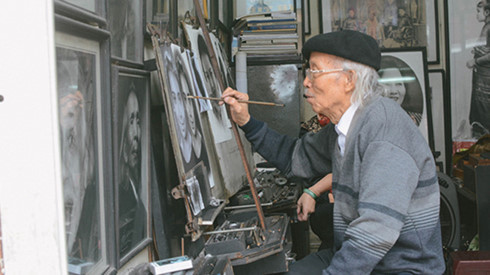 Artist Nguyen Bao Nguyen (Photo: thanhnien.vn)
The art of portraiture flourished in Hanoi in the 1960s and 70s, when 400 portrait artists were working in the capital city. Nguyen Bao Nguyen was one of them.
At that time, Hang Dao, Hang Ngang, and Hang Duong streets were famous for portraiture and Bao Nguyen opened a portrait shop on Hang Ngang street. 6 decades later, Nguyen's small shop still attracts a lot of customers looking for simple, honest portraits.
Nguyen says portrait painting is not simply copying. The painter needs to infuse soul into his work, whether it's a portrait, a landscape, or a still life. Nguyen says it takes him a long time and 5 or 6 attempts to complete a painting. Infusing "soul" into the drawing is the most difficult part of doing portraits.
"When doing a portrait, it is a great challenge for me to draw the mouth and the eyes because they reflect the soul and emotions of the individual in the picture. Even the wrinkles around the mouth or the eyes can reveal the happiness, sadness, or worry of a person," added Mr. Nguyen.
The paintings of Nguyen Bao Nguyen are special because of the tools and materials used. Other painters use brushes and color boxes. Bao Nguyen creates his own painting tools from chopsticks, toothpicks, and incense sticks, and draws on canson paper imported from France.
Nguyen said, "I make the ink myself from lamp soot. I burn an oil lamp, and use a sheet of paper to collect the soot. The oil lamp is burnt for one night to create enough soot for 1 week. The pen point is made from a toothpick and a split chopstick".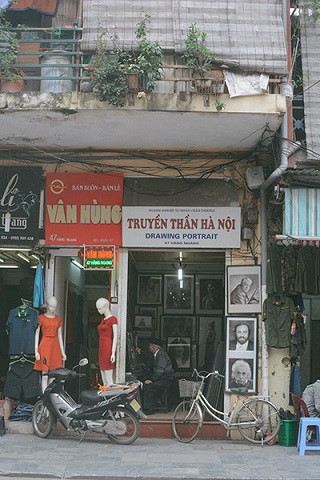 Nguyen Bao Nguyen's small portrait shop at 47 Hang Ngang street.(Photo: thanhnien.vn)
Using only simple tools, black and white portraits come alive under Nguyen's skillful hands. Delighted customers of all ages can be found at Bao Nguyen's shop.
"I had Bao Nguyen draw a painting of my father. I gave him an old photo, but surprisingly he drew a picture from real-life. I'm satisfied with that," said a customer.
Another customer stressed, "I was impressed that an old artist was still producing this art in the middle of Hanoi. Nguyen's paintings are so lifelike that I though they were black and white photos".
The development of digital technology has changed people's mind-set about portraiture. People use digital cameras to capture the special moments in their lives. Portraiture is on the brink of disappearing.
It is not yet clear whether the art of portraiture will disappear or not, but one old artist is still preserving the art as a cultural tradition of Hanoi's Old Quarter.
Dan Tri/VOV