From failed college candidate to physics professor in the US
Dr. Nguyen Dong Hai spoke with VietNamNet about his path from a student who failed the university entrance exam in Vietnam to a professor of physics at Tennessee Wesleyan University in the US and his thoughts on pedagogical student training.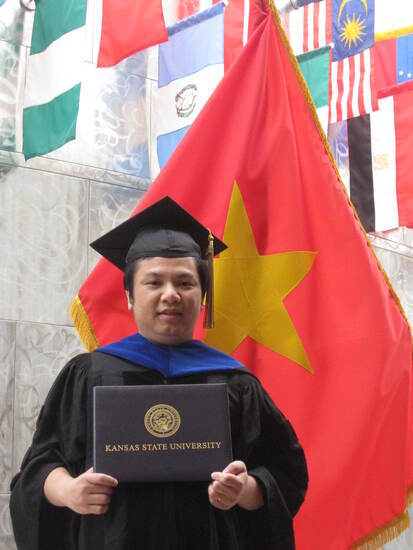 Tran Dong Hai
Hai, born in 1983, became a part of the US university system in August 2016 when he was invited to work as a visiting professor at Creighton University. One year later, in July 2017, he became a professor of physics at Tennessee Wesleyan University.
Reviewing his academic path, Hai said there are many things he "did not dare to dream of" and "could not imagine".
"In 2001, I failed the university entrance exam to study physics education. How could I imagine that I would graduate as the valedictorian exactly in this this major at that school," he said.
"In 2006, when I graduated from university, I just began learning about the opportunities to study abroad. How could I dream of becoming a PhD in the US? And in 2011, after I obtained a doctorate in physics at Kansas State University. How could I think I would come back five years later and become a professor in the US?" he said.
Hai's 12 years at general school went smoothly. But he failed the exam to the Physics Education Faculty of the HCM City University of Education. He only succeeded after the second attempt and graduated from the school in 2006.
"When you have a passion and an enthusiasm to pursue your passion to the last, you will surely succeed," he said.
"There have been a lot of changes over the last 20 years. But there is one thing that never changes – the passion for physics in particular and for scientific research in general, the passion for learning and sharing knowledge with others. This is what I always bring with myself on the path of working as a lecturer," he explained.

Some young teachers told Hai that though they had finished university or even have a bachelor's degree, they still don't fully understand the content in physics textbooks that they give to students every day.
Living and working in the US, Hai said he always thinks about Vietnam and he wants to make a contribution to the fatherland's development.
"I wish to help teachers improve"
Hai usually spends summer and winter holidays in Vietnam. During the stay in Vietnam, he organizes refresher courses for general school teachers, implements education projects and does charity programs.
Hai said when he was a lecturer at the HCM City University of Education, he often told students that a teacher needs good knowledge, solid expertise, fluent foreign language skills, and high ethical standards.
The four factors are equally important. In Vietnam, people are concerned about rank elevation. But he thinks the important thing is the upgrading of teachers. Upgrading means improving at least one of the four factors.
The teachers who graduate from school and don't have solid knowledge can improve their knowledge by continuing to learn and read books. After several years, when they can 'evolve' with this knowledge, they have improved to a new level.
Teachers can find it difficult to explain things to students. But later, they can transmit their knowledge and make it easier to understand. This is also an improvement.
Teachers at first just sought materials for lessons in Vietnamese. But now when their English skills are better, they can search for more information on the internet. Previously, they were selfish, but now they altruistic. These all indicate improvement, making considerable progress personally and professionally.
Organizing many refresher courses for teachers and pedagogical students, Hai still said it is difficult to fully implement lesson plans.
The learners at the courses are both students and teachers. The former are busy studying at school, giving private tutoring and working extra hours, while the latter are busy teaching at school and doing paperwork. Therefore, they don't have much time to follow the training courses in the most effective way.
Hai said that he and his coworkers will still organize refresher courses. He teaches at the courses and always works with enthusiasm, which can be felt by the students.
"After training courses, students no longer feel afraid of English and they become self-confident and seek materials in English. However, what makes me the happiest is that I can inspire them to become more self-confident in their career," he said.
Teachers can give students what they don't have
Some young teachers told Hai that though they had finished university or even have a bachelor's degree, they still don't fully understand the content in physics textbooks that they give to students every day.
They therefore feel embarrassed when receiving questions from students. Teachers tend to play it safe – just speaking about what can be found in textbooks and not encouraging students to think and raise questions.
The problem, according to Hai, doesn't lie in the curricula of pedagogical schools, but in the quality of students.
"If teachers don't have knowledge, they won't be able to give knowledge. If they don't have a passion for their career, they won't be able to make students love their future jobs," Hai said. 
Ngan Anh

Nguyen Thi Thanh Ha feels fortunate that she was led by many teachers on her journey of self-growth. And the first teacher was her mother.

Nguyen Thi Lan Huong, 43, resigned from her post as a dean to which she was appointed at aged 27 to begin a new path of research about tertiary education.