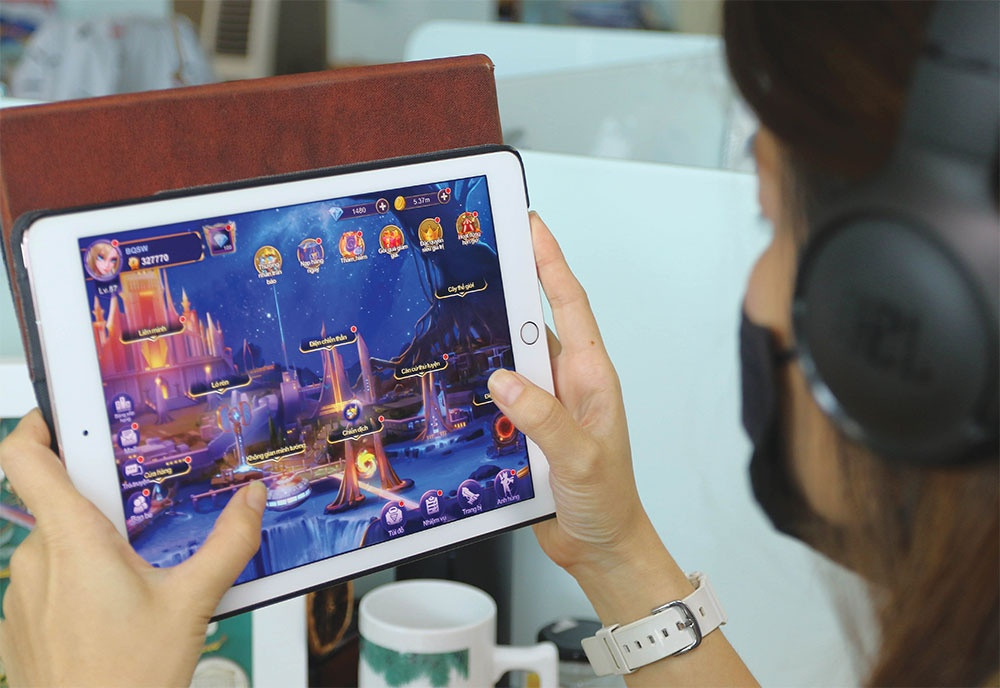 The vast majority of online games played in Vietnam are unlicensed, photo Le Toan
At last week's seminar on building a law on special consumption tax (SCT), held by the Vietnam Chamber of Commerce and Industry (VCCI), Dau Anh Tuan, deputy secretary general and head of the VCCI's Legal Department, said that numerous game producers claim the content of such a law will decide their very survival.
Tran Phuong Huy, CEO at VTC Intecom, said, "If excise tax is imposed, many game companies, including state-owned VTC, will surely die."
Representatives of businesses at the event emphasised that no country or territory in the world has applied such a tax on the game industry. Some countries apply a content control or game time control mechanism similar to Vietnam, typically China and South Korea, but a tax tool would be unprecedented, they said.
The objective of the tax, according to the Ministry of Finance, is to limit the production and consumption of items that are harmful to health and society, as well as regulate some luxury goods. But leaders of game companies also said that SCT will not change user behaviour.
"In April, only 2.4 per cent of all users paid for games on iOS and 1.7 per cent on Android," said Nguyen Thuy Dung, director of SohaGame. "Out of 100,000 games released as of date, only about 500 are licensed. Thus, only 2 per cent of users of 1 per cent of all games on a variety of platforms will be affected by the new financial obligations."
Do Viet Hung, general secretary of the Vietnam Recreational and Electronic Sport Association, said that imposing SCT will affect the service cost of domestic enterprises and the choice of users will be global, cross-border suppliers.
"Therefore, the new policy may reduce the revenue and competitiveness of domestic enterprises," Hung said.
The annual revenue of games that are not licensed to be released in the Vietnam is about VND5 trillion ($210 million), accounting for almost one-third of the entire Vietnamese game publishing market, according to the Ministry of Information and Communications (MIC).
According to estimates from Newzoo - a global leader in video games and gamer data, global game industry revenues in 2022 hit $184 billion and are expected to reach $194 billion by the end of 2023. Last year, about 3.2 billion people were playing games on a regular basis.
Game industry revenue growth in the region in 2020-2025 is estimated at an average of 8.2 per cent per year, and about 9 per cent in Vietnam. However, estimated revenues from the industry in Vietnam last year reached $800 million only, behind neighbours such as Indonesia ($1.8 billion), Thailand ($1 billion), Malaysia ($900 million), and the Philippines ($850 million).
However, with the good average growth rate and a large number of users, Vietnam is still a very lucrative market in the eyes of foreign producers, experts said. This is also the reason why local game developers have to face fierce competition from global game and technology corporations. In the Vietnamese market in 2022, the total revenues of domestic enterprises only accounted for about 22 per cent, while the rest belonged to foreign enterprises.
"Meanwhile, Vietnamese businesses that are fulfilling their obligations on taxes and content censorship must compete with numerous foreign businesses that do not have to perform any obligations," said La Xuan Thang, operations manager at VNG Corporation.
This is one of the reasons why only about 15 per cent of registered Vietnamese game enterprises are still active, while the rest have ceased operations or moved abroad to enjoy comprehensive incentives in procedures, infrastructure, and tax rates. According to the MIC, out of more than 200 registered game developers in Vietnam, fewer than 20 of them are still in regular operation.
"If we let the game industry in Vietnam weaken or even collapse, it would be very regrettable. Not only because this is a great promising industry, but this will also go against the policy on development of the digital industry and digital economy that we have been making great efforts towards in recent years," Thang added.
Last year, VNG's total revenues dropped by 12 per cent on-year, and total taxes from games contributed to the state budget was $32 million, down 14 per cent on-year. The number of employees in game production and sales decreased by 11 per cent to around 1,130 in 2022, and is now estimated to be about 980 to date. Companies have been narrowing scale. For example, Funtap alone has gone from 660 employees last year to around 330 today.
Source: VIR