Giving agriculture a high-tech boost
With new approaches and diversified investments, private investors have been infusing a new spirit of innovation into Vietnam's agriculture, adding value and sustainable growth.
With new approaches and diversified investments, private investors have been infusing a new spirit of innovation into Vietnam's agriculture, adding value and sustainable growth.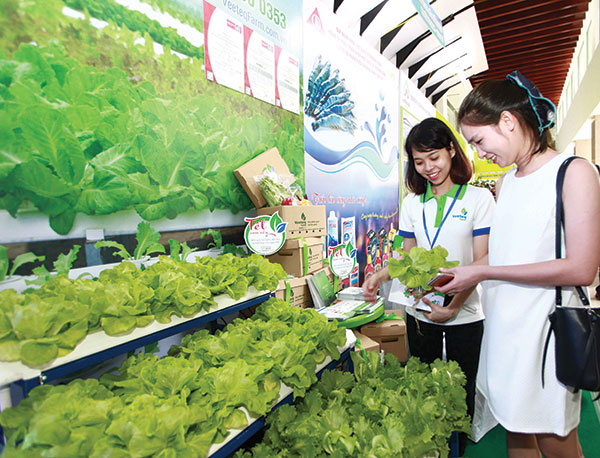 High-tech emerges as innovations approach
After years of success in the automobile industry, Truong Hai Auto Corporation – Thaco – has decided to step into the agriculture sector.
Last month, Tran Ba Duong, chairman of Thaco, attended an agricultural conference chaired by Prime Minister Nguyen Xuan Phuc, when he announced that his firm would develop high-tech rice cultivation models in a northern province.
"Rice fields in the southern region have developed well with high yield, thus I decided to select the northern region to invest in. We will not only focus on cultivation, but also on transportation and harvesting, which are two primary weaknesses of agriculture," he said.
With the point of view of an automobile industry tycoon, Duong noted that it is difficult for agriculture to develop successfully if it is not industrialised and mechanised.
"However, the mechanisation of agriculture must suit the real situation in Vietnam," Duong noted. He revealed that his firm is working with the An Giang-based Loc Troi Group to build a post-harvest industrial complex for rice in the northern region, which will provide transportation, harvesting, and processing services at reasonable costs.
Thaco is the latest newcomer in agriculture that vowed to bring high-tech to the sector to increase the added value, following earlier big moves made by domestic and foreign giants.
Vingroup, Geleximco, Hoa Phat, and Hoang Anh Gia Lai were among the domestic predecessors to apply high-tech to produce fresh and clean agricultural products. Their plans also stemmed from the fact that food safety has become a stinging issue in Vietnam. They realised that if agriculture is not industrialised and if there is no money to cover losses like in other countries, it is difficult to be successful.
According to Nguyen Do Anh Tuan, director of the Institute of Policy and Strategy for Agriculture and Rural Development, high-tech has also become a new approach among foreign investors in the sector in recent times, especially in 2016. In particular, Japanese firms are interested in investing in vegetable and flower farms, while others want to bring new technology to produce fertiliser, seedlings, and pesticides.
Tuan attributed the trend to the country's policies to prioritise high-tech agriculture development to increase productivity and protect the environment. Accordingly, many incentives related to land lease and import-export taxes are being offered.
The "New Vision for Agriculture" initiative launched by partners in the World Economic Forum a few years ago – with Vietnam being among the pioneer countries – established a "20/20/20" framework, which specifies: increasing productivity by 20 per cent per decade, reducing the environmental footprint by 20 per cent per decade, and increasing the income of the rural family by 20 per cent per decade.
Unilever, Nestle, Metro Cash & Carry (recently renamed as MM Mega Market Vietnam), Syngenta, Cargill, Bunge, and Pepsico are among the global brands that joined the initiative in Vietnam.
Unilever Vietnam has been one of the most successful foreign investors in Vietnam through its 21 years in the country. This firm has been processing tea in Vietnam for years.
"At present, Unilever does not directly buy raw tea from farmers. Rather, they buy it through Phu Ben and Phu Da tea joint venture companies. It plans to develop an area of 35,000-40,000 hectares of high-quality tea fields in some northern provinces, including Phu Tho and Tuyen Quang by 2020. If successful, this would turn Vietnam into the world's second largest tea exporter," Tuan said.
Meanwhile, Nestle Vietnam has assisted thousands of Vietnamese farmers through a sustainable coffee farming project under the Common Code for the Coffee Community (4C). The firm has provided new seedlings for replanting to increase productivity, while providing standard-cultivation training for local farmers, especially the poor to protect the environment, minimise natural resources usage, and help them increase their income.
"The firm has so far developed 256 coffee garden models in the four Central Highlands provinces of Dak Lak, Lam Dong, Gia Lai, and Dak Nong. In 2015-2016, it increased productivity by 17 per cent, helping to raise the income for local farmers by 14 per cent on average and reduce 55 per cent of gas emissions," Tuan said.
He went on to elaborate that Nestle, which now buys around 35-40 per cent of coffee output in Vietnam for local processing and export to foreign markets, was planning to develop a fruit processing plant in northern Vietnam.
Investment diversification
With more incentives from the government, Vietnam's agriculture welcomed many more domestic and foreign investors in 2016 than in previous years. The agricultural investors were from places like Japan, the Netherlands, Italy, Australia, France, and other EU countries.
According to the Ministry of Agriculture and Rural Development, in 2016, the number of firms investing in Vietnam's agriculture sector hit nearly 1,500.
Together with the increase in foreign investment, investment models have also been diversified.
"In the past, foreign investors often focused on direct investment in Vietnam's agriculture," Tuan said. "But in recent years, especially in 2016, they diversified their investments in the sector. They have become more interested in high-tech, indirect investment and development of agricultural infrastructure for lease."
Last year, the country reported nine acquisition deals in the sector with a total value of $20.2 million, thus increasing the sector's total FDI attraction to nearly $99.5 million, according to the Ministry of Planning and Investment.
In addition, investors have also focused more on diversification of agriculture products. Instead of producing products for domestic use such as animal feed or input materials such as fertiliser and pesticides, they now target high-tech vegetable, flower, and fruit cultivation.
Remains and new hopes
A lack of stable and concentrated material zones for agriculture production, undeveloped infrastructure, insufficient capital, scattered land funds, and cumbersome import-export procedures are still major obstacles.
Difficulties facing Geleximco provide a prime example. Geleximco's paper plant in the northern province of Tuyen Quang is struggling to survive because of material shortfalls.
"We pumped VND10 trillion ($454.5 million) into paper plants," said Vu Van Tien, chairman of Geleximco. "Before investing, the government planned for 165,000 hectares of forest in Tuyen Quang to provide materials for the plant. In fact, the majority of forest here was destroyed by locals, thus causing many difficulties for our operation.
"The supporting policies should be realised, not just on paper. Land, capital, and planning are among the barriers."
At a conference on the agricultural sector held last month, Prime Minister Nguyen Xuan Phuc assigned ministries and sectors to submit solutions to problems facing agriculture to the government and authorised agencies.
The prime minister revealed that the government is considering the creation of a pilot land bank and land use market together with some agricultural insurance funds to support farmers.
He asked the State Bank of Vietnam (SBV) to devise a credit package worth VND50 trillion ($2.27 billion) for high-tech and clean agriculture production, which has been assigned to the state-run Agribank.
The PM requested the SBV to create favourable lending mechanisms and allow more commercial banks to disburse the package.
Future opportunities
There is a lot of room for private investors to engage in Vietnam's diverse agriculture fields, especially those who possess new technology related to products like vegetables, flowers, and fruit, Tuan said.
"Agro processing; distribution networks; preservation and logistics services; and deep processing of plywood products, interior furniture, and cosmetics have attracted few investors so far," he said. "There is a lot of room left for newcomers."
According to Tuan, Lam Dong, Ha Nam, Son La, and Binh Dinh will remain the most attractive destinations for domestic and foreign investors in the future.
VIR