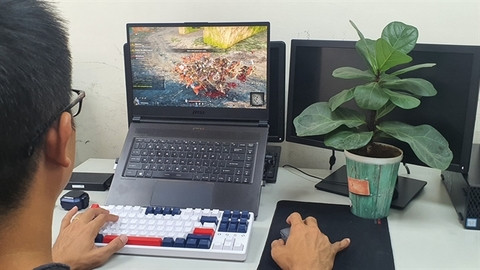 MIC suggested that it's not advisable, at the present juncture, to subject the online gaming service sector to special consumption tax. — VNS Photo Ly Ly
The decision announced by the Government Office stipulates that relevant ministries and specialised regulatory bodies should enhance their collaborative efforts and optimise legal mechanisms (including licensing and personal identification utilisation) to effectively address the challenges associated with online games. The aim is to manage and mitigate the potential negative impacts of these games.
Earlier, the Ministry of Finance had put forth a proposal to subject online games to a special consumption tax, citing health and societal concerns as the rationale. However, industry experts and businesses have voiced concern that such a tax might curb the sector's growth. Of the primary concern was the possibility of unintended fostering of illicit gaming practices, alongside the failure to achieve the intended management, production, business, consumption and service limitations.
In a recent official dispatch to the Ministry of Finance, soliciting opinions on potentially amending the Law on Special Consumption Tax, Deputy Minister of Information and Communications (MIC) Phan Tâm suggested that it's not advisable, at the present juncture, to subject the online gaming service sector to special consumption tax.
Statistics revealed that during 2021-22, unlicensed games introduced by foreign entities to Việt Nam contributed to nearly 30 per cent of the entire gaming industry's revenue, all while evading taxation. It's worth noting that the proposed excise tax would only be applicable to and collectible from domestic enterprises, and it would be impossible to enforce on foreign entities. This scenario could significantly disadvantage domestic enterprises in comparison to foreign counterparts operating within Việt Nam, thus exacerbating the domestic-foreign business inequality.
The official also highlighted that the imposition of an excise tax on online games might incentivise domestic enterprises to relocate their operations abroad, potentially to tax-favourable jurisdictions like Singapore. They could then offer cross-border online gaming services to Việt Nam, evading the high tax burden. This would lead to a substantial loss of tax revenue from the burgeoning online gaming industry, thus undermining the core objective of augmenting State budget revenue.
Furthermore, the proposed excise tax could inadvertently disincentivise domestic gaming enterprises from investing in growth. This sector exhibits significant potential for development and international outreach, but the application of such a tax could hamper its expansion.
Việt Nam's application and game development sector is experiencing rapid growth.
According to a recent report by DataAI and AppMagic spanning from 2019 to the first quarter of 2023, Việt Nam's global ranking for app downloads surged from the top 15 to the top 5, with Vietnamese developers releasing approximately 4.2 billion applications. This growth outpaces global trends by 2.5 times.
In 2022, revenue from In-App Purchases in Việt Nam-developed applications increased by 20 per cent, even as global revenue in the same segment decreased by 2 per cent.
Notably, Việt Nam boasts 93 game and application development companies with 171 applications that have entered the top 10 weekly downloaded apps on the Play Store at least once. Additionally, four Vietnamese application developers secured spots among the top 50 global companies with apps surpassing 100,000 downloads in 2022. These are Falcon Global, ABI Global, Zego Global and Rocket Studio.
This robust growth underscores Việt Nam's swift adaptation to user preferences and alignment with global trends, elevating its position as a prominent hub for application development. However, challenges remain, including shifts in user privacy policies, changing spending patterns, reduced revenues per ad impression, and declining user engagement.
Google's experts advise Vietnamese developers to stay updated on technology and infrastructure, invest significantly in content creation, analyse demographic data, and deeply comprehend their target audience. These strategies can help overcome the challenges and continue the sector's growth trajectory. — VNS