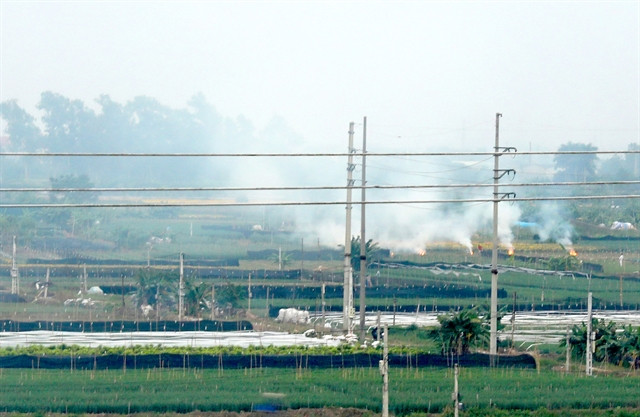 Farmers in Mê Linh District, Hà Nội, burning straw after harvesting rice. — VNA/VNS Photo Ngọc Hà
Despite numerous attempts by the municipal authority to curb the burning of rice straw, this practice persists.
The Hà Nội People's Committee issued Directive No.15/CT-UBND dated September 18, 2020 to minimise the negative impact of straw burning on the city's environment and assigned the Department of Natural Resources and Environment to assume the prime responsibility for and co-ordinate with other relevant agencies to stop straw burning after harvests in 19 suburban districts.
So far, although the committee has tried its best to implement many plans and solutions, only in Sơn Tây Township did farmers not burn straw after harvesting.
Meanwhile, in the remaining 18 districts, this practice is still rampant. Specifically, the area where ​​​​straw was burned in the winter-spring and summer-autumn crops in 2022 still covered thousands of hectares.
Farmers are still following the traditional method that leaves rice straw and burns it right in the fields after harvesting to increase the fertility of the soil.
So, after the harvest, the fields in the suburbs are always covered with smoke.
The smoke and fire from the burning straw is picked up by the wind and spread everywhere, affecting terribly the air environment amid hot weather.
The smoke and dust from the burning of straw also hinders traffic, damages health, and creates a feeling of insecurity when the fire covers many fields.
The situation of burning straw causes frustration for people.
"Sometimes smoke and dust make it impossible for people to live normally because of pollution. We still hope that the competent forces will find a solution to end the situation," said Bùi Văn Hiếu, a resident in Đan Phượng District.
According to the Department of Natural Resources and Environment, emissions from burning straw alone in 2022 reached 728 tonnes of fine dust.
The smoke from straw burning not only causes urban environmental problems and harmful greenhouse effect, but also reduces visibility of vehicle drivers and people participating in traffic.
In Sóc Sơn District, where Nội Bài International Airport is located, the straw burning in the summer-autumn and winter-spring crop seasons obstructs the view of pilots when taking off and landing and poses many potential risks for flight safety.
Using straw as a production material?
To curtail straw burning, many suggest regulations for administrative handling of violations and tightening inspections of the situation.
In addition, the Department of Natural Resources and Environment needs to advise the city People's Committee to issue mechanisms and policies to encourage and support production and business models using straw as a production material.
In fact, in some places, after harvesting, farmers often use rice straw to grow mushrooms, sell to cattle breeding farms, or even export. But these uses of straw are not very popular.
Straw burning has long been discouraged by authorities because it not only has a bad impact on the environment, but also wastes resources because it can bring high economic value if used properly.
Recently, in Đông Anh District, the women's union has launched a campaign of stopping burning straw. The union has organised 22 training courses for members, providing techniques of using straw to grow mushrooms.
This model could be replicated in all suburban districts.
Authorities need to implement many solutions including training and providing knowledge to farmers to help them understand that rice straw is also a source of raw materials with economic value. — VNS