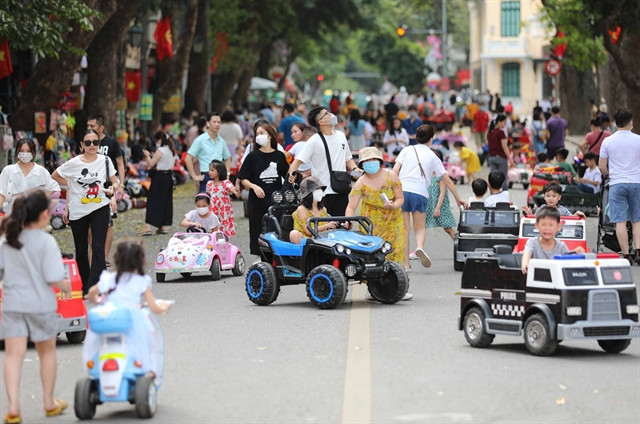 People flocked to the pedestrian zone around Hoàn Kiếm Lake in the Reunification Day-Labour Day holiday last year. — VNA/VNS Photo Thanh Tùng
The capital city of Hà Nội plans to open three more pedestrian areas in its downtown districts to better accommodate residents and tourists on the weekend.
This year, the People's Committee of Đống Đa District will set up a plan to open a food zone on Nguyễn Văn Tuyết Street and a pedestrian zone on Văn Miếu and Quốc Tử Giám streets.
By 2024, the district will open one more pedestrian area on Hoàng Cầu and Hào Nam streets, combining a walking zone around Hoàng Cầu Lake and Cát Linh station of the Cát Linh-Hà Đông metro line.
The zones will cover streets of wards of Văn Miếu, Văn Chương, Quốc Tử Giám, Trung Liệt, Ô Chợ Dừa, Cát Linh and Ngã Tư Sở.
In Ba Đình District, after opening a night-time food and pedestrian zone on Đảo Ngọc-Ngũ Xã, an islet on Trúc Bạch Lake, the area around Ngọc Khánh lake will become a walking street and is expected to be put in use in the fourth quarter of this year.
Hà Nội now has five pedestrian areas around Hoàn Kiếm Lake, Hà Nội Old Quarter, Sơn Tây old fortress Citadel, Ngũ Xã, Trịnh Công Sơn, Trần Nhân Tông streets and surrounding streets.
Trịnh Công Sơn pedestrian street is expected to reopen in May after being temporarily closed. — VNS