HCM City admits efforts to combat air pollution not fruitful

Further measures are required to tackle the air pollution that has been plaguing HCM City in the last few days, authorities have admitted.
Meteorologists debate cause of fog in HCM City
Air pollution is the leading killer in Vietnam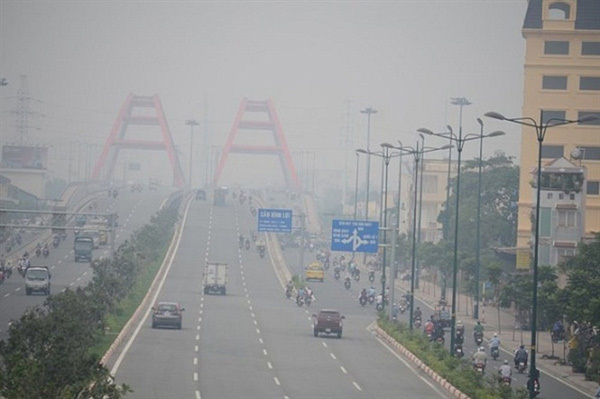 More efforts are needed to combat the worsening air pollution, HCM City authorities have said. — Photo baomoi.com
Though they have been taking some measures to combat the worsening pollution, they have not yielded results.
According to the Centre for Natural Resources and Environment Monitoring, the levels of hazardous particles in the air such as NO2, SO2, CO, and, especially, PM2.5 have increased significantly.
PM2.5 is a fine particle that is known to affect human health.
High humidity causes haze that combines with pollutants from vehicles and daily human activities to form smog, a phenomenon that tends to occur every year between September and October, according to the centre.
Nguyen Van Duc, vice chairman of the District 12 People's Committee, said besides encouraging businesses to comply with the city's requirement to relocate, authorities should also have a mechanism in place to handle pollution caused by production facilities in residential areas.
There should be clear guidance on the safe distance to be maintained between production facilities and residential areas and schools, he told Thanh Niên newspaper.
Deputy director of the Department of Natural Resources and Environment, Nguyen Thi Thanh My, said handling of such production facilities had been difficult.
Fines and confiscation of assets had been used against violators, but these were not the same as forcing them to close down, she said.
To prevent companies from polluting the environment, the most effective and affordable measure would be to cut their power supply, but the city did not do this, she said.
Ironically, the simplification of business registration and licensing has made it easier for firms to set up shop in residential areas.
Nguyen Minh Nhut of the city People's Council said the city needed to draw up the list of violating businesses and, depending on the severity of their violations, withdraw their licences.
The city should also seek amendments to the legal provisions on suspension, enforcement and relocation of violating firms, he said.
The public should be encouraged to participate in the monitoring process, he added.
Situation remains bad
Pollution levels have remained high for a while since there are more than eight million motorcycles and nearly 800,000 motor vehicles belching out vast amounts of fumes every day.
Areas badly affected by the pollution mostly have heavy traffic: like the An Suong Crossroads, roads leading to Cat Lai Port, Cong Hoa Street, Truong Chinh Street, the Huynh Tan Phat – Nguyen Van Linh Intersection, and the Hang Xanh Crossroads.
Air quality measured at these locations is always below permissible standards, according to authorities.
Industrial activity in suburban districts such as Binh Tan, Hoc Mon and Binh Chanh also contribute to the unhealthy air.
There are 3,500 production facilities in residential areas in Binh Chanh alone.
The centre has urged people, especially children, pregnant women and the elderly, to stay indoors and wear a mask and glasses if they venture outdoors.
VNS