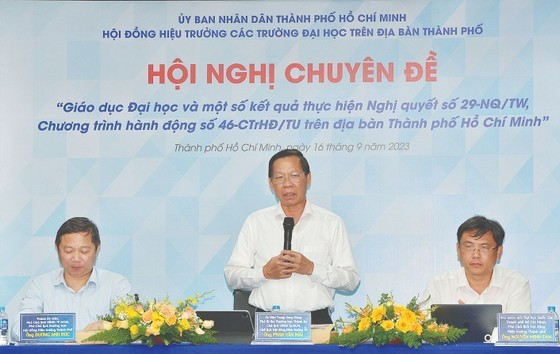 Chairman of the municipal People's Committee Phan Van Mai speaks at the conference. (Photo: Cao Thang)
The Principal Council of the Universities in Ho Chi Minh City yesterday hosted the event with the chair of Standing Deputy Secretary of the HCMC Party Committee, Chairman of the municipal People's Committee and Chairman of the Principal Council Phan Van Mai.
Speaking at the conference, Chairman Mai required the relevant departments and sectors of the city to join the action programs of the Principal Council comprising the presentation of specific issues of the educational sector.
Besides, the universities need to study new policies when the People's Committee of Ho Chi Minh City is about to submit the salary and remuneration mechanism for science and technology works to the HCMC People Council.
Chairman Mai said he felt really anxious about the overall project for training human resources at the international level for eight sectors and the direction implementation of the municipal People's Committee on building and implementation of the project building Ho Chi Minh City as an advanced human resources training center of the whole country and the region.
Therefore, when the project is approved, it is necessary to proceed with contract signing to implement the training program promptly to meet the city's need of high-quality human resources, innovation center development and microchips production.
In addition, the universities set to strengthen cooperation and build technology research and transfer centers in the fields of microchips, AI, agricultural technology, environmental technology and so on.
The National Assembly has approved Resolution No.98 with various specific mechanisms for Ho Chi Minh City in many fields. Therefore, the universities can coordinate with the HCMC People's Committee to have an appropriate financial mechanism to implement the project. Particularly, the universities shall join hands with the city to prioritize the establishment of centers with special mechanisms to invite overseas experts to join the projects, stressed Chairman Mai.
Source: SGGP