JPMorgan Chase recently said that Vietnam is emerging as a centre for manufacturing electronic components and services, with its capacity to generate 65% of AirPods, 20% of iPads and Apple watches, and 5% of Macbooks globally by 2025.
Placing high expectations on the Vietnamese market, leading FDI businesses in the world such as Samsung, Intel, LG, Foxconn, Intel, Honda, Panasonic, Luxshare, Pegatron, and Winston have constantly poured large capital into the country.
Last year witnessed Samsung pledge to invest US$3.3 billion in Vietnam, and so far more than US$2 billion has been disbursed. According to economists the remainder is expected to be realised this year.
At a recent meeting held between the FDI business community and Prime Minister Pham Minh Chinh, Hong Sun, chairman of the Korean Business Association in Vietnam (Kocham), revealed that the Government and businesses community of the Republic of Korea (RoK) view Vietnam as their best co-operation partner.
He assessed that Korean investments in the Vietnamese market are diverse, ranging from production and manufacturing to services, as well as from labour-intensive industries to high-tech industries.
He added that, along with Samsung, other Korean brands such as LG Electronics, LG Display, and LG Innotek are considering expanding investments in the country, with the ultimate aim of making it a global production base for automotive electrical circuits, electronic equipment, and home appliances.
Meanwhile, the European Chamber of Commerce in Vietnam (EuroCham) said that Vietnam is bringing great investment opportunities, as well as development prospects, for European businesses in the short and medium term. In its recent survey a total of 42% of respondents also predicted their companies would increase FDI inflows into the country in more fields, especially startups.
According to Nguyen Hai Minh, vice chairman of Eurocham and member of the Advisory Council for Administrative Reform of the Prime Minister, the European Commission's budget for small and medium enterprises to invest in new technology remains quite large, amounting up to several billion EUR each year. When European businesses receive the budget and after they complete study feasibilities, they tend to pour channel investment into Asian countries, including Vietnam.
More work to do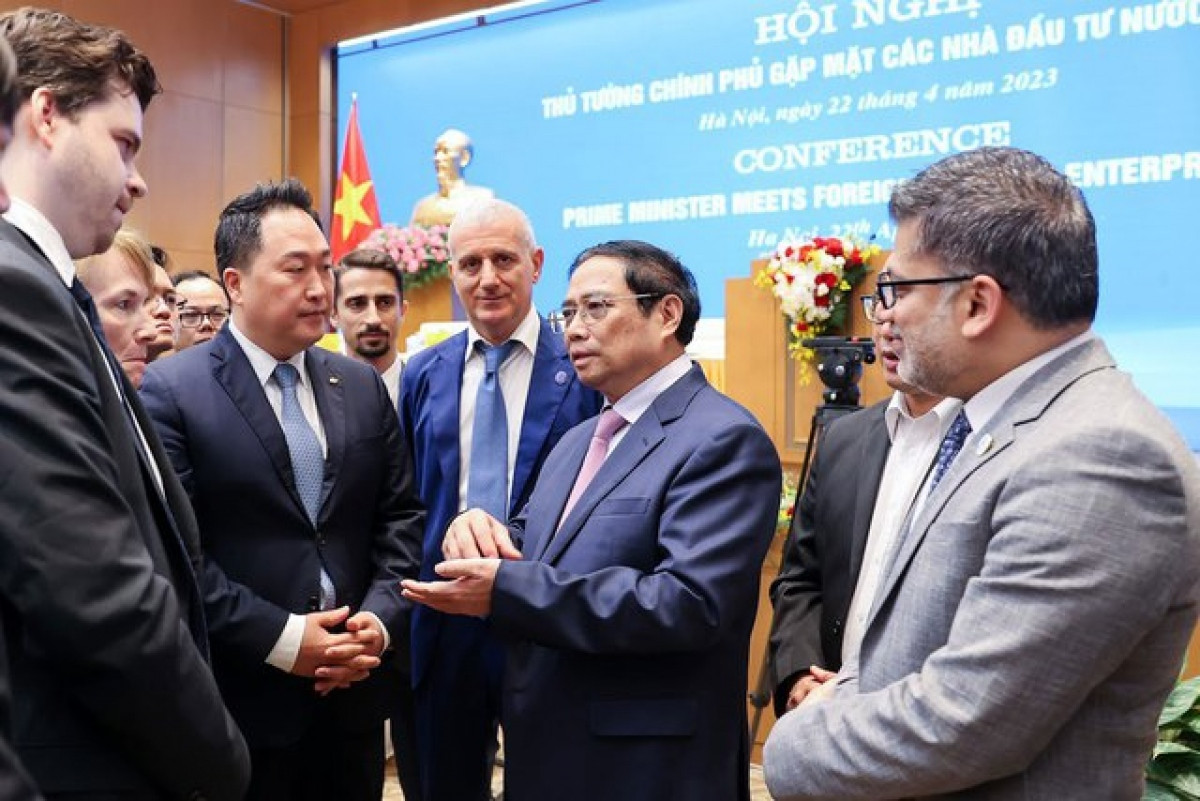 Vietnam attracted US$8.88 billion in FDI during the first four months of this year, equivalent to 82.1% of the amount recorded in the same period last year. Despite difficulties occurring in global FDI attraction, the country is winning trust foreign businesses. Indeed, three financiers from Germany, the RoK , and Japan announced their Vietnamese projects worth US$3.7 billion at a recent meeting held between the FDI business community and the Prime Minister.
Given high expectations, the Foreign Investment Agency under the Ministry of Planning and Investment, forecast FDI inflows into the country could surpass the US$30 billion mark this year from the US$22.4 billion figure recorded in 2022.
Hong Sun from Korcham said many Korean businesses operating in Vietnam, especially high-tech, financial, and energy firms, are thereby considering increasing their investment capital and making fresh investments, providing that the local investment environment remains stable.
Businesses will feel safer when investing in the Vietnamese market providing that the Government introduces more incentives and further accelerates administrative reforms, he said.
Acknowledging Vietnam as a rising star, Gabor Fluit, chairman of EuroCham, warned there is no room for complacency. In his view, the country now needs to take bold and decisive steps towards breakthrough reforms in order to sustain its growth momentum.
He recommended that Vietnam accelerate the completion and implementation of its Power Plan VIII, as well as direct power purchase agreements, in a bid to incentivise renewable energy producers. He also proposed extending visa-free entry to all EU member states, opening the door to high-spending tourists, and facilitating investment promotion.
Takeo Nakajima, chief representative of the Japan Trade and Promotion Organization (JETRO) Hanoi, pointed out that 66% of Japanese firms operating in the country had complained about the slowness in administrative procedures, while this figure in ASEAN stands at only 47%. He therefore suggested that Vietnam eliminate unofficial fees, and handle administrative procedures both smoothly and transparently.
Experts outlined that China's post-pandemic opening of its economy may affect Vietnamese FDI attraction. The world's second largest economy is still a leading investment destination, and capital will continue to flow into this market.
On the contrary, the shift in investment capital by foreign giants, including those from the RoK and Japan, is expected to be accelerated until 2025, and Vietnam is anticipated to be one of the preferred destinations.
Source: VOV