Low wages are eroding the integrity and dignity of civil servants: NA deputies
National Assembly deputies, noting that low monthly salaries are eroding the integrity and dignity of some civil servants, have urged an increase in the minimum wage.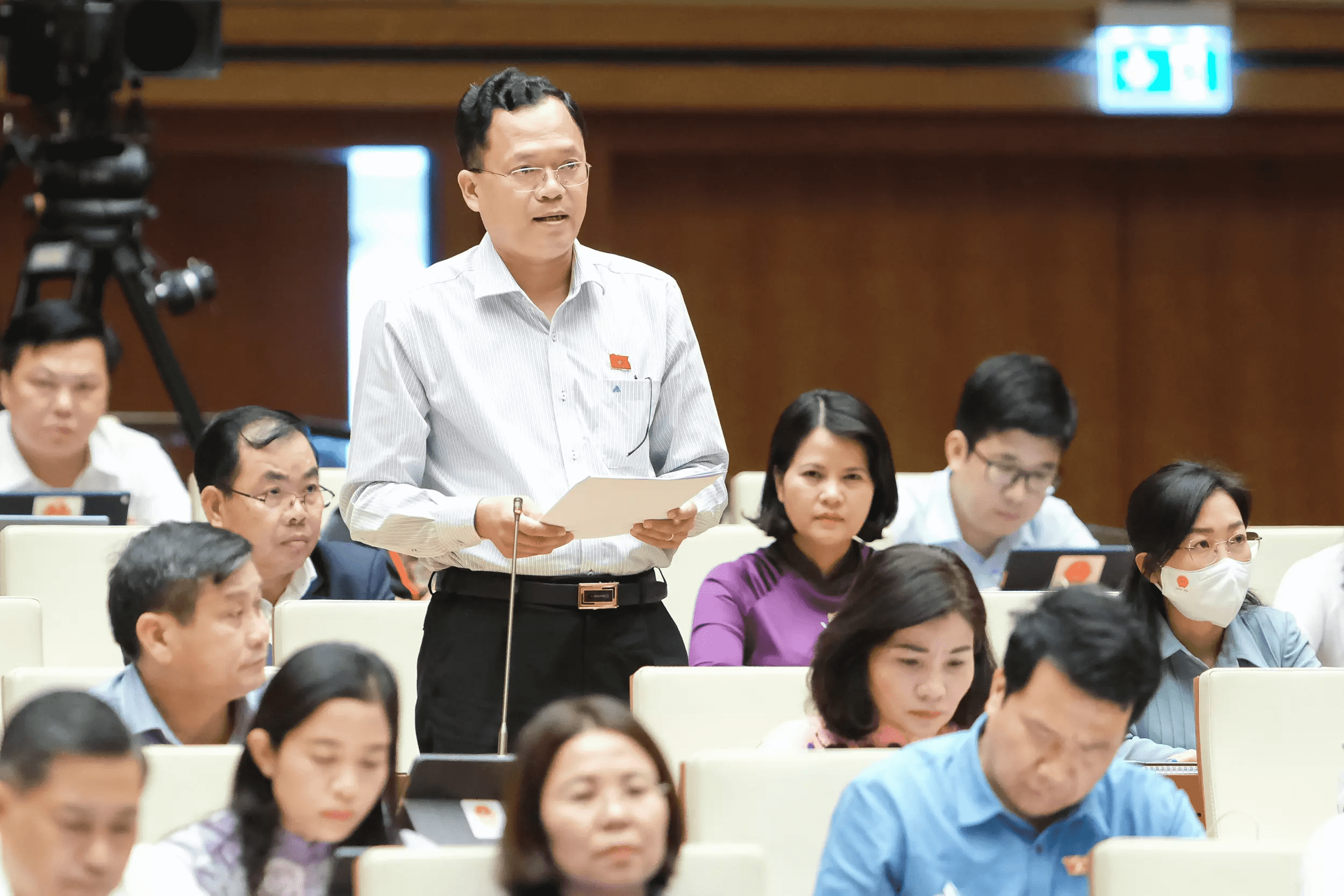 Discussing the socio-economic development situation and state budget in 2021 and the first months of 2022, Huynh Thanh Phuong, a National Assembly deputy from Tay Ninh, spoke about embezzlement and wrongdoings affecting economic recovery and development.
According to Phuong, for many months, Vietnam has had to focus on pandemic prevention and control, which has been exploited by wrongdoers to "fish in troubled waters" and lend a hand to petroleum smugglers, counterfeit good traders and stock market manipulators.
They tried to manipulate the real estate market through auctions, inflate prices, and manipulate the medical equipment market and use mass media and social networks to cause market turmoil.
The deputy stressed that more serious measures are needed to prevent corruption and wrongdoings, and to make the state management apparatus healthy.
Voters believe that one of the most effective solutions to prevent embezzlement and negative phenomena is ensuring that the income of civil servants and public employees are high enough to cover their basic needs.
During the pandemic, many civil servants, armed forces officers and workers have been heavily impacted but have not received appropriate attention.
"The monthly salaries, which are the major source of income of civil servants, are very low, which is eroding their integrity and dignity. I think that it's necessary to implement a wage reform process immediately to increase income and stabilize the lives of employees in the sector," he said.
"This is investment in human resources and development, which are important for socio-economic development," he added.
Minimum wage
A survey conducted by the Institute of Workers and Trade Union in 2021 found that only 5 percent of respondents said they had meat and fish for meals once or twice a week, while 34 percent said they ate meat and fish three times a week. Forty-one percent said they only had enough money to buy some common drugs.
Pham Trong Nghia, a deputy from Lang Son, said many workers dare not go to see a doctor because they don't have money for healthcare services.
He said that workers need to be treated appropriately and need to be placed at the center of policies so that they can enjoy the fruits of the development of the country.
A survey by the Vietnam General Confederation of Labor in April 2022 found that only 55 percent of workers had incomes high enough to cover basic needs. At least 25 percent had to live a very frugal existence, and 13 percent did not have enough money for basic needs.
To share difficulties with the business circle and the economy, the minimum wage of workers is expected to increase by 6 percent from July 1, 2022 as per a proposal of the National Wage Council.
With the decision, the minimum monthly wage will be VND4.68 million for Zone 1 ($200), which is very low compared with other regional countries. The minimum monthly wage is $323 in Jakarta, Indonesia (274 million people), $226 in the Philippines (110 million), $260 in Thailand (70 million), $282 in 57 large cities of Malaysia (33 million)
The deputy, urging higher minimum wages, affirmed that with such wages and the human resources structure in the region, the increase in minimum wage won't affect Vietnam's competitiveness.
Raising minimum wages will help restructure the economy by shrinking the business fields with low added value and labor-intensive industries, and improve workers' lives. This can also stimulate consumption and the economy.
"Hyman resources are the nation's most valuable asset," he said, and to protect and develop this valuable asset, he proposed that the Government direct the National Wage Council to soon negotiate the minimum wage adjustment for 2023 to ensure a minimum living standard for employees and their families, as provided by the Labor Code.
Nguyen Thi Xuan, a deputy from Dak Lak, said that the opinions of employers, especially the owners of labor-intensive enterprises, still vary about minimum wage increase. The wage adjustment will have a big impact on the enterprises because their production costs will be higher.
Some enterprises use up to 45,000 workers and a high number of enterprises use 10,000 workers or more.
However, employees are looking forward to the minimum wage increase from July 1, 2022. They said that they deserve a wage increase as they shared difficulties with business owners during the pandemic by observing the "three on site" working scheme and accepting an increase in extra working hours.
Before 2020, the minimum wage increase began on January 1, and the minimum wage increased by 5-7 percent per annum. However, in 2020 and 2021, because of Covid-19, the minimum wage was not adjusted.
Tran Thuong