Ly Quoc Su Food Street: not only famous for pho
Foodies are in a fever of Ly Quoc Su culinary alley, where unassuming and bargain-priced dishes typical of Hanoi cuisine are offered.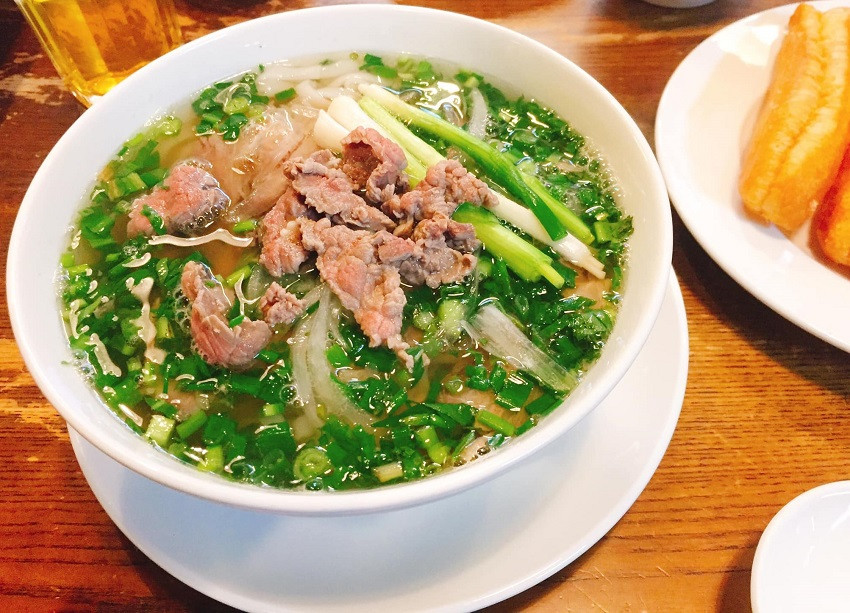 On this 300-meter street in Hoan Kiem District, Hanoi, visitors can find dozens of wonderful dishes priced at around VND50,000 (US$2).
First and foremost, Ly Quoc Su Street is associated with pho, a Vietnamese famous noodle dish. Pho Ly Quoc Su is as popular as Pho Thin among Hanoians. Just by tasting it, you will never forget the broth that's mild sweet, and the meat not-too-fatty and tender. Diners can choose from various types of beef, such as rare, well-done, brisket, plate, among others.
Compared to other brands of noodle soup, Pho Ly Quoc Su is usually priced higher, ranging from VND60,000 to VND75,000 per bowl. However, its delicious flavor and signature broth keep diners coming back, thus helping spread the brand.
Nguyen Tuan Ngoc, a regular customer of Pho Ly Quoc Su shared his memories: "I still remember when I was a kid, my father sent me out with a lunch pail to buy some noodle soup for eating with cold rice.
I would stand there looking at the huge pot of stock on the coal stove, whose top was covered with a thick layer of peat. A man wearing a white tank top would poke the coal with an iron stick, sending sparks flashing like fireworks.
Sometime later, some women at the state-owned Phu Gia pho stall opened their own shop on Ly Quoc Su Street and created the famous brand ever since."
Ly Quoc Su hot cassava dessert soup - the sweet that warms up cold rainy Spring days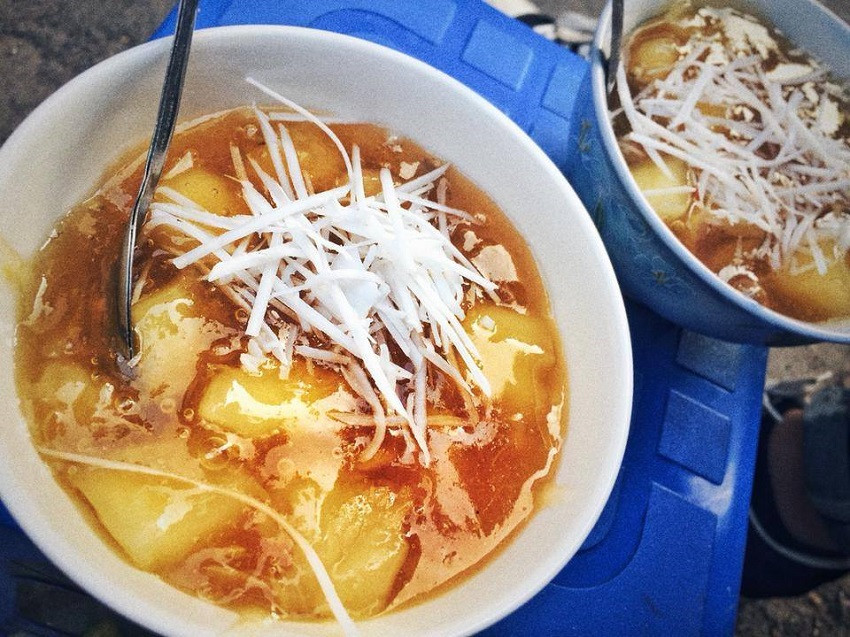 For more than 20 years, a small stall in an unpretentious corner with a few tables has been selling nearly a hundred bowls every day.
It is said that you must be a gourmet to know this place because this is one of the few shops that still retain the traditional flavor of cassava sweet soup. Located right at one end of the street, the shop is still easily overlooked due to its plain nameboard. In addition to che san, chao suon or pork bone congee and trung vit lon or duck embryos are also offered, yet the diners coming here mainly order bowls of cassava soup on these cold days.
Mrs. Loan, the owner of the stall, is now over 70 years old, yet she has a plump face and her movements are gentle but agile.
"I have been selling traditional cassava dessert soup for more than 20 years. The fatty sweetness and steaming cassava attract many customers. Sometimes, my stall even appears on TV shows promoting our city's culinary culture," she said.
There are even customers who like the soup so much that they eat three or four bowls in one go. Hot diced yucca cooked with brown sugar in a thick soup is a perfect snack for a winter day.
Hoang My, a customer of the shop, commented: "The hot bright yellow cassava sweet soup looks and tastes delicious. The cassava is so soft, gelatinous, and fragrant, with just the right amount of sugar for a light afternoon snack." Each bowl of che san costs only VND10,000 to VND15,000, but the traditional taste of the dish is unforgettable to many.
Ly Quoc Su fried sticky rice balls and crispy dumplings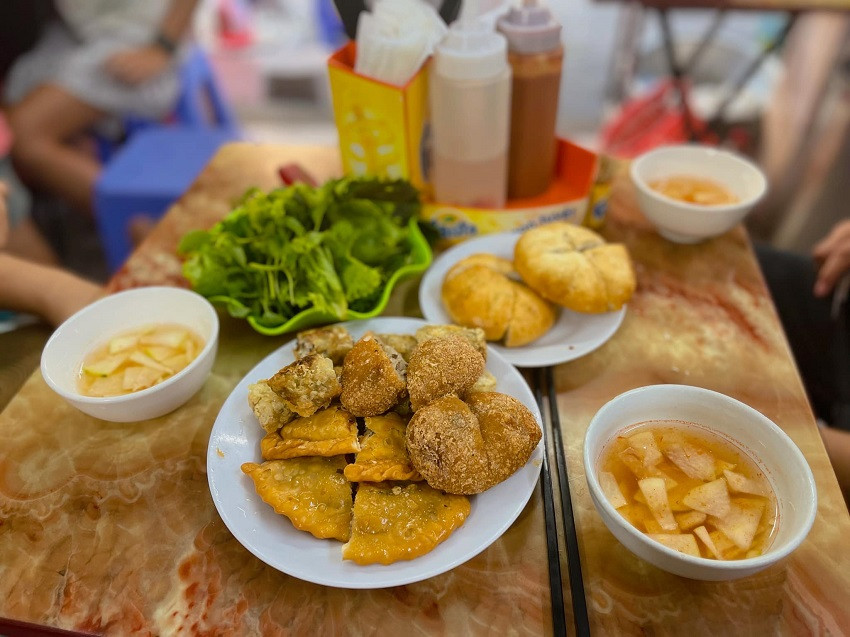 Banh ran or fried sticky rice balls and banh goi or literately known as 'pillow cake' of crispy dumplings are two other prominent snacks on Ly Quoc Su Street, although they are also sold in countless places throughout Hanoi.
The shops on Ly Quoc Su Street offer the salty kind of the two cakes: the fillings include vermicelli, wood ear, and minced pork. After being deep-fried, these dishes are served with sweet and sour dipping sauce.
A familiar spot here for lovers of banh ran and banh goi is a large century-old tree, with only a few plain tables and yet 30 years in business. Its cakes are crunchy, not oily, accompanied by generous fillings and especially the distinctive dipping sauce.
Hanoian dried and candied fruits mut and o mai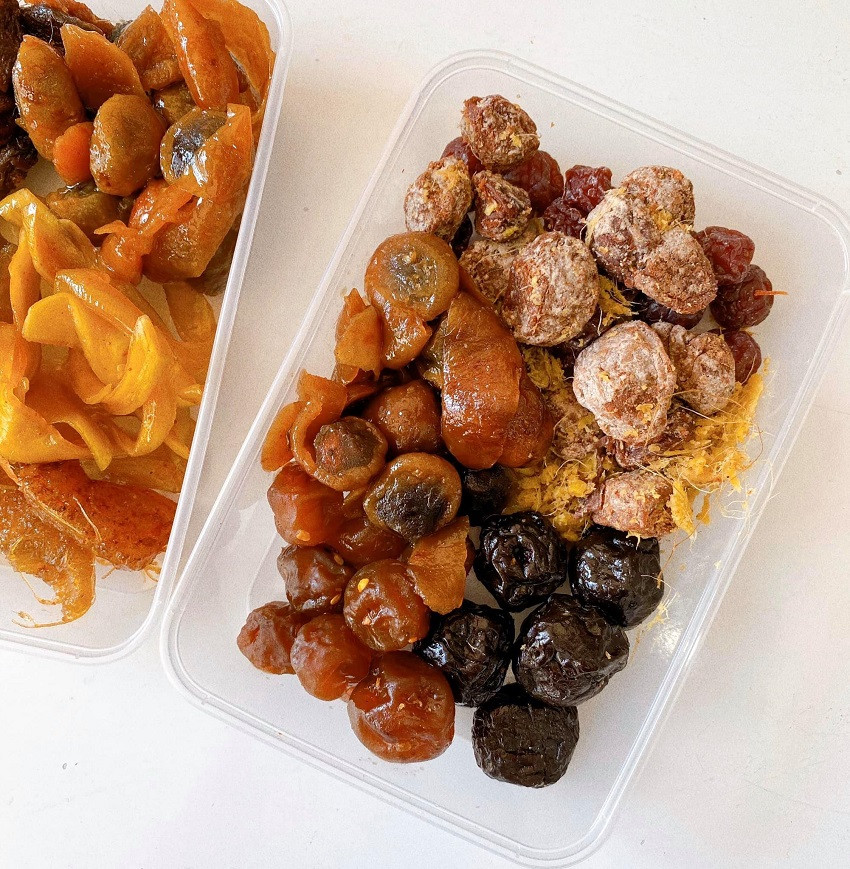 Hanoi is also known for mut or dried and candied fruits and o mai or salted fruits, such as apricot or Indochina dragon plum, with sour, salty, and sweet flavors to satisfy all types of visitors to the capital.
On Ly Quoc Su Street, the dried and candied fruits on sale are not as diverse as in some famous streets, but they are still mouthwatering. These mut and o mai are handmade with fresh, quality ingredients and natural sugar, all thoroughly dried.
The owner of a well-known mut shop on the street said: "The candied fruits must be both chewy and crispy, with sweet and sour flavors blended together. O mai and mut are loved and bought as gifts by many people."
Source: Hanoitimes