Ly Son's seaweed and seafood leaves impression on young diners

My family was lucky enough to have the chance to enjoy bòng bong (seaweed) and fresh garlic salad during a recent trip to Ly Son Island in Quang Ngai Province.
Specialties of Ly Son island
Garlic salad on Ly Son Island
Tour of Ly Son island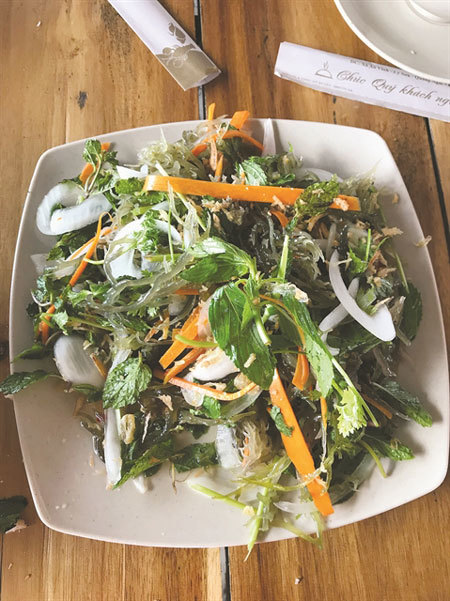 Bòng bong salad is highly recomended when you visit Ly Son Island in the central coastal province of Quang Ngai. Photo Hoang Lan
Seaweed is only available on the island from the second to the fourth lunar month.
Islander Bui Thi Hien, who is the owner of the homestay we stayed at, told me that in the past seaweed salad was considered a dish for poor people, but since tourism started developing in the 1990s it has become a specialty.
Hien told us that after the seaweed is harvested she chops off the roots and soaks it in water overnight before parboiling to keep it crispy.
She the fries it with traditional fish sauce, lemon, sugar, herbs and roasted peanuts. "The dish is much tastier eaten in bánh tráng (rice crepes)," she said.
My ten-year-old boy and his younger brother who both hate salad shouted happily: "Mum, the dish is so fresh and tasty we've finished the whole plate. I like it a lot."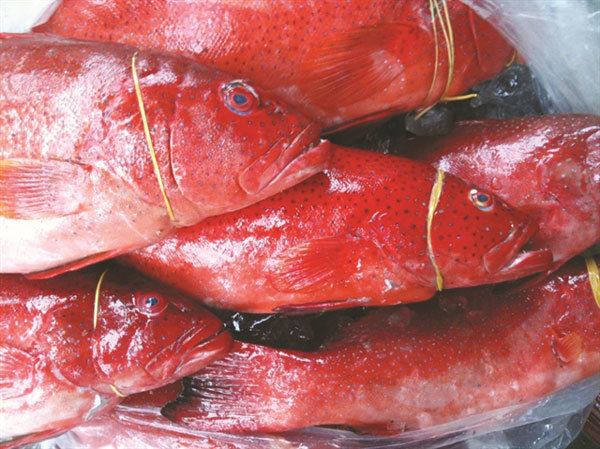 The red fish found near Ly Son Island are delightfully crispy and fragrant. Photo daolyson.info
For me words can't describe it, apart from saying I just wanted more.
"Most visitors to the island enjoy the salad and want to take the seaweed home, but it's a pity because the original fresh flavour is lost unless it is cooked on the spot," Hien said.
We left Hien's home for the beach, where we found many women harvesting the seaweed to supply restaurants and homestays to meet increasing demand.
"If you wish to enjoy the dish outside, visit Quan Ngo, but you should order it two days in advance because the restaurant is well-known for the dish and serves hundreds of visitors a day.
A local herbalist named Dinh Ngoc Tien told me the seaweed is a very good detox, reducing cholesterol and preventing digestive cancer. It's also good for women's health.
As well as seafood salad, we also enjoyed canh chua chả cá (grilled fish sour soup) cooked by Hien.
She told us the climate on the island is often harsh, so locals often eat the dish to cool down.
Ingredients include red dried onions, garlic, okra, water lily, basil, tomato, mung bean sprout, chili, fish sauce, salt, pepper, sugar and tamarind juice.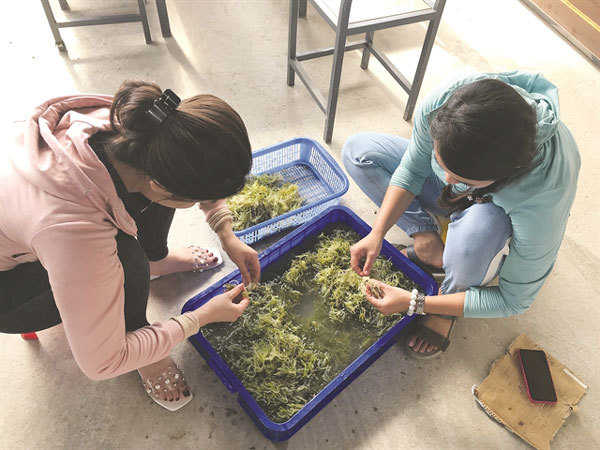 Assorted vegetables are carefully chosen before cooking. Photo Hoang Lan
Many of these ingredients are grown in Hien's garden so they are very fresh.
The first step is to marinade the ground fish in chili, sugar, pepper and red onion. "This step is essential to ensuring the flavour," she said.
The second step is to clean and chop the remaining ingredients.
The third step is use a spoon to shape the mix into balls, before frying until yellow.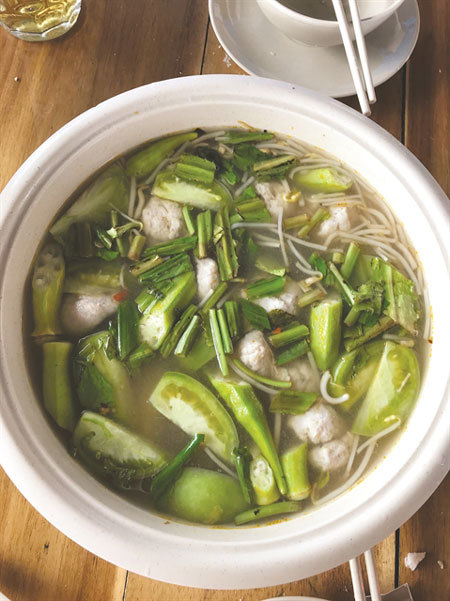 A big bowl of tasty soup with grilled fish. Photo Hoang Lan
The chả cá's aroma made our mouths water, and even though it was still hot my sons insisted on eating it on the spot.
Hien gave them a ball each, but telling them they should wait for her to cook the sour soup which included boiled fish bones, tamarind juice, a spoonful of sugar and a little salt. It is boiled for five minutes before the tomato, okra, waterlily and fried fish balls are added.
Although the dish is popular during summer, many families cook it in winter to warm them up, she said.
My sons asked Hien for the recipe so they could cook it at home. "I'll try to cook it for our grandmother, but only if mum promises to help me," the 10-year-old boy said.
By Hoang Lan
VNS