VN sets concrete goals set for improving business environment/national competitiveness
Household businesses out from the shadows
NA deputies question EVN power tariff hike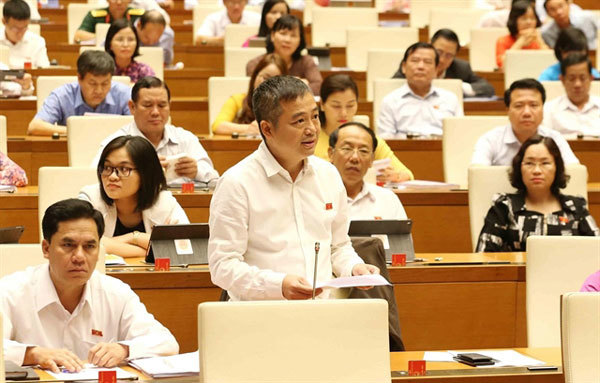 Deputy Nguyen Lan Hieu speaks at yesterday's session. — VNA/VNS Photo Phuong Hoa
In yesterday's session, deputies discussed the Government's supplementary report on socio-economic and State budget performance in 2018 and the early months of 2019.
The report said economic performance in the beginning of 2019 continued to show good signs despite regional and global difficulties.
It stressed that the macro-economy was stable, inflation was under control and major sectors and industries maintained stable growth. Administrative reform and the fight against corruption and wastefulness recorded positive results, winning approval from the public and the business community.
The Government also admitted that the growth model had not been very innovative and still depended on inputs rather than technological advances. It said the country's industries still depend largely on foreign direct investment.
Deputies Hoang Quang Ham from Phu Tho Province, Nguyen Thi Phuc from Binh Thuan Province and Tran Tat The from Ha Nam Province said that while businesses are the main contributors to the GDP and important drivers of growth, a large number of businesses have ceased operations.
More enterprises were set up or restarted operations in 2018 and the first four months of 2019 than in the same period a year before, but even more enterprises closed.
Given that a large number of enterprises closed and most of them were medium and large enterprises, delegate Nguyen Thi Phuc from Binh Thuan Province said the situation reflected an unfavourable investment environment and business policies.
"In order to achieve the goal of having one million businesses by 2020, I think we need to pay more attention to individual (household) businesses," Phuc said.
She also proposed the Government conduct a thorough analysis of the situation and offer solutions so enterprises can operate effectively and fewer would have to close.
Deputy Tran Tat The from Ha Nam Province said while the Government had been aggressive in cutting administrative procedures to facilitate business and investment, reforms have not happened rapidly enough.
Slow equitisation
Deputies said the process of equitisation was lagging behind schedule even though the Government has ordered enterprises to move more quickly.
Vietnam had planned to complete the equitisation of 85 State-owned enterprises (SOEs) in 2018, including 64 large companies. However, only 17 SOEs had completed the process by the end of the year. The equitisation of the remaining firms was delayed until 2019 and beyond.
Deputy Nguyen Truong Giang from Dak Lak Province said there were numerous reasons for the slow pace, including the influence of interest groups and difficulties in the search for consultants, evaluating enterprises and securing approval of land use plans.
Authorities need to strengthen supervision and sanction leaders of SOEs that lag behind schedule. It is also necessary to revise the list of SOEs awaiting equitisation and divestment, he said.

Power price hike
Discussion about the recent power price hike heated up the NA morning session.
NA deputies questioned whether Vietnam Electricity (EVN) and the Ministry of Industry and Trade (MOIT), EVN's direct supervisor, had carefully considered the impact of their price hike on the country's socio-economic development and the Government's effort to rein in inflation.
"The Government has a responsibility to foresee the impact of a power price hike on the people's livelihoods and the country's socio-economic development," said deputy Nguyen Quoc Han from southern Ca Mau Province.
Han said while basic income for the majority of people has not increased, prices for essential goods and services such as petroleum, healthcare, education and now electricity has continued to climb.
Such increases severely affect people's lives and make it very difficult to maintain a lower than four per cent inflation target set by the NA.
Deputy Nguyen Sy Cuong from central Ninh Thuan Province said during his meeting with voters prior to this year's NA session that many people had voiced their concern about the fairness, transparency and logic behind the price hike.
"EVN claimed the price only increased by 8.36 per cent, but voters told me their power bills had increased by two to three times," Cuong said.
He said it was difficult to tell voters that "we want our country to develop and people's lives to be better" yet still try to maintain power consumption at a low level.
"EVN always told us they will put the money from the price hike back into infrastructure investment, yet they have repeatedly reported heavy financial losses for years, despite enjoying a market monopoly for decades," Cuong said. "Perhaps it's time to question their investment decisions."
On May 24, the Government Inspectorate announced an inspection of EVN was underway. The inspectorate has 35 days to review the legality and transparency of EVN's power tariff increase.
VNS