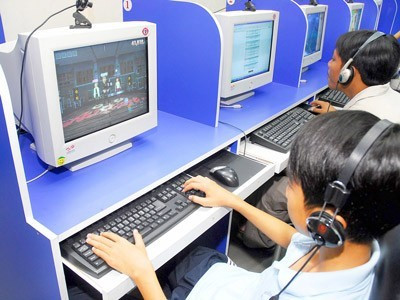 Children are enjoying online games in summertime (Photo: SGGP)

This conclusion of the Government let online game providers breathe a sigh of relief and offer valuable opportunities for the domestic game industry to develop, positively contributing to the growth of society.
Statistics from the Authority of Broadcasting and Electronic Information (under the Ministry of Information and Communications) reveal that only 15 percent of 200 registered online game providers in Vietnam are still in operation. Meanwhile, the revenues from cross-border unauthorized games reach VND5 trillion (US$211.2 million) a year, accounting for nearly a third of the domestic game market.
"Vietnam has a great potential for the game industry, yet this sector still encounters various prejudices, not to mention a fierce competition against major international game corporations, leading to the slow growth speed", said Nguyen Trong Nghia from Vietnam Game Development Alliance.
The online game industry is usually considered a pillar in the aspect of digital content and economy worldwide. Vietnam is seen as an emerging market thanks to a remarkable increase in Internet users each year. The revenue growth rate of this industry in Vietnam is 9 percent per year, attracting much interest from foreign online game companies.
Meanwhile, the game industry has a positive boost to others such as IT, content creation, design, advertising, hardware production, telecoms.
The development and release of a game by a domestic company is not much challenging; however, these companies on the one hand must fulfill their duties to the State and on the other hand have to compete with foreign ones which do not need to perform those duties. This is the reason why 85 percent of registered game businesses closed down or moved to other nations to enjoy better tax policies, infrastructure, and administrative procedures.
To promote the growth of this profitable industry in Vietnam, the Government has decided that the business of online games is not subject to special consumption tax. Otherwise, several domestic game companies will transfer their headquarters to other countries like Singapore to avoid that tax.
Experts also voiced that an act to stop unauthorized online games providing cross-border services must be done simultaneously. They said that multiple payment methods have allowed these games to fruitfully work in Vietnam. To make matters worse, payment intermediaries do not actively or are not able to check these actions, leading to illegal money deposit into games or even gambling.
The Ministry of Information and Communications is going to cooperate with the Public Security Ministry and the State Bank of Vietnam to develop feasible solutions to stop unauthorized online games. In particular, the Information and Communications will request enterprises providing intermediary payment services to implement measures to disable payment to online games without permission or any games listed by state management agencies on their system.
Director Tran Phuong Duy of VTC Intecom shared that special consumption tax aims at regulating consumers' behaviors and increase state budget revenues. However, the picture of online game is different when 90 percent of gamers in Vietnam do not pay money for their games. In addition, Vietnamese gamers usually pick online games whose servers are located in other countries. Therefore, imposing special consumption tax on domestic online games accidentally increases unfair competition between domestic and foreign game service providers.
He recommended that Vietnam could learn from the successful story of China and the Republic of Korea. A chip-based citizen ID card should be issued to children under 14 years old in Vietnam. When opening a game account using this ID number, a gamer has his or her authentication data sent to management agencies, making it easier for the State and service providers to control consumer behaviors better.
Director of VNG's Online Game Release Department La Xuan Thang commented that in other nations, online games are considered an important economic sector and a useful method to spread the national culture worldwide. There should be a more positive and trendy view on online games now that e-sports have been accepted by the Olympic Committee Game as a formal sport for competition.
In Vietnam, online game service provision is a conditional business since the content must be reviewed and approved by state agencies, with clear age classification and sufficient warnings for users. At the same time, unauthorized online games in operation in Vietnam are not subject to any professional management units, neither do they pay any tax to the State. Despite the effort of state agencies lately to stop them, no feasible solutions have been devised and adopted.
The Ministry of Information and Communications sets the target for the online game industry in Vietnam to earn $1 billion in the next 5 years, and for an increase of domestic online game service providers to reach 100 – 150, along with about 400 startup projects in this field.
Source: SGGP