VietNamNet Bridge - Foreign online booking agents are fiercely competing for the online tourism market worth $9 billion in Vietnam.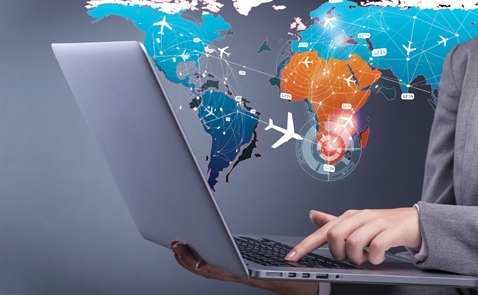 Phuong Tram, 25, in HCMC, and her family members travel abroad every summer. In previous years, Tram booked tours and hotel rooms on Vietnam's websites. But she has decided to choose Traveloka, an Indonesian agent, this year.
Explaining her decision, Tram said when booking tours on Vietnam's websites, she had to carry out many operations. But now, she doesn't have to spend too much time on booking, because everything runs automatically.
ComScore ranks Traveloka among Indonesian leading companies in air ticket and hotel room booking. Sources said that Traveloka's revenue has exceeded $1 billion. The Indonesian firm has been present in Vietnam since 2016.
Foreign online booking agents are fiercely competing for the online tourism market worth $9 billion in Vietnam.
According to Nhip Cau Dau Tu, many other foreign online booking agents, such as Trivago and Bemyguest, are in Vietnam as they are attracted by the great potential in the market.

Google and Temasek estimated that the SE Asian online tourism market would have turnover of $90 billion by 2020.

Of this, the Vietnamese market would be worth $9 billion, accounting for 10 percent of the SE Asian market. At least 85 percent of the revenue is believed to flow to hotel room and air ticket booking.

The figures show Vietnam's strong attractiveness, especially when Vietnam does not have many experienced OTA (online travel agencies) and the market remains the playing field of TO (tour operators) and TA (tour agencies).

TO is the group of firms which have licenses to provide travel services, led by two familiar names – Saigontourist and Vietravel. TA is believed to be the 'arm' of TO that helps selling tours. Chudu24 and iVivu are the two best known names in the group.

However, the websites only provide information, and don't support online payment or confirm booking instantly.

TA is a traditional model which needs consultancy officers. Therefore, the more they develop, the higher operation costs they will need. This has led to the establishment of OTAs which can take full advantage of technology to reduce operation costs by cutting labor costs and expenses on business premises.

For hotel room booking, vntrip.vn is the best known name.

Meanwhile, abay and atadi are best known in air ticket booking. Uber, Grab and Vivu (Facecar in the past), dichung are known for car booking services.

There are Vietnamese businesses which were originally set up as TO but have shifted to become OTAs, such as tugo.com.vn and vietnamuniquetour.com.

In the hotel room booking market segment, foreign firms, including Traveloka and Trivago, have the upper hand. In Vietnam, Agoda.com has more than 7,600 hotel partners, while Booking.com has more than 6,000.
RELATED NEWS
Travel firms' revenues outstrip profits
Hoi An coconut grove partially destroyed by tourism services
Mai Chi