Savouring specialties at Phu Quoc pearl island
Phu Quoc island in the southern province of Kien Giang, dubbed as the pearl island in the southwestern region of the country, has emerged as a favourite destination for tourists both inside and outside the country.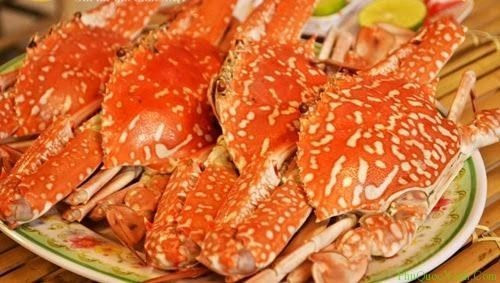 Flower crab of Ham Ninh Village (Photo: VNA)

As the island is blessed with mountains, rivers, streams, forests, and sea, visitors to Phu Quoc can not only go swimming and diving to admire the splendid coral reefs, join unique sports and entertainment activities, but also taste delicious local seafood specialties. To fully experience the taste of Phu Quoc, there are three seafood dishes that visitors definitely cannot miss: flower crab of Ham Ninh Village, Sardinella salad, and echinus.

Flower crab of Ham Ninh Village

Ham Ninh fishing village is home to fresh seafood dishes with reasonable prices. It is famous for flower crab which is always fresh, thick, sweet and fragrant. The flower crab of Ham Ninh is used to make numerous delicious dishes as simple as steaming, boiling, or cooking a spicy and sour hot pot with green vegetables. However, steamed flower crab dipped in salt, pepper and lime juice may be the best, as the natural taste of the crab is maintained.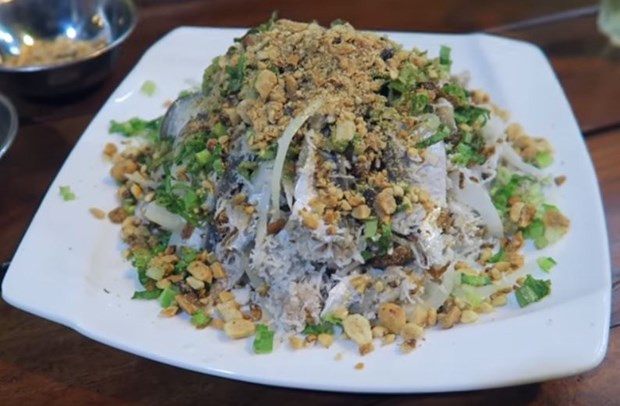 Sardinella salad (Photo: https://scootersaigontour.com/)

Sardinella salad

Along with Ham Ninh flower crab, Sardinella salad becomes an indispensable dish in every seafood party in Phu Quoc. The fresh fish is cleaned, then dipped in lime juice, mixed with shredded coconut meat and sliced purple onion. Sardinella salad is rolled with rice paper, vegetables, and dipped in fish sauce. This dish is especially flavorful when being enjoyed with Phu Quoc myrtle wine.

Echinus of Phu Quoc

Another must-try specialty in Phu Quoc is echinus, also known as sea urchin. This is the most sought after seafood dish in Phu Quoc's food markets. Sea urchin is likened to the ginseng of the sea, thanks to its good-for-health nutrition. There are various ways to cook echinus, such as grilling it with onion and lard, dipping it in lemon juice, or cooking it in porridge.

Phu Quoc green pepper

Phu Quoc green pepper is famous for its aromatic, pungent and especially its flavour which is stronger than that of peppers from other regions.

Pepper has become a local specialty and a unique gift for tourists. Pepper gardens are always included in the list of destinations in Phu Quoc tours.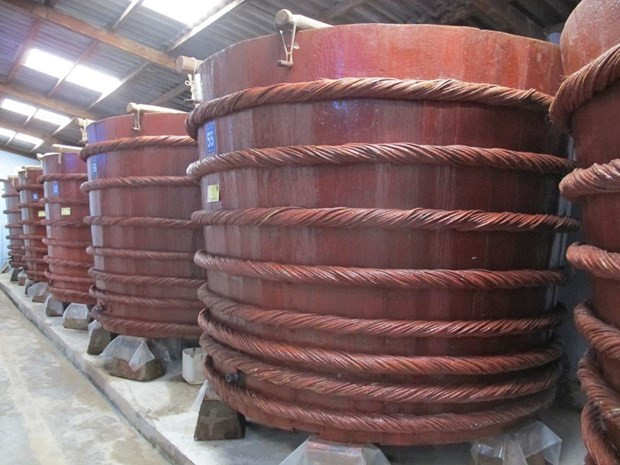 Tanks containing fish sauce (Photo: VNA)

Phu Quoc fish sauce

Phu Quoc fish sauce is not only a condiment, but it is also considered a cultural symbol of Phu Quoc. Vietnamese and foreign tourists alike are attracted by Phu Quoc fish sauce. After each visit to the fish sauce establishment on Phu Quoc island, no visitor can resist the temptation of buying some Phu Quoc fish sauce as a gift. In particular, the profession of making fish sauce in Phu Quoc was included in the List of National Intangible Cultural Heritage by the Ministry of Culture, Sports and Tourism in May 2021.

Myrtle wine

Another famous must-buy specialty of Phu Quoc is myrtle wine. Made from fermented myrtle fruit, the wine has an extremely special taste. It is a bit acrid on the tongue but sweet in the throat. Anyone who has ever tasted this wonderful wine will surely never forget its flavour.

"Bun Quay" (Stirring Vermicelli) of Phu Quoc

This is a unique dish in the pearl island of Phu Quoc. Visitors do not only taste the flavour of vermicelli but also enjoy the simple and generous life of local people.

Visitors will surely remember forever this special vermicelli dish served with "toppings" such as fresh squid, chopped grilled fish, chopped grilled shrimp, beef and especially home-made sauce. Local people often drink cool sugarcane juice when enjoying this dish as a subtle tip to balance the characteristic warm spicy flavour.

Melaleuca mushroom

Coming to Phu Quoc, visitors should not let go the opportunity to taste Melaleuca mushroom, a special mushroom of the pearl island.

In addition, cruising the Phu Quoc night market and tasting delicious dishes such as crab rice, grilled sirloin with salt and pepper, fish, squid, snails, scallops, or hot seafood porridge are also exciting experiences./. VNA