Residents living around Hanoi's largest dumping ground of Nam Son in Soc Son District started receiving land compensation from Tuesday, the Vietnam News Agency has reported.
Slow compensation annoys residents living near Hanoi dump
Dumping site for Hanoi cleared after negotiation
VN must up the pace on waste sorting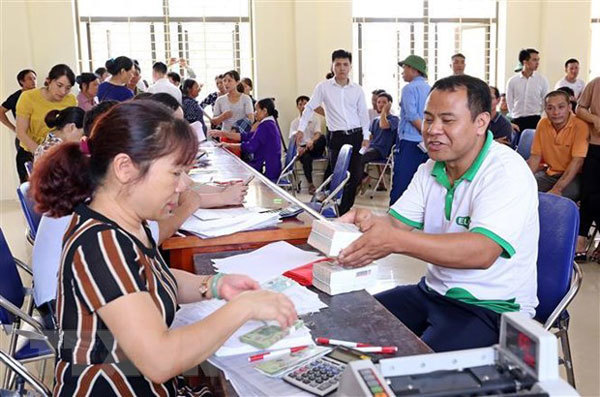 People of Nam Son Commune, Soc Son District receive compensations on Tuesday. – VNA/VNS Photo Manh Khanh
According to Nguyen Huu Hung, deputy director of Soc Son District Land Fund Development Centre, 1,100 households affected by the landfill in three communes of Nam Son, Hong Ky and Bac Son will be relocated with total compensation of VND3.4 trillion (US$146.2 million).
More than VND182 billion ($7.8 million) was paid to 186 families in Nam Son Commune on Tuesday while 39 households in Hong Ky Communce will receive the money on Thursday.
Soc Son District People's Committee is working on the compensation and relocation plan for people living in Bac Son Commune.
People of the three communes will be relocated at least 1,000m from the landfill.
Earlier this year, residents living around the dumping ground blocked garbage trucks from entering the area to oppose the sluggish process of land clearance and compensation for a relocation project.
The protest led to rubbish being piled up on the streets and near apartment buildings in Hanoi's inner districts.
A project to relocate three communes was approved by local authorities in 2017 due to severe pollution.
Nam Son dump receives some 5,000 tonnes of garbage a day from inner districts.
VNS