The adoption of resource efficiency and cleaner production (RECP) options has helped enterprises increase revenue, reduce production costs while mitigating the overall environmental impact of the industrial zones, experts said.
Vietnamese researchers repurpose plastic waste with world's first PET aerogel
Workshop talks clean energy technology in Vietnam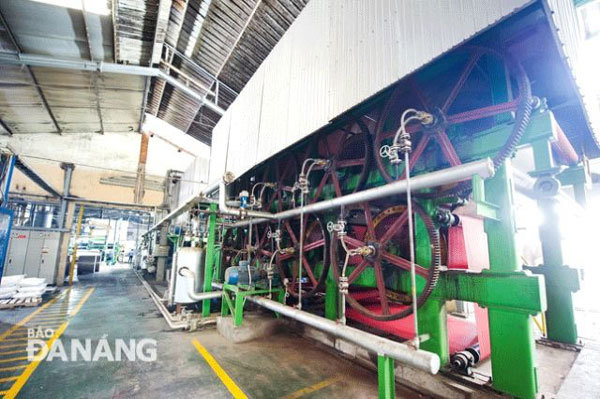 Tan Long Paper Factory saved around VND1 billion ($42,900) from waste paper and VND1.5 billion from electricity a year thanks to adoption of cleaner production solutions. — Photo baodanang.vn
Results of RECP application of 72 enterprises who took part in the project entitled "Eco-industrial park initiative for sustainable industrial zones in Vietnam" revealed that US$6.5 million has been saved per year, said Le Xuan Thinh, director of Việt Nam Cleaner Production Centre under Ha Noi University of Science and Technology.
He said the benefits of RECP include a resource saving of 22,000MWh, over 600,000cu.m of water, more than 140 terajoule of fossil fuels and nearly 3,600 tonnes of chemicals and waste.
Speaking at the closing workshop held in Hanoi on Wednesday, Nguyen Van Trung, deputy minister of Planning and Investment, said the project has obtained positive results over the past five years.
It was facilitated by the development of Decree 82/2018/NĐ-CP that regulates the management of industrial parks and economic zones in Vietnam and the introduction of the concept of eco-industrial park in the national legislation.
It has helped the country realise green growth targets and sustainable development.
Swiss Ambassador to Viet Nam Beatrice Maser Mallor said sustainable development was a top priority for Switzerland, along with environmental protection. She said the eco-industrial park initiative was one of the important programmes in the cooperation between Switzerland and Vietnam for economic development.
The objective of this programme was to introduce the benefits of sustainable industrial parks in Vietnam's industrial development policy, she said.
Nguyen Thu Ha, a representative from Da Nang City's Tan Long Paper Factory, said her company joined the project as it wanted to save electricity, water, chemicals and heat, and ensure good management of all emissions including solid waste and waste water.
The company has carried out a number of recommended solutions and the benefits from implementing RECP have been approved after two years.
In terms of economic benefits, it has saved about VND1 billion ($42,900) from waste paper and VND1.5 billion from electricity per year.
Regarding environmental issues, the company has reduced 360 tonnes of waste paper and 972,000KWh of electricity each year.
While emphasising the benefits of RECP solutions, participants at the workshop also pointed out the challenges.
Tran Minh, a consultant from Global Renewable Independent Power Supplier, said pre-feasibility analysis for industrial parks in Can Tho City (Tra Noc 1 & 2) and Da Nang (Hoa Khanh) showed the potential of renewable energy were proved. Renewable energy can cover 31 per cent of electricity demand at Tra Noc 1&2 and 14 per cent at Hoa Khanh and helped save $443 and $503 per year.
However, he said hurdles still existed including economic barriers and regulatory obstacles.
For example, companies must obtain licences from the Ministry of Industry and Trade if they want to install a solar system of more than 1MWh, Minh said.
Inadequate access to information, lack of trust for project implementation and lack of standards on renewable energy monitoring were also problems.
Minh suggested factories within industrial zones should be allowed to install over 1MWh solar systems, without the current licensing requirements, to empower factories to become proactive adopters of renewable energy technologies.
The five-year project, which will finish by the end of this month, has a total investment of more than US$5 million and is sponsored by Global Environment Facility (GEF), Swiss State Secretariat for Economic Affairs (SECO) and United Nations Industrial Development Organisation (UNIDO).
Participating companies are supported in accessing financial resources when implementing clean and low carbon technology.
VNS